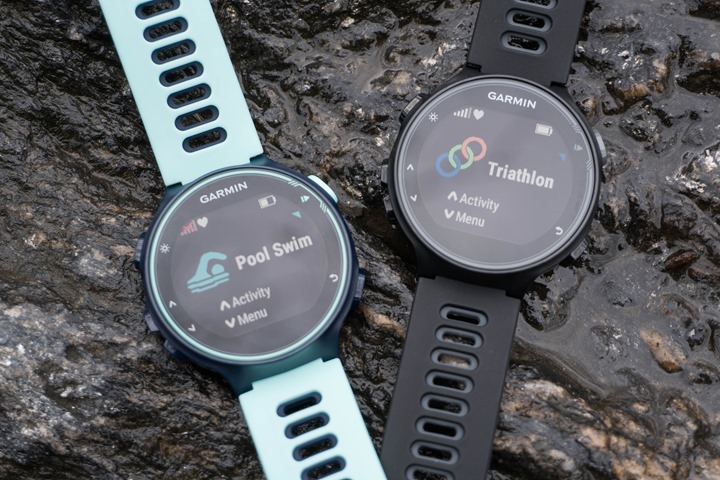 Update – my full and final FR735XT in-depth review is now available! Click on over to that page for all the goodness!
Over the course of the cold winter, the Garmin FR235 optical HR sensor-enabled running watch hooked up with the elder Garmin FR920XT triathlon watch and made a baby. They named that baby the FR735XT.  And that's basically the gist of it.
But fear not – there's actually a number of new and interesting tidbits if you peel back the FR735XT onion a bit more.  For example, it now calculates your Strava Suffer score, and even supports structured swim workouts.  Not to mention that optical HR sensor and features like Varia Vision support. So it seems like this baby got smarter than both parents.  Let's dig in a bit.
What's New:
To begin, the FR735XT takes the non-touchscreen shell of the existing optical-HR sensor capable FR235 (running GPS), and then revamps the firmware as a triathlon watch.  They've also increased the interior display portion slightly over the FR235, though again, keeping the same outer/exterior shell size (Update: The shell actually shrunk an itty-bity-bit, but the screen remained the same).  It makes it the smallest triathlon watch Garmin has ever produced, though, not the smallest GPS watch they've made (that goes to the original Vivoactive).  However, the Vivoactive doesn't have multisport mode.
And that's a really important distinction to note when talking about what makes a triathlon watch a triathlon watch.  It's specifically the multisport mode.  That means that you can start a race (or training day), and have it seamlessly transition from swim to bike to run.  It'll have the correct screens for each sport, while also keeping track of the total time for the full event.  And in most cases, it'll display everything as a single cohesive event with separate components.  That's compared to a non-multisport watch which may individually support swim/bike/run; but then you'd have to end/start a new activity for each sport during the day.
With that background, what's new or different about the FR735XT?  Well, it depends a little bit on what you're comparing it to.  Seeing how there's no direct past predecessor for the FR735XT, I've gotta kinda pick and choose notable things compared to other triathlon watches (i.e. Fenix3 or FR920XT).  I've got a more detailed breakout in a later section.
– Adds in Varia Vision support (first Garmin wearable to support the heads-up display)
– Adds in Shimano Di2 electronic gear shifting
– Adds in support for structured swimming workouts (via Garmin Connect)
– Adds in Lactate Threshold metrics while running (on Fenix3, but not FR920XT)
– Adds in FTP determination while cycling (on Edge series, but not FR920XT)
– Adds 'Intensity Minutes' metrics (seen on other Garmin activity trackers)
– Adds Strava Suffer Score (new on FR735XT)
– Adds phone-based audio prompts (introduced on FR230/235/630)
– Adds stress score (introduced on FR630, now on Fenix3, but not FR920XT)
– FR735XT has a 14hr GPS battery life, less than that of FR920XT/Fenix3
– Lacks a barometric altimeter that's on FR920XT & Fenix3 (but still has GPS altitude)
– Lacks a quick release kit like the FR920XT and the Fenix3
Now like most other new Garmin watch releases, we don't tend to see major shifts of new functionality.  Instead, those are slowly added over time from unit to unit.  So you get a handful of new features for example on the FR630, which are then consolidated into the next triathlon watch version.  It's kinda like a rolling upgrade.  Some features do make it into firmware updates for other models – like the Fenix3, which has seen boatloads of new features over the past 17 months since initial announcement.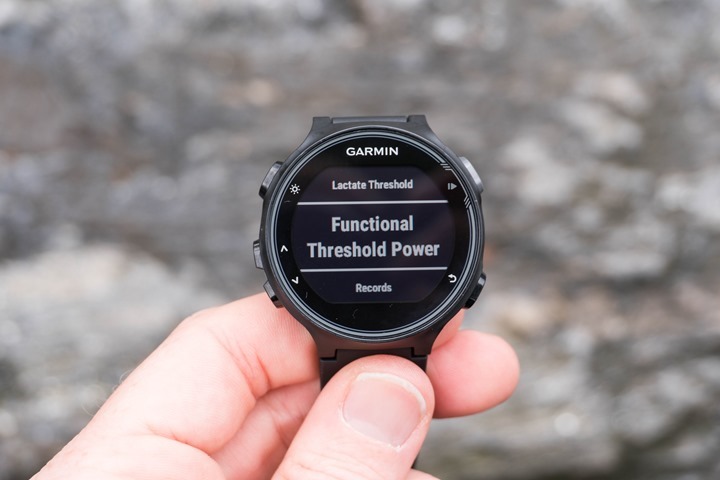 There are two brand-new wearable items though on this list: Strava Suffer Score, and Varia Vision support.
The Strava Suffer Score hasn't been seen on any Garmin units before, and is the porting of the algorithms from Strava into the Garmin line-up, thus giving you an immediate score for your workout directly on your wrist.  This is the score that you'd otherwise see on your Strava workout page:

Now, it's shown on your wrist: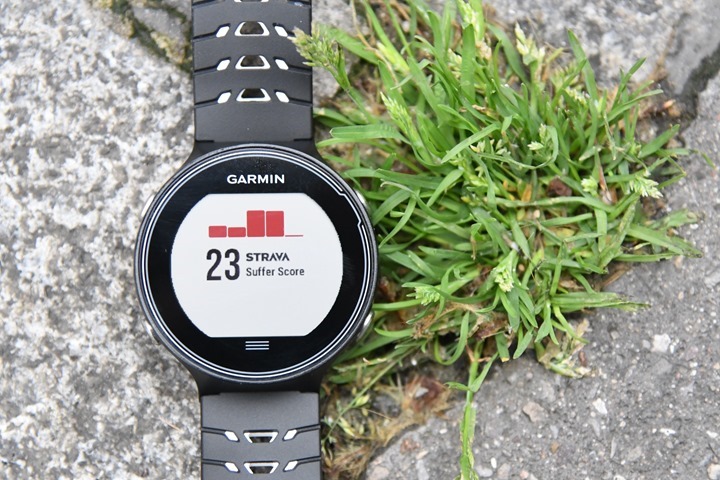 The Strava Suffer Score support is coming to ALL Garmin wearables that support Connect IQ, as of today.  It's simply an app you can install.  But more on that in a section down below.
Next, is the Varia Vision support.  That's for Garmin's heads-up display that was announced a few months back.  This will simply transmit your data straight to that, just like it would on an Edge 520 or Edge 1000 unit: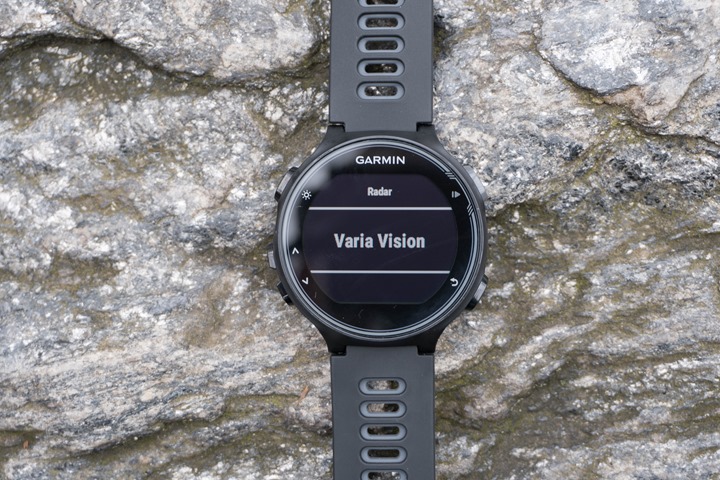 Finally, it's worth noting that the FR735XT is like the Fenix3 HR in that it doesn't record HR while in the water using the optical HR sensor.  Instead, for that you'll have to pickup either the HRM-TRI or HRM-SWIM (or the FR735XT bundle).  This is the same story as with the Vivoactive HR, in terms of optical HR sensor disablement.  It sounds like Garmin still isn't seeing the level of HR accuracy that they want underwater to enable that feature.  Which is fair enough, since nobody else does that either (except Polar and the A360, but that wasn't so hot on the accuracy front).
Structured Swim Workout Support: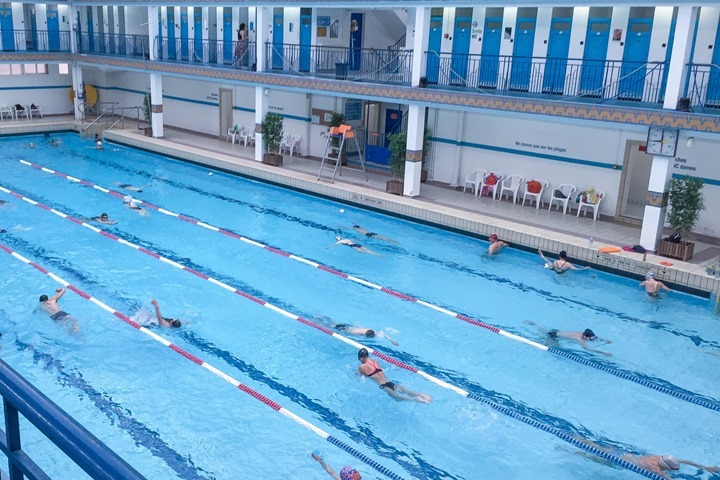 Now since earlier this year Garmin Connect has had the ability (on and off) to create structured swim workouts.  It wasn't announced, but rather just something a handful of Slowtwitchers stumbled upon back in January.  This allows you to take the same concept of structured workouts that has existed for years for running and cycling, and do the same with swimming.  Oh, and it's available for some other units, like the Fenix3 and Fenix3 HR.
Just to briefly run through how it works, you'll start by creating chunks of the workout and specifying durations and stroke types.  Durations can be lengths or time.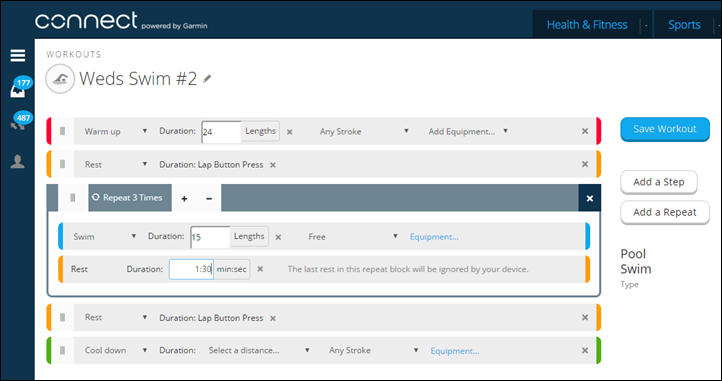 Now there are some quirks here.  For example you have to specify the pool length as part of the workout.  Mine happens to be the mind-bendingly awesome 33.33m length.  Well, that means when it comes to specifying how long an interval is, you actually don't directly choose distance – but rather lengths.  Personally, I don't care about lengths, I just want to say '500 meters', but instead I've gotta do math and get 15 lengths.
This is further compounded by the fact that many swimmers might swim in pools that switch in direction.  For example it's common for a 50m pool to operate as both 50m and 25m (or 25y) depending on the time of the day.  Personally, I just wish I could specify a distance, and then let whatever I specify as the pool-size figure it out at the time of workout. [Update: Garmin circled back on the issue I saw, which appears related to my specific pool size being 33.33m, versus an even number like 25/50/etc…  The bug should be resolved shortly, allowing me to enter in distance like everyone else already can.]
In any event, my minor quibble aside – you'll then add any repeats and such and then save your workout.  You can give it any name you'd like.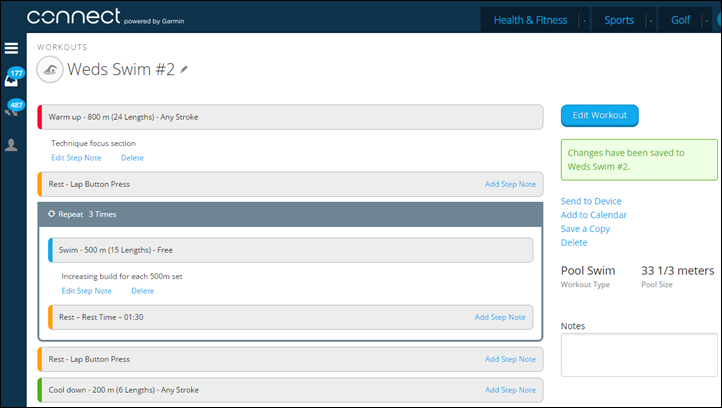 Finally, you'll go ahead and specify what device to send it to.  Right now that's the FR735XT and Fenix3/Fenix3HR.  It does not work on other devices like the Vivoactive, Vivoactive HR (it doesn't support workouts), or the Garmin Swim.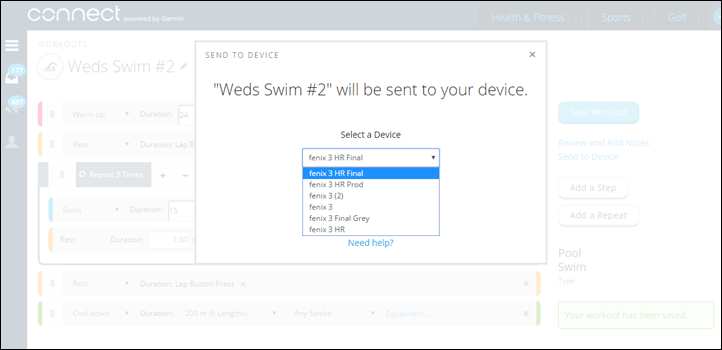 Finally, you'll head to the pool.  In my case I tried it out on a Fenix3 unit, simply because it's what I had available when this functionality was lit back up.  You'll go into the Training menu, then 'My Workouts', and select your workout name followed by 'Do Workout':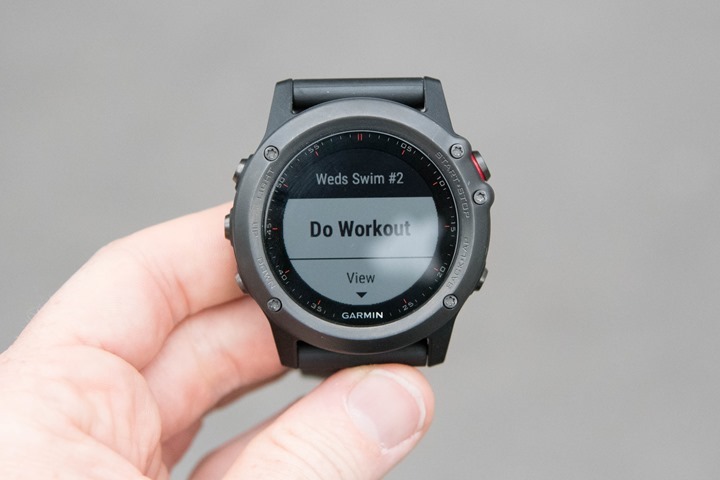 If you start the first section, it'll give you the guidance you specified within the notes, which is kinda handy.  Though, it does cutoff some text around stroke type.
For each section it'll list what's coming up, and then you can iterate through all of your steps.  It's basically just like it is on bike/run workouts: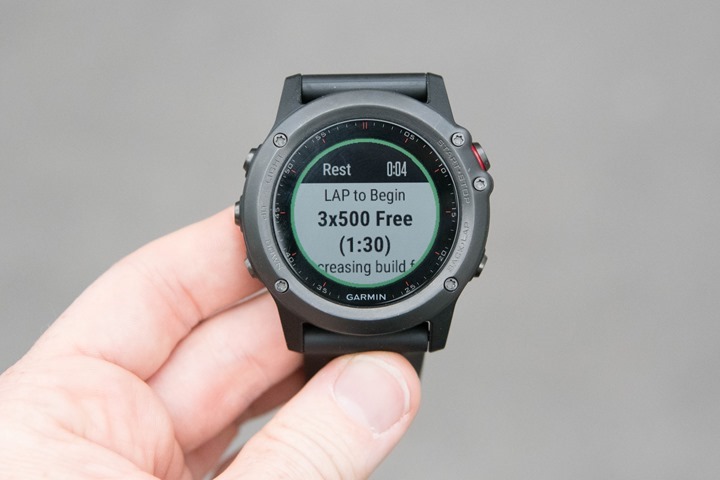 During each set it'll show you which set number your on, and the target distance: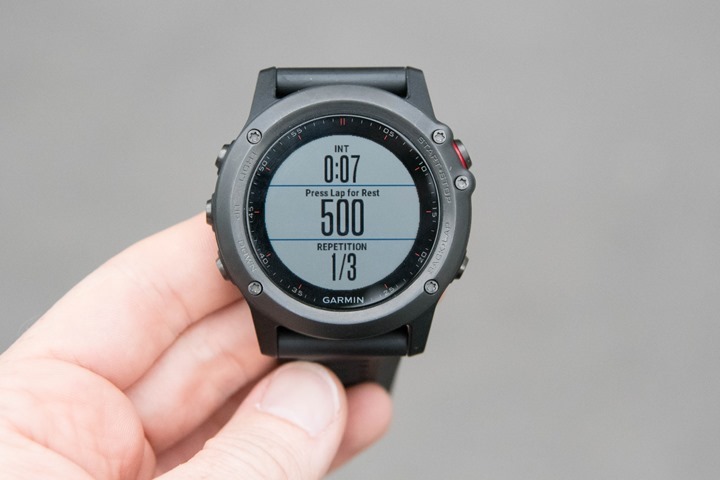 Afterwards the workout will upload like normal to Garmin Connect.  Again, this is now available on the Fenix3/Fenix3 HR and FR735XT.  It doesn't appear to work with the FR920XT when I tried to send a workout to it (Update: The 920XT will work today, but you have to use your smartphone to send the workout to it, not the desktop computer.)
Strava Suffer Score App: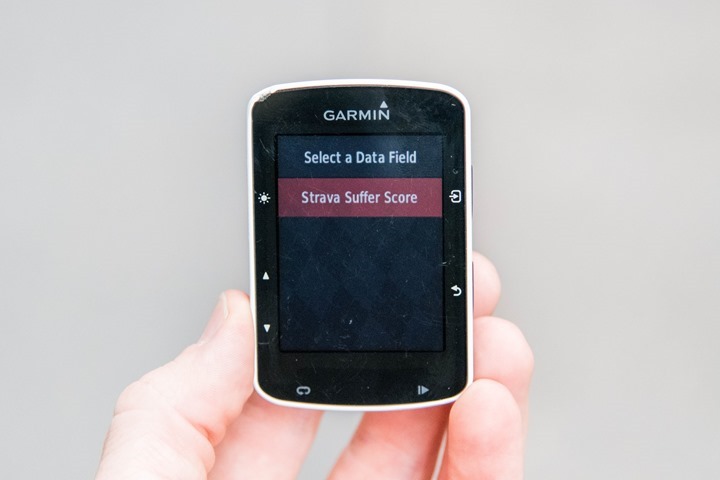 Mixed in today's announcement of the FR735XT was actually also an announcement by Strava (semi-jointly with Garmin) of the introduction of a Strava Suffer Score Connect IQ app.  Well, technically, a data field.  With the FR735XT, the Strava Suffer Score functionality comes baked in. For all other Garmin devices, you'll just need to download it (it's free).
This allows any Connect IQ compatible device (Edge 520, Edge 1000, Forerunner 230/235/630/735XT/920XT, Fenix3, Fenix3 HR, Tactix Bravo, Vivoactive, and Vivoactive HR) to display your real-time Strava Suffer Score on your device before you sync it to Strava.  Once on Strava itself (the platform), you'd then see the Suffer Score there. Though on Strava, that requires a premium membership.  Using the Connect IQ app does not.  Here you can see it on the FR630, above, on the Edge 520.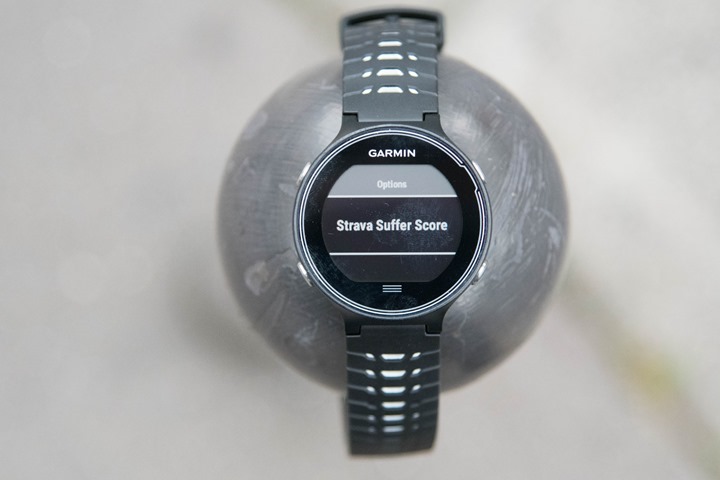 The app works by evaluating heart rate zones to determine your suffering level.  Thus, you do need to ensure your Garmin device's heart rate zones match that of Strava. Otherwise when you upload your workout the two scores won't match.  In many ways, it's kinda like with the TrainingPeaks metrics and ensuring that your FTP levels match on the Garmin Device, Garmin Connect, and Training Peaks.  Same-same concept here.
Since the app is technically a data field, it's something you add to your existing data pages.  So just like you might have a data field for heart rate or distance, you'd just add one in for the Strava Suffer Score.  If you create a larger data field, you'll get this nifty graph-like thing showing your zones: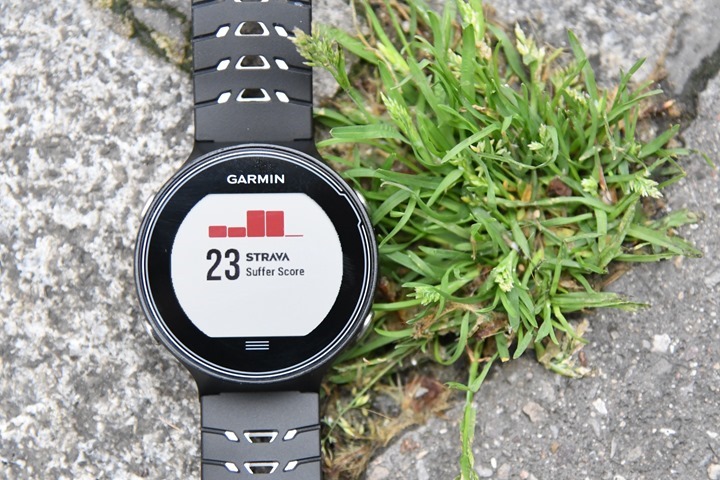 Also because it's a data field, then it's not something that'll show up in any summary information once the activity ends.  It's purely there as real-time feedback.  So you won't see it in the run/bike summary screen or on Garmin Connect itself.
Finally, because Suffer Score depends on heart rate data – you must have either a HR sensor connected or an optical HR sensor.  Also, you must capture some metric of distance. Be it steps (if on a treadmill), or distance if using GPS.  On a bike, you've gotta have either GPS outdoors or some sort of speed/distance data if on a trainer.
All of these should be available immediately in the Connect IQ App store for your device by the time you read this text.  If it's not yet showing up, then as they say…Shoulda, coulda, woulda…
Fenix3/HR, FR920XT, or FR735XT?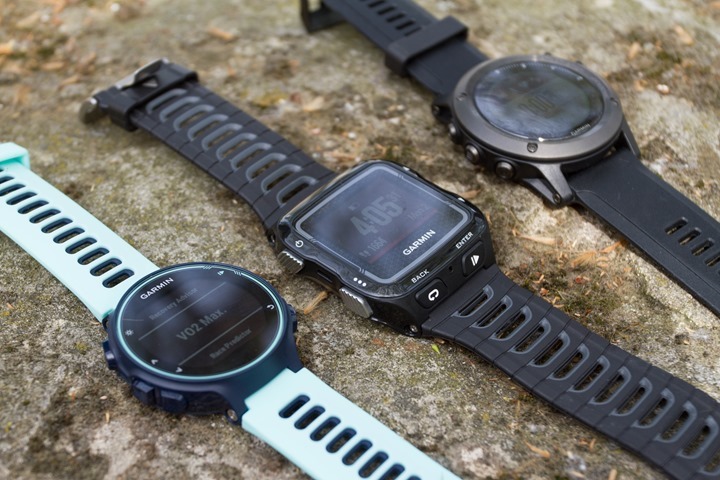 So at this juncture Garmin now officially has 3.5 triathlon watch lineups (current generation). They've got the Fenix3, Fenix3HR, the FR920XT, and FR735XT.  I'm only giving half-credit for the Fenix3 HR optical variant.  And this doesn't even include older stuff like the FR910XT or Fenix2.  Nor does it count anything that lacks a multisport mode (i.e. Vivoactive).
So how are they all different?  Well, I've got my comparison chart tool that you can use, but there are some nuances that are harder to put on that without those charts continuing to bloat more than they already are.  So let's talk about the key differences here instead.  For that, I'll start by turning towards a bit of a video I've put together:
With the video all set, here's the textual chartable version of just these four models.  Yes, there are many other tri models on the market, but for the purposes of this specific chart, I'm just keeping it to these four since that's where 98.57% of all questions will come from.  Also, this isn't trying to show everything under the sun, but just the key differences.
Garmin Triathlon Watch Comparison
| Feature | FR920XT | FR735XT | Fenix3 | Fenix3 HR |
| --- | --- | --- | --- | --- |
| Price | $449 | $449 | $499 | $599 |
| GPS Battery (Official Durations) | 24 hours | 14 hours | 20 hours | 16 hours |
| Barometric Altimeter | Yes | No | Yes | Yes |
| Optical HR Sensor | No | Yes | No | Yes |
| Quick Release Kit | Yes | No | Yes | Yes (but blocks optical sensor) |
| Largest Display Screen | Yes | No | No | No |
| Swim workout support | Yes | Yes | Yes | Yes |
| Works with HRM-SWIM/TRI | Yes | Yes | Yes | Yes |
| Varia Radar Support | No | Yes | No | No |
| Varia Lights Support | No | Yes | No | No |
| Varia Vision (HUD) Support | No | Yes | No | No |
| Gear Shifting: Shimano Di2 Support | Yes | Yes | No | No |
| Power Meter Support | Yes | Yes | Yes | Yes |
| FTP Testing Functionality | No | Yes | No | No |
| Basic Course Following | Yes | Yes | Yes | Yes |
| Advanced Hiking/Navigation Functions | No | No | Yes | Yes |
| 3D Distance, Climbing Screens | No | No | Yes | Yes |
| Lactate Threshold Test | No | With HR Strap | With HR Strap | With HR Strap |
| Intensity Minutes metrics | No | Yes | Yes | Yes |
| Phone based audio prompts | No | Yes | Yes | YEs |
| Supports Connect IQ for Apps | Yes | Yes | Yes | Yes |
| Strava Suffer Score (App) | Yes | Yes | Yes | Yes |
| Strava Live Segments | No | Yes | No | No |
| Bluetooth Smart/USB Transfers | Yes | Yes | Yes | Yes |
| WiFi Transfers | Yes | No | Yes | Yes |
| Touchscreen | No | No | No | no |
Note that when you get into the Fenix3 series, there's a lot of little nuances that are harder to capture and aren't included above.  Aspects like tides app, or fishing mode, and the like.  Tons of little features.  If you're looking for more advanced functionality beyond just swim/bike/run – that's probably the watch to be on.
Shipping & Availability…umm…Today: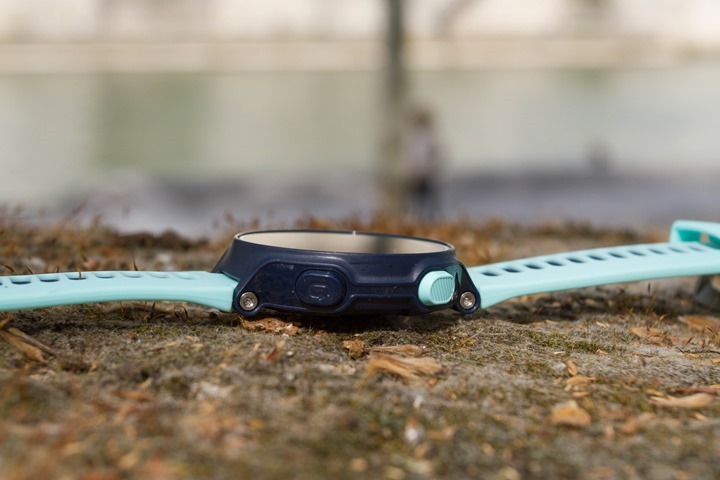 For what I believe to be the first time ever, Garmin actually has these units available to ship…today.  Seriously, actually, today.  For realz.  Even Apple doesn't do that for their iPhone & watches.
For example, Clever Training has a pile in stock to ship out this afternoon for orders placed prior to 1PM US Eastern Time.  With another large pile arriving tomorrow morning, for shipping tomorrow afternoon.  After that, I have no idea when more units will come in.  First come, first serve…and all that.
Same goes for Amazon, also available there today too.
Also, because I haven't used the unit more than a handful of times spread across two different dates on beta hardware/software, I also don't know whether it'll suck or not as a production device.  Though, most retailers have 60 day+ return policies in case things are bad.  I'd say the risk is a bit lower here with the FR735XT from a hardware standpoint, since it appears to be nearly the same hardware as the FR235 (released last fall).  Nobody seems to have any widespread GPS issues there, and the included Garmin Elevate optical HR sensor is what it is (the same).  On the flip side, we haven't seen Garmin cram the triathlon features into this specific watch firmware variant, nor have we seen all of the Varia Vision functionality, swim workouts, Strava Suffer scores, or others in this watch either.  So all are somewhat unknowns.
But as one might theorize – typically when a product ship date matches the announcement date, it's because a company has held off announcing said product to resolve outstanding bugs during the beta period.  My guess is that's what occurred here.  I mean, just a guess and all.
Wrap-up:
It'll be interesting to see how the unit appeals to different folks.  I suspect some will love it for its size, yet others will want something a bit bigger (the FR920XT or Fenix3).  Of course, I think this unit makes it clear that the FR920XT has likely seen the last of any new major software feature updates.  It's been about 19 months since it was first announced – thus getting reasonably close to the typical 2-year marker that Garmin has often followed (though, that's gotten much messier as of late).
I often run with the nearly identically sized FR630, merely because I like the lighter feel.  So in many ways, this watch would appeal to me in terms of being slightly more versatile than just a running watch.  Though, at the same time I tend to use a dedicated bike computer while cycling because I like having a unit out-front on the bars.  Still, the following two weekends I have triathlon races, so I'll definitely be giving the FR735XT proper test runs during those events to see how well it handles during race conditions.
After which I'll be better suited to give a full in-depth review.  So expect that sometime in early June.  With that – thanks for reading!
—
Found this useful? As noted above, you can help support the blog by picking up your sports tech goodness (or underwear, or gel packets) from Clever Training.  The FR735XT is in-stock and available there, for shipping today.  Well, at least until too many people buy it, in which case it'll switch to backorder.  Wait – you're Europe based?  No problem.  Clever Training now has a European store in beta, and you can pre-order it now there for shipping later this month (base). Thanks for the support!