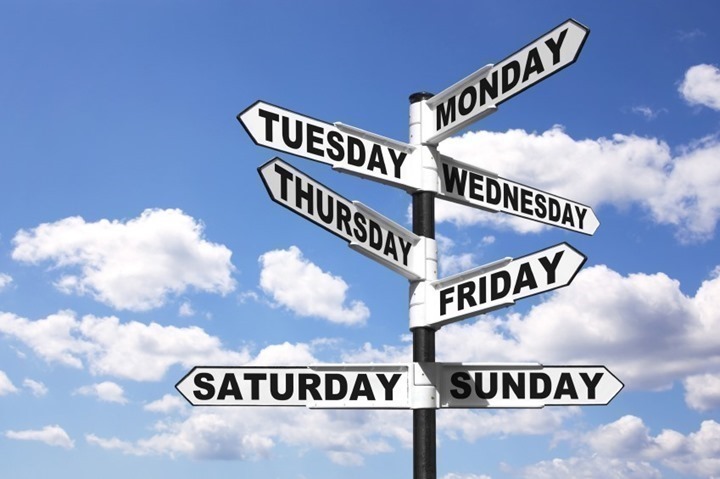 The Week in Review is a collection of both all the goodness I've written during the past week around the internet, as well as a small pile of links I found interesting – generally endurance sports related. I've often wondered what to do with all of the coolness that people write, and while I share a lot of it on Twitter and Facebook, this is a better forum for sending it on to y'all. Most times these different streams don't overlap, so be on the lookout at all these places for good stuff!
So with that, let's get into the action!
DCRainmaker.com posts in the past week:
Here's all the goodness that ended up on the main page of DCRainmaker.com this past week.
Sunday: Week in Review–March 27th, 2016
Tuesday: 5 Random Things I Did This Weekend
Thursday Morning: Wahoo ELEMNT GPS Bike Computer In-Depth Review
Thursday Evening: The DCR Easter Bunny $600 Gadget Giveaway Winner!
Thursday Evening: Why your Garmin GPS is better off taking EPO
Sports Tech Hot Deal Reminder (ends Apr 4th):
Just a heads up that the Wahoo KICKR & KICKR SNAP 20% off sale that I mentioned 2-3 weeks ago only runs through Monday April 4th (tomorrow). Snippet from before below:
REI currently has the Wahoo KICKR and KICKR SNAP on sale for 20% off using member code MEMREWARD16. Now as regular REI folk know, this is technically not just a Wahoo sale, but rather a 'anything full price at REI' sale. Except that REI excludes GPS watches, activity trackers, and the like. So basically, the key thing of interest to folks here is the Wahoo KICKR & SNAP trainers.
For the KICKR, here's my in-depth review. And the REI link here (now $960).

And for the KICKR SNAP, my first look post, and the REI link here (now $560).
If you have it shipped to your local REI store, it's free shipping. And most importantly – if you use any of the REI links above, it helps support the site.
The DCR Podcast:
Here's the low-down on what was covered this past week in the DCR podcast:
Hang tight! This will be up shortly!
Thanks for listening! Subscribing and rating in iTunes is much appreciated, and be sure to send in your questions via the voice mail widget at the bottom of the podcast page!
Also on the Ben Greenfield Podcast!
I recently recorded an episode with Ben Greenfield, where we discussed all assortment of sports tech goodness.
Even if you might not normally listen to Ben Greenfield's podcasts– I'd definitely encourage you to give this episode a try. I was very impressed with how well researched all the questions were – and we chatted for quite some time!
Stuff that I found interesting around the interwebs:
Here's a not-so-small smattering of all the random things that I stumbled on while doing my civic duty to find the end of the Internet:
1) What the UCI Driving School/Certification is really like: Wow, just wow. Though, doesn't surprise me. For those not in on the cycling world, this matters due to the death of a rider last week when a motorcycle hit him after the rider crashed. While this particular incident genuinely seemed like an accident and with a very well respected driver, the details of the UCI certification are mind boggling.
2) Three things I learned from being a European racing on an American team: Solidly funny account of the habits of American Pro cyclists from a European perspective, worth the quick read.
3) HP wearables include ID badges: Kinda a brilliant concept to combine the two, somewhat amazing nobody has ever thought of (or introduced) this before.
4) Marathoners mistake soap for energy bars: Having seen something similar with Vaseline in the Marine Corps Marathon some years ago, I can believe this (man grabbed and ate a tongue depressor of Vaseline at the 21-ish mile marker thinking it was gel). (via Scott E.)
5) First action cam with built-in gimbal: Pretty cool stuff. Though, I don't for a second believe they'll hit their December launch date. That to me says 'we're too far away to know exactly, so we're just going to hope this works out'. My bet says between April and June of next year. Thus, I wouldn't invest in it, since that's basically a year away and all new things would come out either in the fall or in January at CES 2017.
6) How not to handle a security screw-up: While not exactly sports tech related, I figure this is pretty interesting enough to make the cut. Especially for any computer/security/PR/TV geeks in the crowd.
7) Taylor Swift wiping out on a treadmill: While this is no doubt cleverly staged (faked) by Apple, somehow, it makes me feel better in advance of the day I fall off a treadmill in a similar fashion.
8) Shimano's upcoming power meter: A handful of new details of the new Dura-Ace groupset, which is rumored to come with a power meter built-in. Obviously, the question becomes at what price (since the mere act of adding a power meter isn't earth-shattering), and then if at the same price how accurate will it be. That said, I don't expect Shimano would roll-out an inaccurate power meter, since the stakes would be too high for them to the Dura-Ace brand to do so.
9) Tandem Surfing: For when surfing with just one person isn't enough. Or, when surfing with two people on a board is too boring.
10) Sports tech company threatens to pull ads from VeloNews over story: In *cough* totally unrelated news from a previous link in today's post, pretty interesting snippet from the Editor-in-chief of VeloNews. (Via Caley Fretz)
Sports Technology Software/Firmware Updates This Week:
Each week I quickly highlight some of the new firmware, app, software and website service updates that I see go out. If you're a sports technology company and release an update – shoot me a quick note (just one liners is perfect, or Tweet it at me is even better) and I'll make mention of it here. If I don't know about it, I won't be able to post about it. Sound good?
Wahoo ELEMNT Firmware Update: Mostly minor fixes, but definitely worthwhile if you have a power meter.
Garmin VIRB Edit: A number of bug fixes.
Garmin Vivosmart HR Firmware Update: Brings in many of the previous beta features to a production firmware update. Includes screen lock (new), and changes to many metrics (Resting HR, intensity minutes, floors), and more.
Garmin Fenix3 HR BETA firmware update: Improvements and minor new features.
Garmin Fenix3/Tactix Brava/Quatix 3 BETA firmware update: Same as the F3HR, just for the non-HR variants.
–
Thanks for reading all!