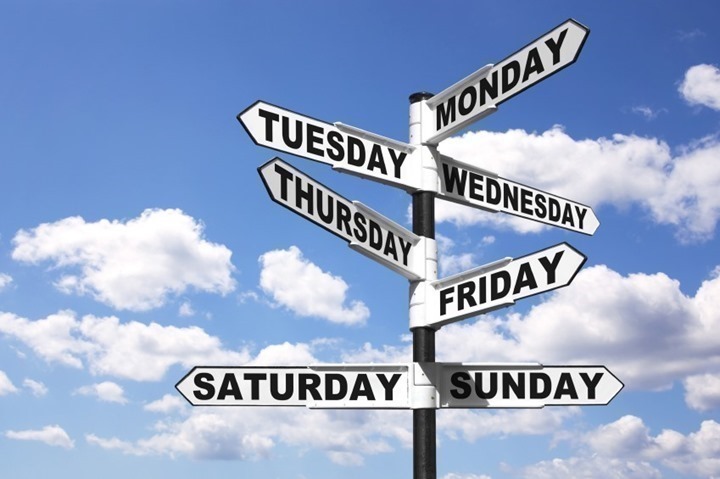 The Week in Review is a collection of both all the goodness I've written during the past week around the internet, as well as a small pile of links I found interesting – generally endurance sports related. I've often wondered what to do with all of the coolness that people write, and while I share a lot of it on Twitter and Facebook, this is a better forum for sending it on to y'all. Most times these different streams don't overlap, so be on the lookout at all these places for good stuff!
So with that, let's get into the action!
DCRainmaker.com posts in the past week:
Here's all the goodness that ended up on the main page of DCRainmaker.com this past week.
Monday: Week in Review–April 18th, 2016
Tuesday: Sea Otter 2016 Power Meter Tidbits: Stages & Verve Infocrank
Tuesday: My Sea Otter 2016 Trip Recap: The Festival, Riding, and More!
Tuesday: A WatTeam PowerBeat Power Meter Update
Thursday: Fitbit Alta In-Depth Review
Friday: PowerPod releases new GoPro/Garmin combo mount for triathlon bikes
Well then, that was a busy week for sure. Especially coming off a redeye from San Francisco and Sea Otter!
Garmin & Fitbit Sales:
We're back into the sweep of spring sales for fitness tech (as seems to be an annual tradition).  First up is Garmin with a bunch of products on sale.  You'll notice that the vast majority of these products already have successors, some of which are just starting to ship. i.e. the Vivofit 3 and Vivoactive HR would effectively replace the Vivofit 2 and Vivoactive.  Full details below.
Garmin Vivofit – $49 (was $79) – Review here
Garmin Vivofit with HRM strap – $79 (was $109) – Review here
Garmin Vivofit2 – $69 (was $99) – Hands-on here
Garmin Vivofit2 with HRM strap – $99 (was $129) – Hands-on here
Garmin Vivosmart HR – $129 (was $149) – Review here
Garmin Vivoactive – $169 (was $249) – Review here
Garmin Vivoactive with HRM strap – $199 (was $299) – Review here
Garmin Forerunner 15 GPS watch – $99 (was $119) – Review here
Garmin Forerunner 15 GPS watch with HRM strap – $129 (was $149) – Review here
In my opinion the best deal out of the above would be the Vivosmart HR at $129 (never been that low before).  Most of the others are good deals too, but it just depends on whether or not you're in the market for that type of device.  With the Vivosmart HR, at that price it's kinda a looker.
Sale ends May 7th, 2016.  Note that for items over $75, from Clever Training you get free shipping.  But the DCR coupon code doesn't apply to these sale items.
Next we've got Fitbit.  They've just got one item on sale, the Fitbit Flex.  In their case, that's semi-succeeded by the Fitbit Alta, though not 100% according to Fitbit (they say they expect to keep selling the Flex, unlike the Fitbit Charge).
Fitbit Flex – $79 (was $99)
Phew – got all that? Good. Go forth and enjoy!
Stuff that I found interesting around the interwebs:
Here's a not-so-small smattering of all the random things that I stumbled on while doing my civic duty to find the end of the Internet:
1) What not to do with cars – a perfect use for 360° video: This video is a great use of 360° video (the one inside the car).  However, I'd caution that in general I wouldn't consider the car/human relationship wise.  Inversely, you've got the concert put on by The Verge with YouTube.  While this could have been cool, in reality it was just kinda disappointing.  Video and audio quality weren't really what I expected (details on that here).  Further, they appeared to find random people in an office building to show-up, who kinda seemed forced to be there.  Anyway, cool car vs human jumping video below.
2) What's it's like at a hotel the NBA stays at: If you travel much, you'll find this behind the scenes look at how a hotel manages an NBA team's arrival kinda neat.
3) Amsterdam trials beacons for runners in park: Pretty interesting, not sure I've seen anything quite like this before. Note that you'll need to use Google Translate or such if you don't speak Dutch. (via Mario)
4) Soul Cycle in IMAX:  So expensive. I'm so confused.
5) Building hardware? Is an accelerator right for you? Even if you're not building hardware, it's probably worthwhile to understand this if you often jump onboard crowd funded gadgets and gizmos. (via Keith Wakeham)
6) Acer is making a GPS bike computer with a HD camera in it: For realz folks.  Now it's technically a 720p camera, which, is a pretty rough quality level. Still, the concept could be interesting if correctly implemented.  They aim to automatically take  3-second snippets based on things like acceleration and changes to HR/cadence (kinda-sorta like what TomTom has done in their Bandit action cam).  It appears like this bike computer is based on Android (at least looking at the icons), and it has ANT+ compatibility.  Pricing isn't clear yet, but availability in the fall 2016.
7) Garmin releases GPS-enabled band…for golfing: This is basically the form factor of a Vivosmart HR, but with a GPS chipset tossed into it.  So it's activity tracker + golfing stuff.  While I haven't taken one golfing (nor tested it beyond a few minutes of hands-on time, I thought the form factor/concept was interesting and worthwhile noting.  Photo I took recently of it, below.  It's virtually identical in size to the existing Vivosmart HR, just with GPS as well.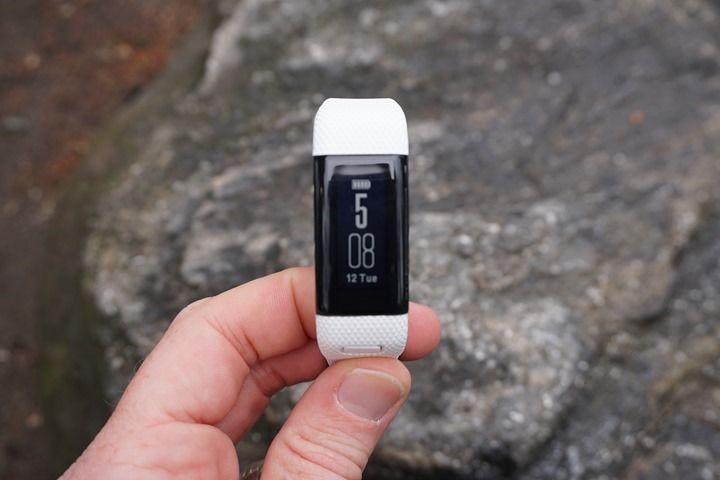 8) Front Derailleur repurposing: With so much talk lately of the front derailleur going away, this video comes up with some alternate uses for the component.
Sports Technology Software/Firmware Updates This Week:
Each week I quickly highlight some of the new firmware, app, software and website service updates that I see go out. If you're a sports technology company and release an update – shoot me a quick note (just one liners is perfect, or Tweet it at me is even better) and I'll make mention of it here. If I don't know about it, I won't be able to post about it. Sound good?
Garmin Vivoactive Firmware Update: Misc fixes and minor updates.
Garmin Vivofit3 Firmware Update: Small fixes, mostly launch readiness items (it just started shipping).
Gamin Fenix3/Quatix 3/Tactix Bravo Beta Firmware Update: Another boatload of new features, plus some fixes.
Garmin Fenix3 HR Beta Firmware Update: Same as above, just for the Fenix3 HR.
–
Have a good remainder of the weekend, and thanks for reading!