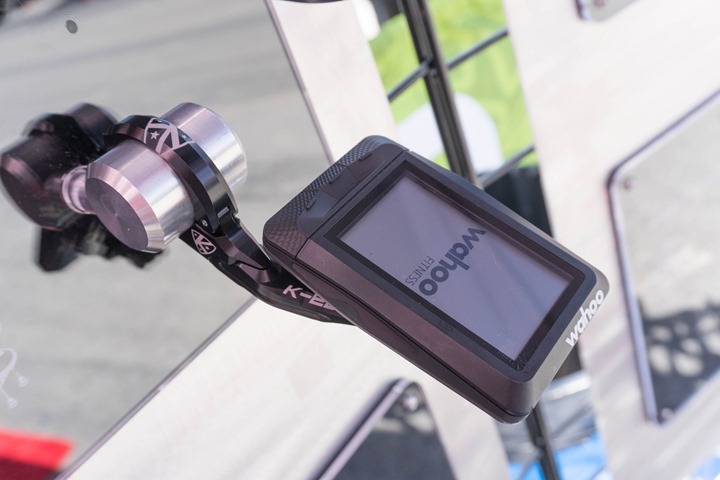 There was more than one company showing off new Wahoo ELEMNT mounts at Sea Otter, and in the case of K-Edge, they're already shipping them too.  The company had on hand the pile of new mounts, as well as some of their other new products that are set to start shipping.
Starting first with the ELEMNT mounts, they're already shipping them for $49 for the out-front mount, and $64 for the combined ELEMNT/GoPro combo mount.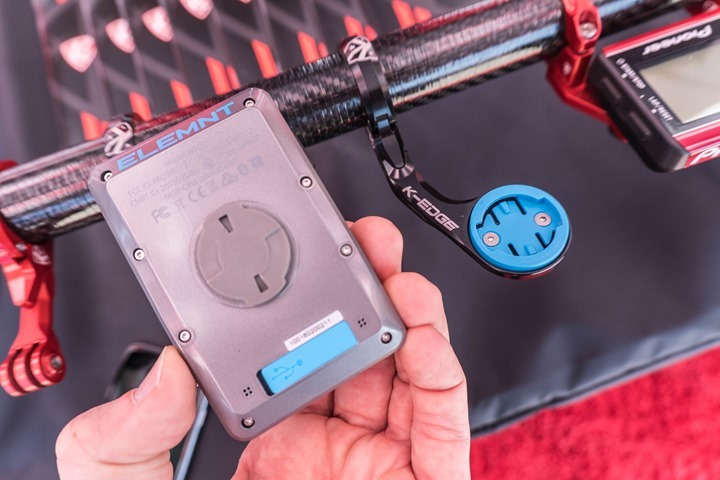 The combo mount simply has the GoPro adapter on the bottom, which enables you to mount both a GoPro on it, as well as any other GoPro mount compatible accessory (i.e. Garmin VIRB X/XE action cam, PowerPod power meter, Cycliq Fly12 light/camera, etc…).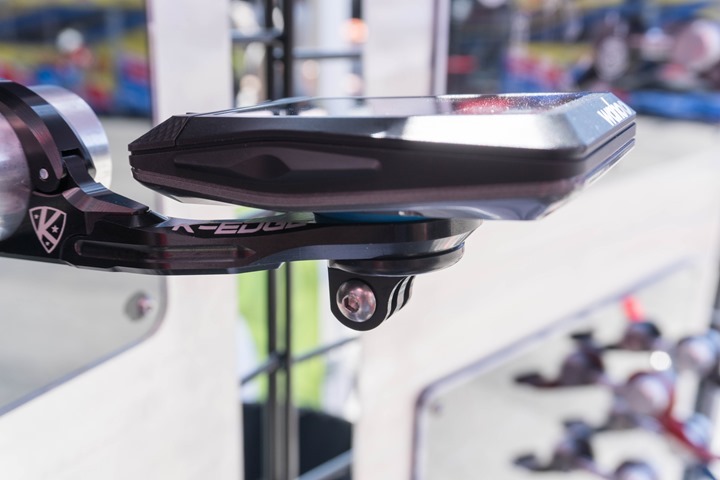 The core benefit to using a K-Edge mount over a plastic mount is really when looking at mounting a GoPro to it.  You'll just get a bit more stability in the footage, and when it comes to clean footage – stability is what matters.  I tend to buy K-Edge combo mounts for that very reason.
They've also got a stem mounted variant.  It's $29 for the fixed version (left below), and $39 for the adjustable version (right/center below).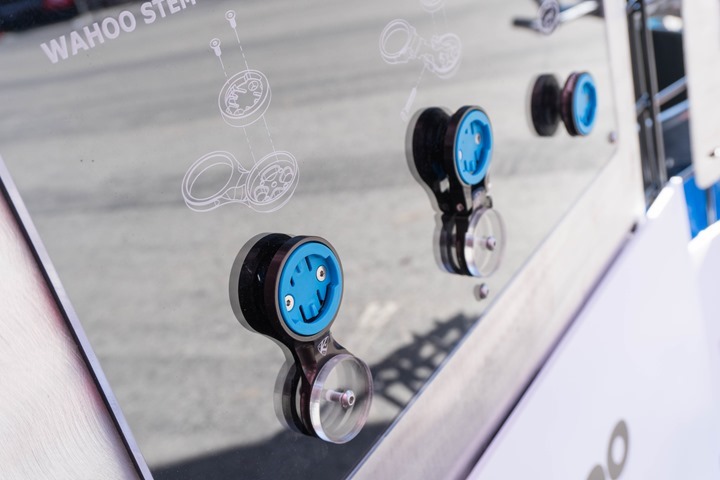 As well as their gravity cap mount ($24), all compatible with the ELEMNT.  The ones that have the blue inserts are the Wahoo ELEMNT variants.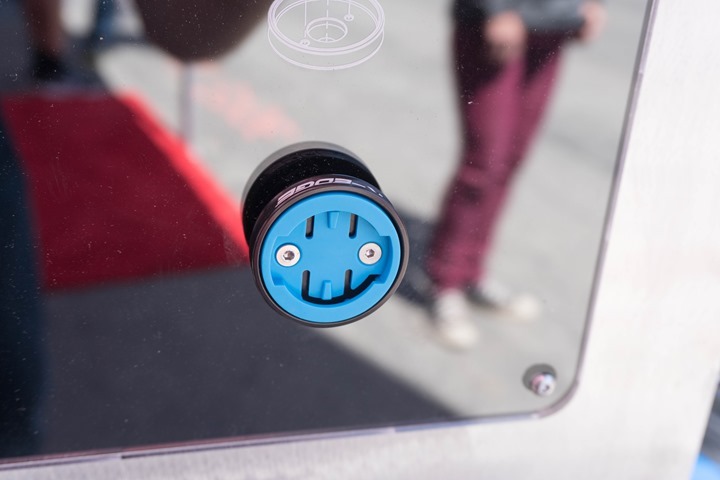 Now there is one catch with the new ELEMENT mounts: While K-Edge did start shipping just the inserts (small blue piece) to customers initially back a month or so ago for those that already had a K-Edge mount, they've since decided to only sell the full mounts.  In discussing it with them, they were concerned that people might place the inserts into much older mounts.  Older mounts that they think might be a little more 'worn', or perhaps more fatigued.
Of course, that official reasoning holds up as well as a wet paper towel.  If there's really a fatigue issue, then placing a *new* plastic insert into the mount would certainly be better than a well worn plastic insert. And if there's really a fatigue issue, then continuing the use the mount at all wouldn't really be advisable anyway (plastic insert or otherwise).  After all – it's machined aluminum (that's the whole point of buying a K-Edge mount), it's beastly compared to the tiny plastic GPS unit sitting atop it.
To be clear, I've got no issue with companies selling new mounts (and I really love K-Edge mounts).  But I'm calling a spade a spade here: Don't pitch products as being upgradeable/swappable if they're not.  Note they continue to offer/sell plastic replacement inserts for Garmin units for example.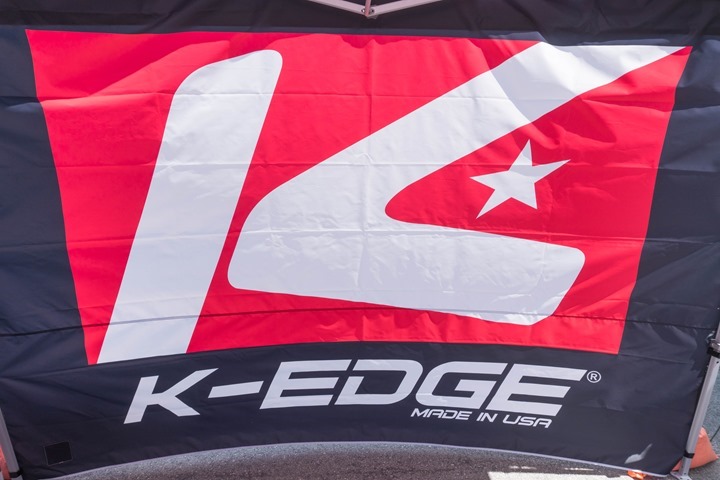 In unrelated news, K-Edge also announced an ownership change at Sea Otter.  Founder and long-time part owner Joe Savola has decided to sell his portion of the company to existing partners.  In both discussions with myself as well as Bicycle Retailer magazine, they noted this was due to Joe looking to focus on his wife's (Kristen Armstrong) upcoming 2016 Olympic preparations.
You'll remember that it was actually her cycling career years ago at the Beijing Olympic Trials that started the company when Joe decided to create a product to prevent dropped chains.
Co-founder Eric Jensen will become president, while Rich Miller will now take on the reigns of the company as general manager, which is technically called AceCo Sport Group.
Lastly, the new on-center mounts that were announced last fall at Interbike will start shipping by the end of April or early May.
These are $54 for the ones below that 'bend' back to center, while $49 for the non-bent variant seen above.  They are GoPro mount compatible, so you can mix and match anything compatible there.
—
Check out all my Sea Otter posts here!  There's still a bit more to clear out of the tubes from the past few days, so stay tuned!