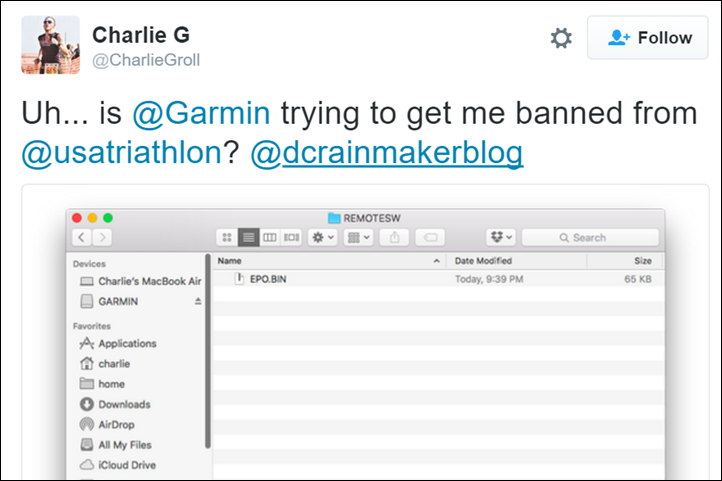 Last week, a DCR reader reached out to me to ask why his Garmin was storing EPO on it.  After all, EPO is one of the most widely known drugs for performance enhancement in cycling and other sports.  We certainly wouldn't want him running afoul of anti-doping or regularity bodies, nor would we want to have him subject to urine tests to prove his innocence.
But that brings up the question – why does his Garmin use EPO? What is it?  And what's it in a bin for?  And if it's in the bin – is someone trying to hide it from authorities?
First up – EPO is the Extended Prediction Orbit, which specifically focuses on the satellite portion of your GPS device.  EPO files allow GPS chipsets to predict where satellites will be in the sky, which in turn speeds up GPS acquisition time.  Technically this is known as the ephemeris data transmitted from satellites, which includes timing of where satellites will be in the sky.  This data is then recorded by a receiver system on the ground and then bundled up and sent via the Interwebs to your devices.
The concept is also known as a 'satellite pre-cache', or various wording variations thereof.  In this case, the EPO term is technically associated with GPS chipset manufacturer MediaTek, though, all companies in the market have similar terms (i.e. SiRFstar with Extended Ephemeris).
The end-results for you as an end-user means that instead of going outside and it taking 2-3 minutes to find GPS signals, it'll take 5-10 seconds.
We started to see fitness GPS companies use this technology about 3-4 years ago.  The first device I remember seeing it in was the TomTom Runner/Cardio.  However, almost the entire industry has followed along since.  Garmin, TomTom, Nike, Suunto, and many others all use the technology.
The downloaded file is small, usually about the size of a simple e-mail where someone added a signature line with a company logo in it.  You can see an example of one here on the Fenix3 HR, plainly visible your computer: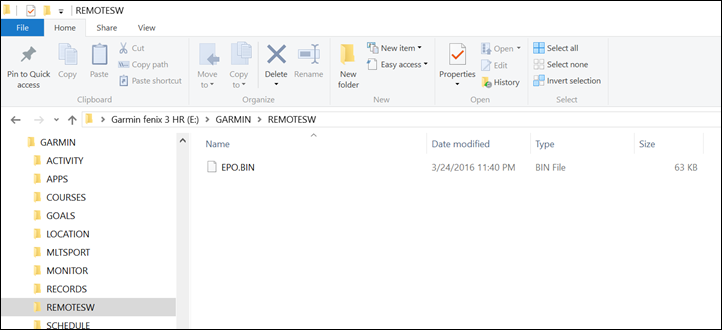 But these files don't last forever.  Instead, they're like Snapchat in that they're only good for a certain time period.  The period differs from company to company, and sometimes product to product.  Usually they range from 3-14 days, though with most at about the 1-week duration.
The 'bin' is simply the type of file that it's in, short for 'binary'.  That means it's compiled and would just be gibberish if you opened it up with something like Notepad.  No worries, there's no reason for you to ever open it up.
In order to get these files updated you'll want to sync your device regularly.  You can usually sync it any number of ways to get the updated files.  For example, via WiFi, Bluetooth Smart, or USB (Garmin Express).  The same goes for Suunto, TomTom, and others.  For example, in the case of Suunto it actually lists the download as one of the steps each time you sync.
Note that if you just plug your Garmin into your computer without Garmin Express, it won't actually download the files.  You need Garmin Express to go off and do the work of downloading the data.  Same goes for Suunto, TomTom, etc…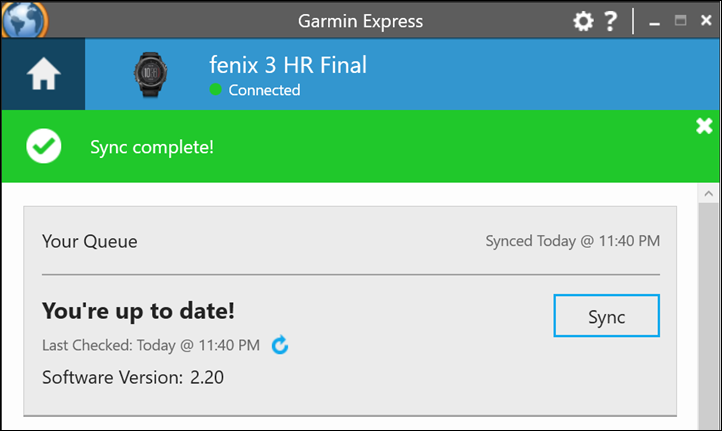 Note that even if you have a computer with Linux on it, there are still options for you to get these files, such as this solution here.
While some companies do display the date the EPO data expires, Garmin does not (though they did at one point in some beta builds a while back – which I thought was super-useful).  TomTom displays the status for example in the about screen under 'QuickGPS':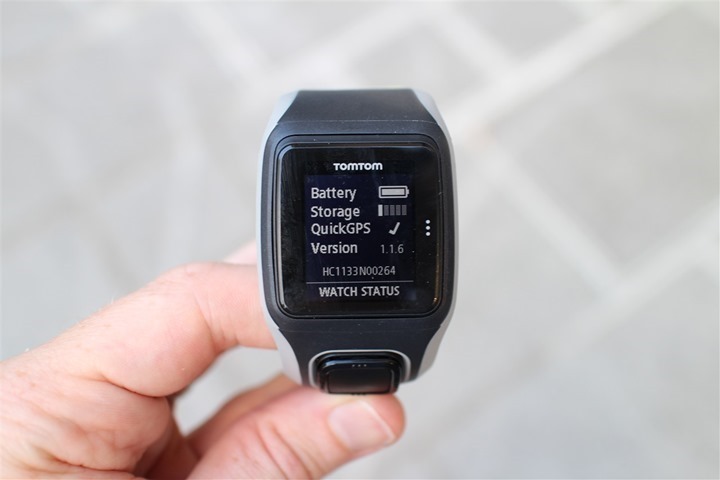 So to summarize things – yes, fear not the EPO.  It's good for your device, and good for your sanity on a cold winter day standing outside waiting for GPS signal with your wrist offered to the sky.
Just be sure that when you get your EPO, it's from a trusted source like Garmin Connect or Suunto Moveslink.  If however you're getting your EPO from the back of a moto, or at a clinic down the street in the back room in an unlabeled bin – then that's likely not going to help your Garmin or your prospects with WADA.
Thanks for reading all!