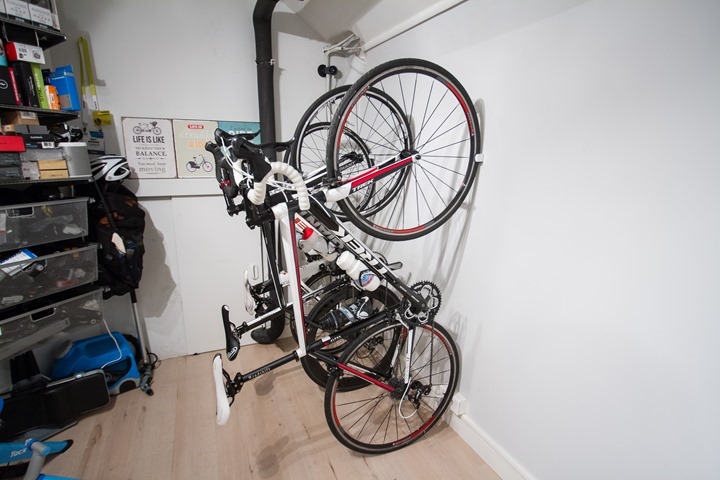 Since I unveiled The DCR Cave a few months ago, I've continued to get a number of questions on one particular item that has no electronics at all in it: The CLUG.  It's the tiny little blocks that are holding my bikes up against the wall.  So I figured I'd kick things off in this DCR Behind the Cave series with explaining what they are and how they work (and what I think of them).
The Basics: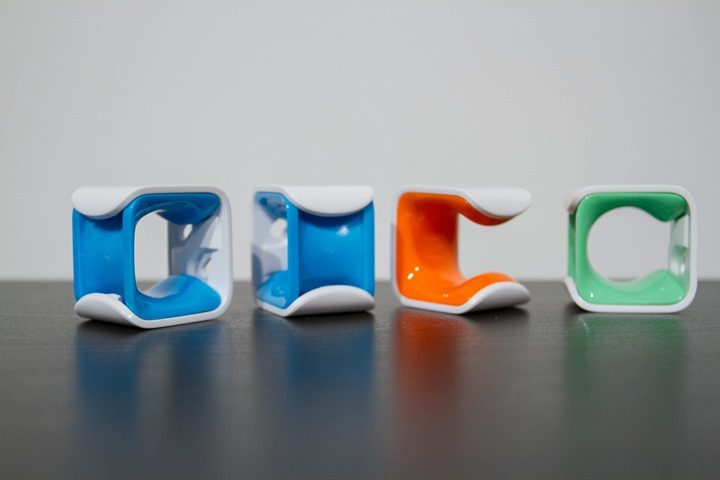 The CLUG made the Kickstarter rounds last summer, as part of a project by a small design studio.  The goal was simply to offer a minimalist way to store your bike in a vertical manner.  Most bike racks are a bit more unwieldy to install, either in terms of space, or just in terms of clunkiness.
The CLUG meanwhile is about as small as you can get.  So I ordered a bunch of them.  Eight in total.  At the Kickstarter prices they were a steal, so I kinda went overboard.  But, we had just started building out the space for the new CupCakery/Cave location, so I had some rough ideas on where I might use them throughout the office.
Back in the fall the folks behind the CLUG sent over a few prototype units for me to give some initial feedback on, and then back a little while ago I finally got my Kickstarter pile of units: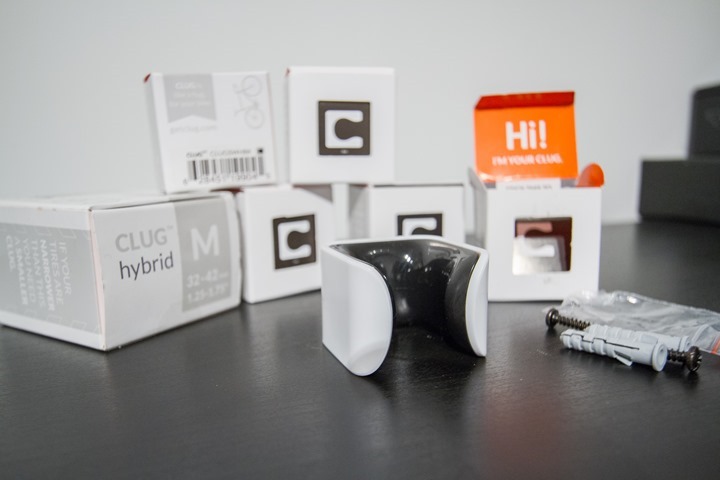 The attachment to the wall is super easy, you just take the two screws and drill them into the wall.  Ideally they'd line-up with a stud to offer additional support for heavier bikes, but that's not a requirement.  They also include anchors too.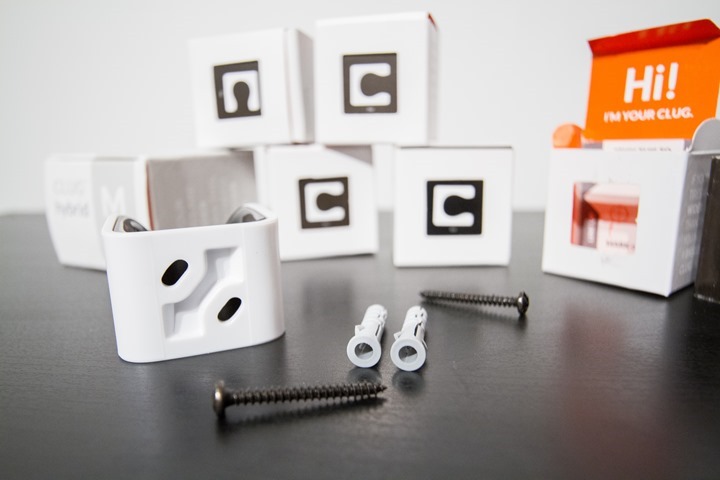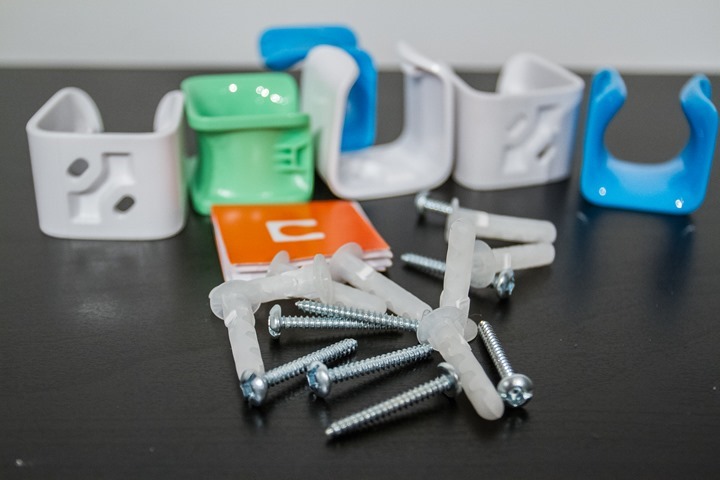 In my case, I had dreaded concrete.  Like, concrete designed for a bunker a hundred years ago.  It was a beast.  Still, I made it work.  And by 'I', I mean a massive power-drill with some gnarly drill bits and a heck of a lot of noise.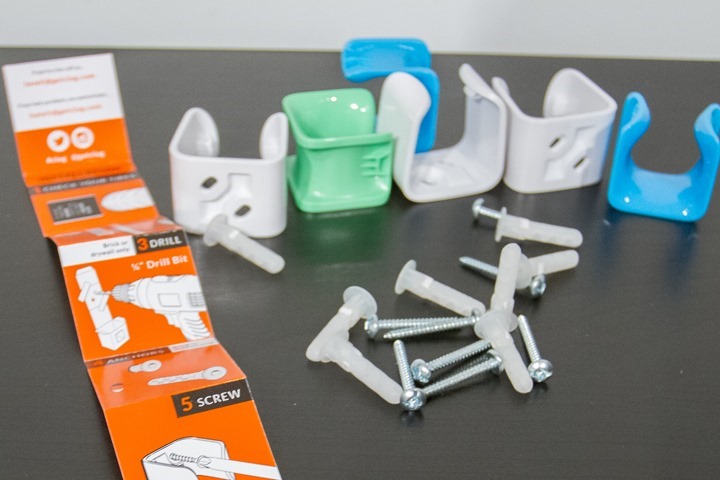 Next, you just make your bike vertical and slot the front tire into it.
And you're done.  Seriously, it's as simple as that.
Some things to note: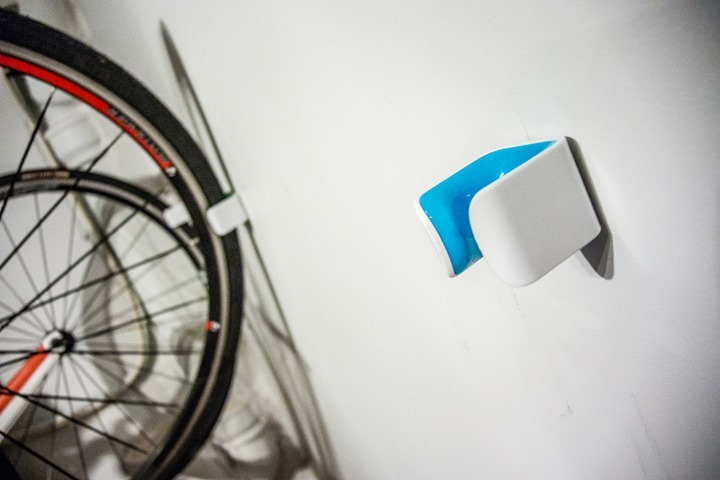 Now, I'd say it's fair to state that the goal of the CLUG is to make your bike storage look pretty.  To that end, it fits the bill perfectly.  It's also a good bike display option too.  But, there are some things to think about.
First is that the unit depends on air in your tire (tube) to keep enough pressure against the CLUG.  So if you leave your bike there long enough and the tires deflate naturally, it'll eventually fall off the wall.  We're talking months though, in most cases.  In one case one bike I had up there didn't fall off by itself, but did when brushed lightly (I caught it).  It was perhaps 4-6 weeks of non-use.  I'm not sure when it would have reached the point of just falling off by itself.
In talking with the company last week, I asked about the tire pressure piece.  They noted they are looking at some sort of strap system that you could apply to keep less-well-utilized bikes in their place.
Next, is that you'll need to think about the sizing.  In my case I bought mostly road bike ones, which are sized as small (aka 'Roadie').  These have worked well for all of my regular and race tires.  No issues there at all.
I also bought two of the larger sized tire ones (Hybrid), but I haven't put them up yet.  Here's the full sizing chart of sorts:
Small (aka Roadie): 23-32mm, 1-1.25"
Medium (aka Hybrid): 32-42mm, 1.25-1.75"
Large (aka MTB): 42-60mm, 1.75-2.5"
Finally, the solution works well in The Cave because it's basically just me and The Girl around that space.  But if we had small kids running around, or other potentially destructive creatures – it's likely they'd get pulled/bonked off the wall easily.  The bikes hold perfectly fine by themselves, but if you walk into them, they'll likely pop off.  Whereas more beastly bike racks might reject you instead.
A Video Overview:
Photos and text not really your style?  No worries, I've put together a bit of a walk through of the CLUG's on the below video.
With that – thanks for reading or watching!
Wrap-up: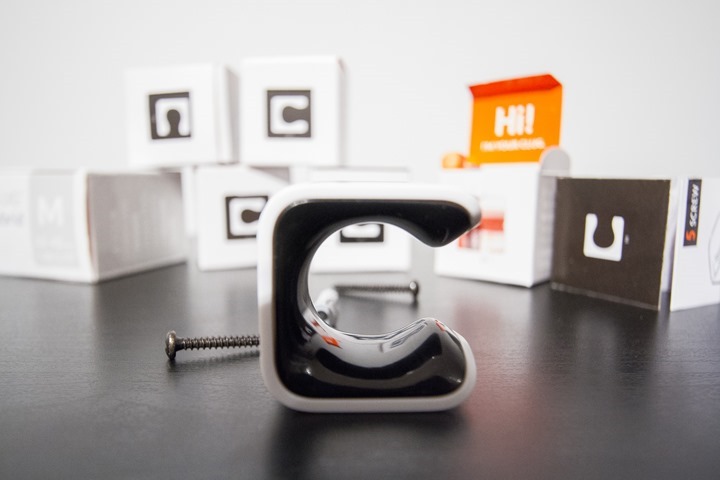 I'd have no qualms in buying the CLUG's again.  In fact, I'm sure I will at some point.  I'm got a few left to install, which I'll do in our desk/office area upstairs where I often quickly stash a road bike when I'm too lazy to navigate the steep steps into the Cave.  And the same for our two commuter bikes (using the Hybrid mounts) for when we don't want them just hanging out near the doorway taking up valuable floor space.
At the same time, you would need to keep your environment's occupants in mind.  For us, these work great since it's low-traffic in the impacted areas.  But if you had inquisitive kids or clumsy pets…probably not so much.  Similarly, it would work well in a small office area of a handful of employees, but I think if you deployed them to a larger office (i.e. numerous cyclists), then I suspect folks might bonk into them too much in a daily commute setting.  Still, for the house – they're awesome.
Pricing-wise all the units are the same $25, though the bundles are the better deal (and admittedly, the early Kickstarter deals were fantastic).  I'd agree $25 is a bit steep given the size/materials of the unit, but compared to most other bike-specific bike racks it's pretty cheap.  Personally if I was to order more I'd find a friend and split up a larger package of them to save a few bucks since there are discounts at the bulk pack levels.
Thanks for reading!
*DCR Behind the Cave: This is (yet another?) semi sporadic series on things that are found within the DCR Cave, or otherwise behind the scenes in it.  Just when I think I've covered it all, it turns out there's lots of little things that folks find interesting.  So this is my attempt at bridging that gap.  Enjoy!