A month or so ago I was contacted and asked if I would like to moderate a panel at the 2012 Consumer Electronics Show (CES) in January, in Las Vegas.  For those not familiar with CES – it's one of the largest convention/trade show in the world, with over 140,000 attendees and 2,000 exhibitors.
So what's the panel about?  Well, they (CES) actually selected the topic – and then they selected me to host it, based on my background with understanding the landscape of this space a bit.  They also selected all the panelists (the people I'll be asking questions of).  So really, my involvement here is to facilitate discussion and ask a bunch of questions.  And maybe just to keep them on their toes.  Make them sweat a bit…(Hey, it's health and fitness, right?).
Given that, I figured there's no better place to start with my question gathering quest than you.  After all, you're just as much an end consumer of this space as I am.
So let's start with the official panel description: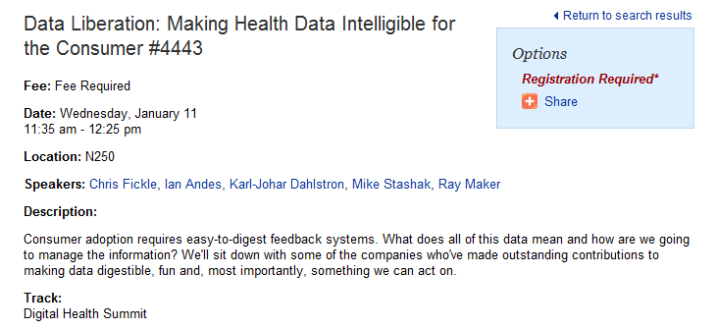 This is an area that I see two different ways.  First, is the ability for us as consumers to use the data we gather on any platform we choose.  This means no data islanding (the act of holding your data hostage on a service, paid or otherwise).  Then we've got the second part – which is how we make sense of all the data we gather. 
There's of course very different segments to the fitness market.  At one end you have someone who might buy a watch like the $90 Soleus GPS watch (review in the next 36 hours) – which isn't able to download the data, but will instead use it real-time during a run.  After the run, they go about their life as normal.  Then, at the other end of the spectrum are folks like those on the Wattage Forums, which will analyze in extreme detail every second (or sub-second) of their ride – and go to significant lengths to ensure that data is 100% accurate every single time.  Both ends of this spectrum have value, depending on where you reside on the spectrum.
The trick is ensuring that the devices meet those consumers needs.  And this is where I think much of the discussion can center around.  Here's who's on the panel: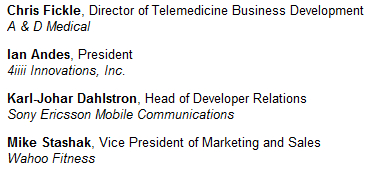 But I want to hear from you – what questions do you have?  And remember, these are somewhat going to be bigger picture questions rather than "Please fix this bug I have in the following scenario".  Though, I can always ask those afterwards. 😉
So – drop a note below, I'd LOVE to hear from you – and hopefully get your question in front of the folks that are making the big decisions.  And if you're going to be at CES 2012, swing by and say hello (and check out the discussion).  I'm only going to be there one day, so it's gonna be pretty packed – but it should be well worth it!
Thanks for reading all!