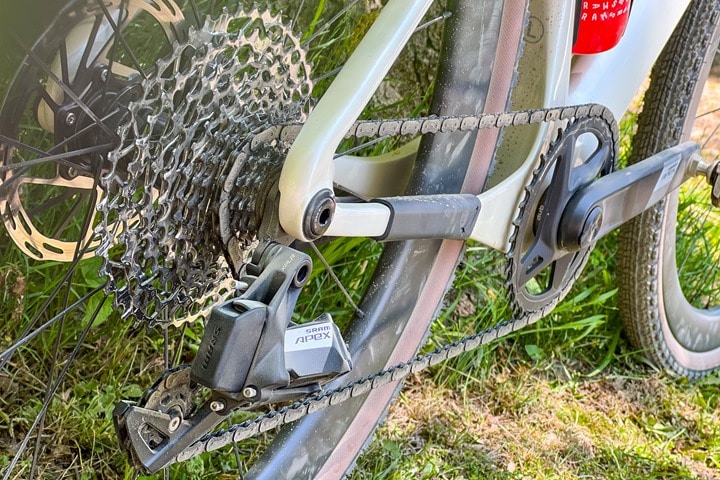 SRAM has just rolled out their AXS wireless shifting to their least expensive drivetrain option, Apex. Alongside that, SRAM Apex also brings 12-speed to the groupset while concurrently gaining a power meter option. I've been riding the SRAM Apex AXS with the new power meter for the past few weeks, on all sorts of road surfaces – from road to gravel to beach, and some occasionally questionable mountain bike trails. All with the goal of seeing how it rides, but also how the power meter handles. In particular, the tech aspects are my main focus here (notably the wireless shifting, power meter functionality, and accuracy).
While the SRAM Apex AXS lineup is the 'budget' SRAM offering, the reality is that it's the same electronic internals as the existing SRAM Force AXS – and frankly, you'd be hard-pressed to see any real-world differences there except for finish and weight. Obviously, for some those are a big deal, though probably less so on a gravel bike than a fancy road bike. But at the end of the day, having both an Apex AXS and Force AXS (2023) bikes over the last few months right now, there's zero difference in shift performance (again, because it's the same electronic internals).
The Apex AXS lineup is specifically a 1×12 setup, meaning there's just a single chainring up front (thus no front derailleur), and 12 gears in the rear cassette. There's a variety of configurations within that, which we'll get to, but this isn't a 2x configuration that has two chainrings up front. One can debate endlessly about whether or not you prefer 1x or 2x, but at the end of the day, even Tour de France teams are shifting to 1x these days for certain use cases.
SRAM says that upon launch (today), they expect to find the Apex AXS equipped bikes on the market starting at about $2,000USD, with most bikes in the $2,500-$4,000 range. For the also-new Apex mechanical variant (12-speed), they expect a few full bikes to be launching at sub-$2,000, but most start at $2,000. That mechanical groupset is being announced today, but not available till September. Whereas Apex AXS is available from today.
With that – let's dive into things.
The Drivetrain:
As a quick reminder, SRAM's drivetrain lineup is as such: Apex (cheapest), then Rival, then Force, then the most expensive RED. This roughly lines up to Shimano's: Tiagra, 105, Ultegra, DuraAce, though I find SRAM shifting performance typically better at the lower levels. That gets messier when you account for MTB/gravel with Shimano GRX, but at a high level, that's the alignment.
Starting on the drivetrain side, as noted above, Apex AXS is offered purely in a 1x configuration. Within that, there are two basic options: Apex AXS XPLR or X1 Eagle AXS. What's notable here is that in the Eagle configuration, the rear derailleur is actually just an X1 Eagle AXS rear derailleur. In fact, SRAM says while they could have rebranded it Apex, they thought that was just stupid and confusing. So they left it as what it is: The X1 Eagle AXS rear derailleur.
Starting back on the Apex XPLR AXS, that's offered in a 36T or 44T configuration. All of the stuff you'll see in this review, I was on a 44T Apex XPLR AXS configuration. This is then compatible with 11-44T, 10-44T and 10-36T cassettes. In the case of this review, I was on the 11-44T cassette, which is spec'd as 11/12/13/15/17/19/21/24/28/32/38/44 cogs, and running SRAM's Flattop chain.
Meanwhile, the X1 Eagle AXS config is paired with any Eagle 50T or 52T cassette. SRAM says they're suggesting to bike OEMs to pair it with NX cassettes for pricing reasons.
Now, because charts really convey this spec information better, here's a quick overview of the components at play here for both electronic and mechanical: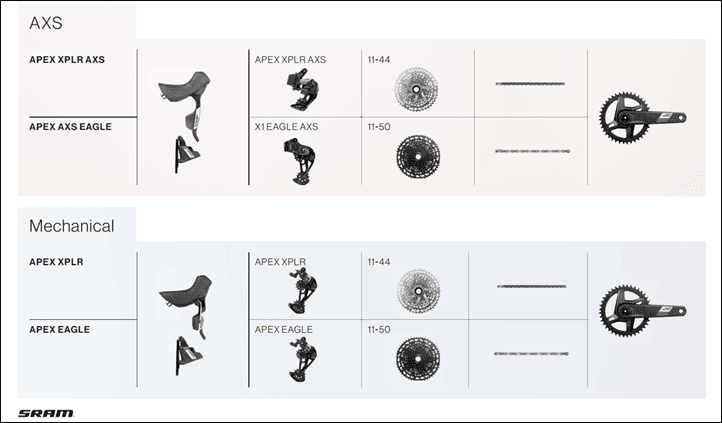 Then, here are the specifics of the components and compatibility of the different pieces. This chart is a two-parter, so just note that. Here's the first part: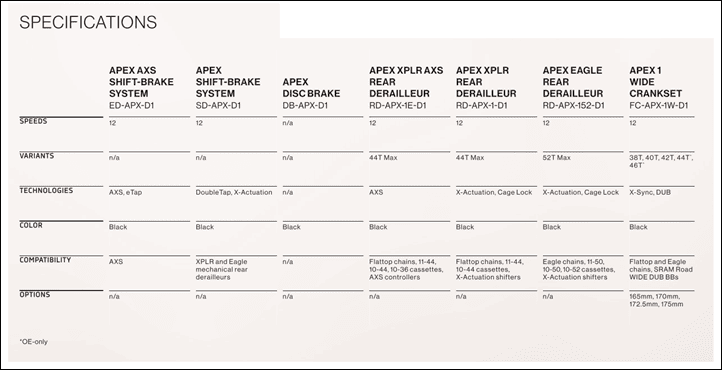 And then here's the second part: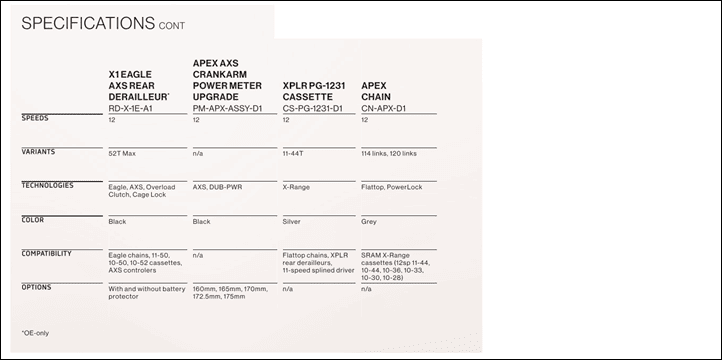 Next, there's the weights. Obviously, the big ticket item here with Apex vs Force is the weight. Take for example the shifters. The Apex XPLR AXS comes in at 825g for both together with calipers, whereas Force AXS is 754g for the pair (including both shifters and calipers). Yet the rear derailleur, for example, on both is within 1g (327g vs 328g). Here's the breakout on weights for the Apex components.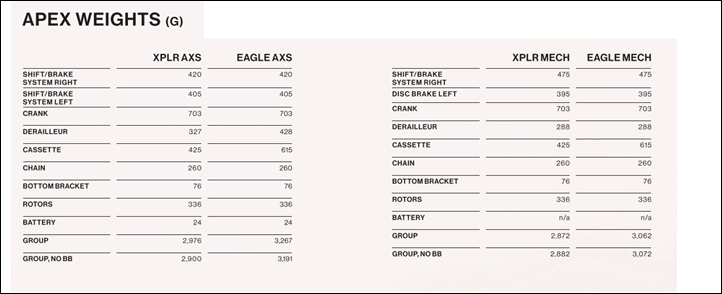 Lastly, there are prices. Now frankly, almost nobody is going to purchase these components this way. Sure, they'll be offered, but realistically you're gonna find it on a bike instead, especially at this price point where the bike manufacturers are getting a big discount on these parts. Plus, at these prices, the Force AXS retail prices are just a tiny bit more. Here's a gallery of all those Apex price sheets.
Ok, with all those numbers out of the way, let's take a look at some real-world imagery. Here's the gravel bike I've been riding, the Lauf Siegla: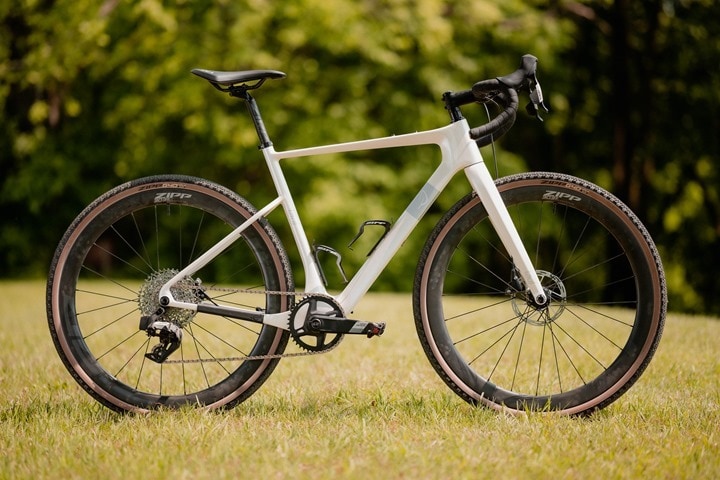 (Note: SRAM took these pretty shots of this bike before I got it really dirty. I took a bunch of shots too, but mine are less pretty. Outside of this grass-field one, all the rest throughout the rest of the review are mine. If it's dirty, it's mine.)
Starting at the front of the bike, we've got the shifters. The texturing on the hoods is different. I liked it, but then again, I also don't have any real issues with the other SRAM hood texturing. Some people are into hood texturing, I am not one of those people. Instead, I'll bore you with power meter nuances later. As noted earlier, there are a ton of similarities here between the 2023 Force AXS and Rival AXS.
The Apex AXS shifters have a single CR2032 battery per shifter, which SRAM says will get about 2 years of shifting on it. With a 1x system, shifting is silly simple. Press the left shifter to make it easier, and press the right shifter to make it harder. Donezo. Albeit, as always, we can customize the crap out of it with the SRAM AXS app:
Notably, the Apex AXS setup is fully compatible with Wireless Blips for remote shifting (which are also on my test bike). However, it's not compatible with the non-wireless Blip and Clic buttons. This means that if you end up buying the optional SRAM Wireless Blips, they're effectively disposable. I know, SRAM likes to call them "Recyclable", but let's call a spade a spade here. On the bright side, SRAM says they should last 6-9 years with that battery. In terms of whether to add Blips, I've had Blips on all my SRAM bikes over the years, and me personally, I virtually never use them in a road-config (obviously, TT is different). Others love them. To each their own. You can see them here on the handlebars (the little bumps below the bars):
Note that there is a flat-bar style controller for both Apex AXS and Apex mechanical. It's not a bike I tested, but there was one at the media event I attended.
Moving on down, we've got the front chainring and associated power meter inside the spindle. Notably, if you buy the non-power option here, then 'upgrading' to the power meter option is really swapping out the entire front chainring assembly. So while this is a spindle-based (left-only) power meter, that's inclusive of basically everything within the bottom bracket. But again, more on that in the power meter section. The crank arms here are aluminum (like Rival), whereas Force & RED are carbon. Again, compromises are made here to achieve a lower price point.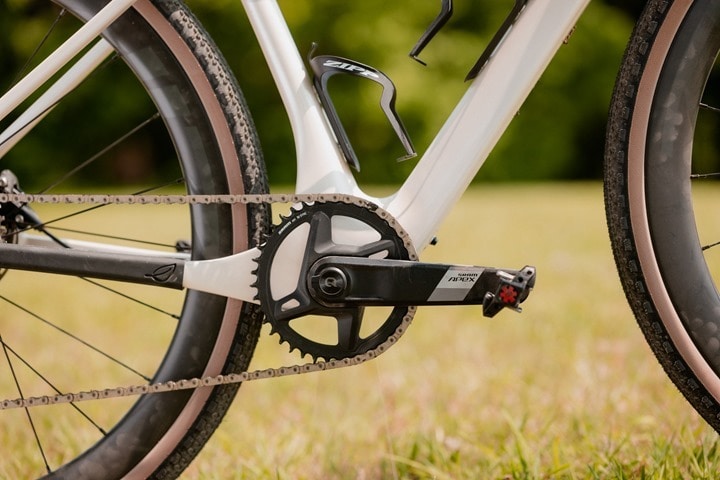 You'll follow the Flattop chain back to the rear cassette:
It's back here that you've got the 12-speed cassette and rear derailleur. In my case, it's in an XPLR configuration, but it could equally be in an Eagle configuration. The core difference, aside from finish and weight, between the Apex AXS and the existing Force AXS/Rival AXS/RED is that those can be 2x, whereas Apex AXS is 1x only. SRAM says you cannot pair an Apex AXS rear derailleur with a 2x front derailleur of any type. Further, the Rival & Apex XPLR AXS RD's use a spring-clutch, versus the RED/FORCE using an Orbit fluid damper system.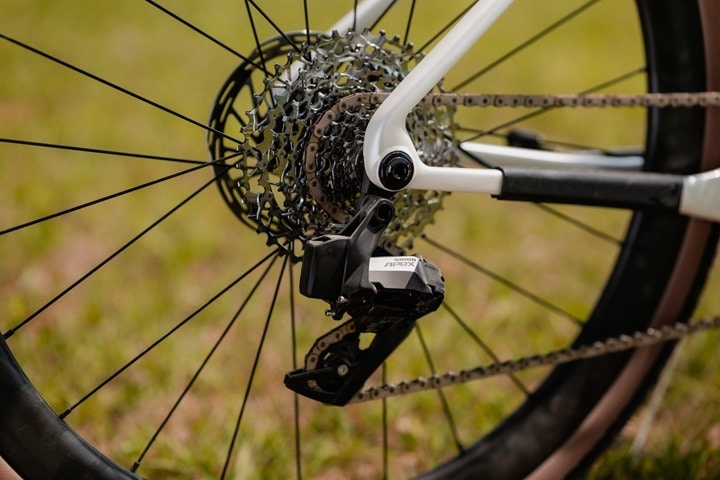 So all this spec-talk aside, what about the actual feel while riding in terms of shifting?
Well, it feels virtually indistinguishable from the new SRAM Force AXS I was riding earlier this spring, or for that matter, the Rival AXS bike I have sitting around as well. Shifting is fast and efficient as always, and I think at this point the cycling media has finally shifted from pretending to care about how fast shifts occur, to the realization that shifts occur faster than you could ever need – and if the world's top athletes are winning the Tour de France and countless other races on all of the major electronic shifting systems, it's probably good enough for me and you. This isn't to say that line of thinking is always the right approach (as you'll see in the power meter section), but I just don't see shifting performance as a real-world issue for 99.99% of people, pros included.
In any case, all of this shift data is concurrently transmitted to compatible head units over the ANT+ shifting protocol. This also includes battery information as well. You can see this on the Edge 1040 Solar here, except I didn't customize the gear info there – thus showing 39, when in reality it should be 44: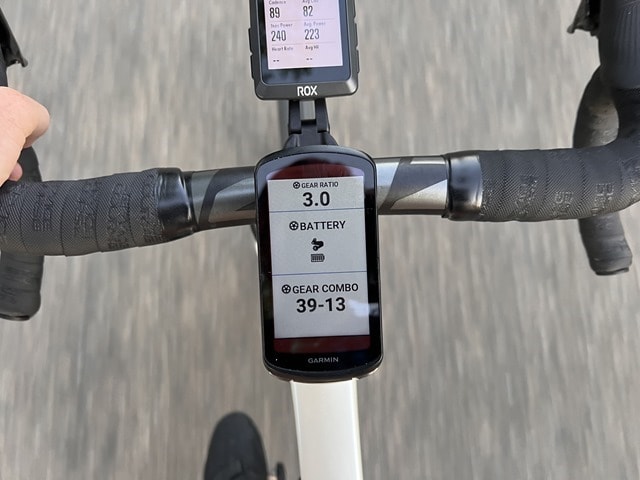 This is then written to the .FIT file within your workout, and then can be transmitted to the SRAM AXS app later, which can do things like alert you to low battery levels, as well as detail exactly how many times you shift.
You can go into the settings for the Shifting sensor though, and customize the gears. Both the correct front chainring, as well as the rear cassette. This includes either picking from some presets, or manually selecting the tooth config you have:
Speaking of which, on the back of the rear derailleur is the usual SRAM eTAP/AXS battery: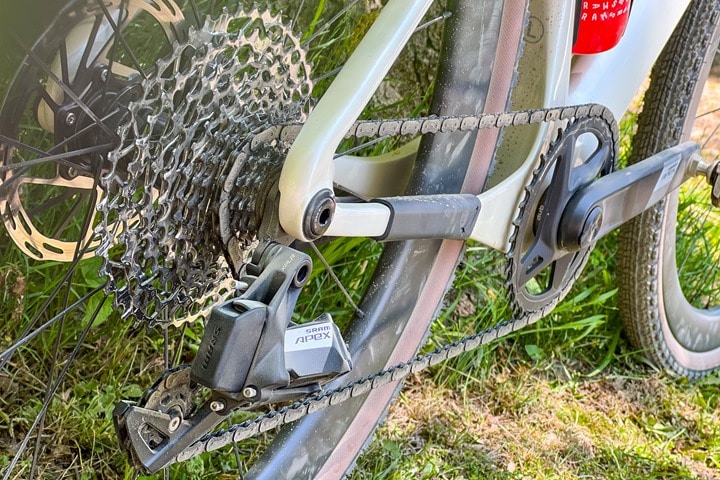 With this 1x setup, you'll only need the one battery (just for the RD, as there is no front derailleur). And then of course the two shifters have their own CR2032 coin cell batteries as discussed earlier.
The Power Meter: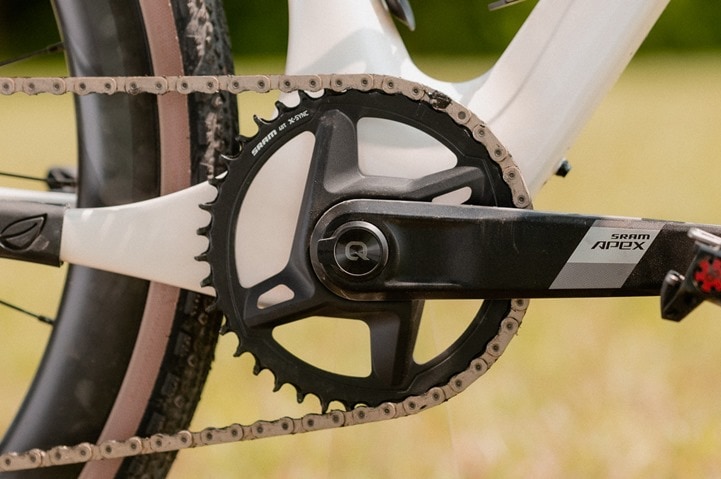 Next, we've got the power meter – the first time that SRAM Apex has had a power meter option. With this, all of SRAM's drivetrain families now have power meter options, all powered by Quarq technology (which SRAM acquired years ago).
With Apex AXS, this is a spindle-based power meter, which means it measures only your left-side (left leg) power, and then doubles it. Whereas SRAM's Quarq-based chainring power meters, captures total power from both legs. SRAM introduced the spindle-based option a year ago as part of the SRAM Rival AXS product launch, aimed at reducing the entry point to power. SRAM says that the Apex power meter is identical to that of the RIVAL power meter in terms of performance.
Indeed, to add the power meter to the setup, the upgrade cost is a mere $220US/£205/€230/$380AUD and adds 40g of weight. That's about as low as you're gonna get in the power meter world, and only slightly cheaper than most other left-side-only crank arm add-on options (e.g., those from Stages or 4iiii).
You can see the power meter here on the bike at the spindle, which actually pulls out of the non-drive side – complete with the green LED: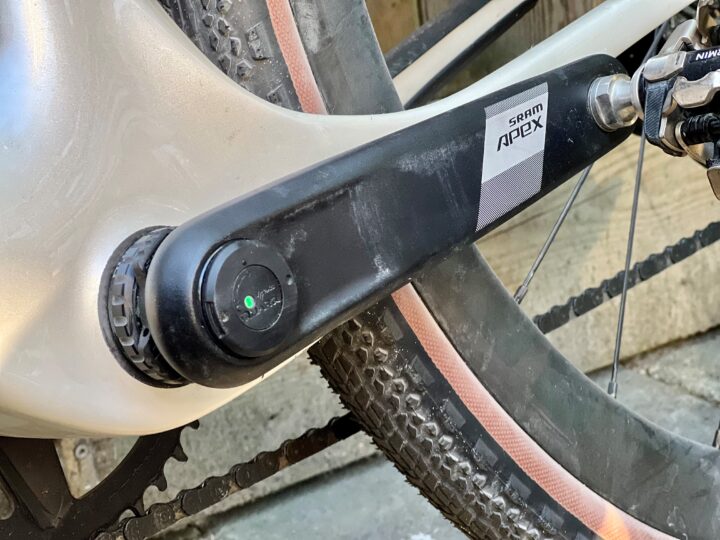 Here it is half-slid out: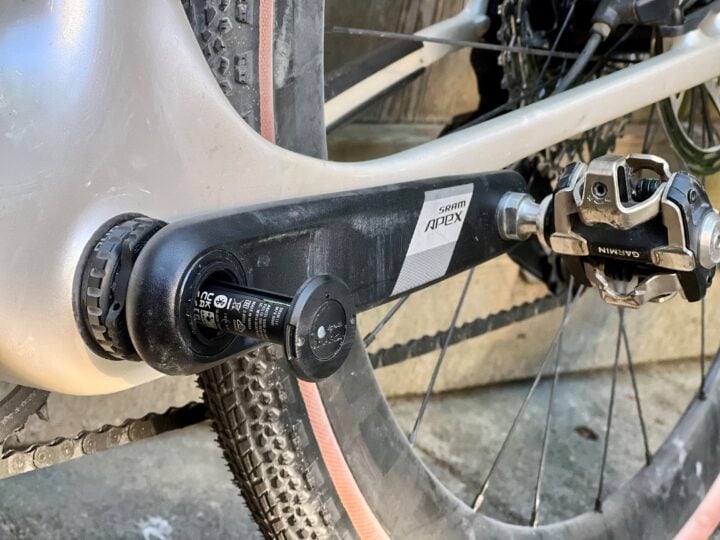 The way a spindle-based power meter works is that the strain gauges are inside the spindle (within the bottom bracket) and directly measure the power output that comes off the left crank arm down into the spindle. Here's the removable spindle, though the 'goods' (strain gauges) are actually inside the bottom bracket. This part is just the battery bits as part of the 'sled', which gets about 400 hours of battery life on a single AAA lithium battery.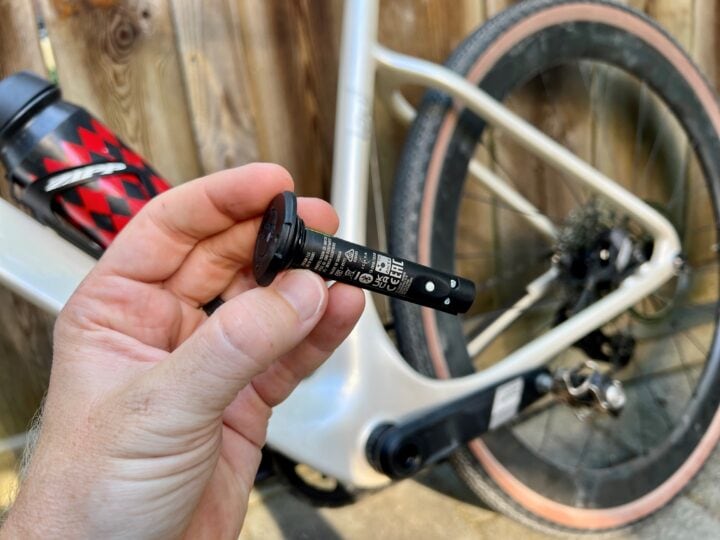 From there SRAM will simply double your left leg power to determine total power. This is the same as all other single-sided power meters on the market have been doing for the past decade. The reason companies simply double your power rather than try and do some creative algorithm is that people's leg balances differ – and also differ at different intensities, durations, and with injuries. There's no way to accurately predict how it might compare from person to person, thus, doubling is what companies choose.
Given it does not capture the power data from the right leg, it will not accurately transmit your total power – even if the left side is accurately capturing your left leg power. Whether or not that's a small difference in accuracy, or a big difference in accuracy will depend on the person.
To pair up your power meter, you can search on your bike computer or watch for the unit after rotating the crank (which uses an accelerometer to wake it up). The Apex Power meter transmits concurrently on both ANT+ & Bluetooth Smart. Once paired up, you can initiate a zero offset to effectively calibrate the unit.
Though, it has automatic temperature compensation built-in. You can also do this from the SRAM AXS App.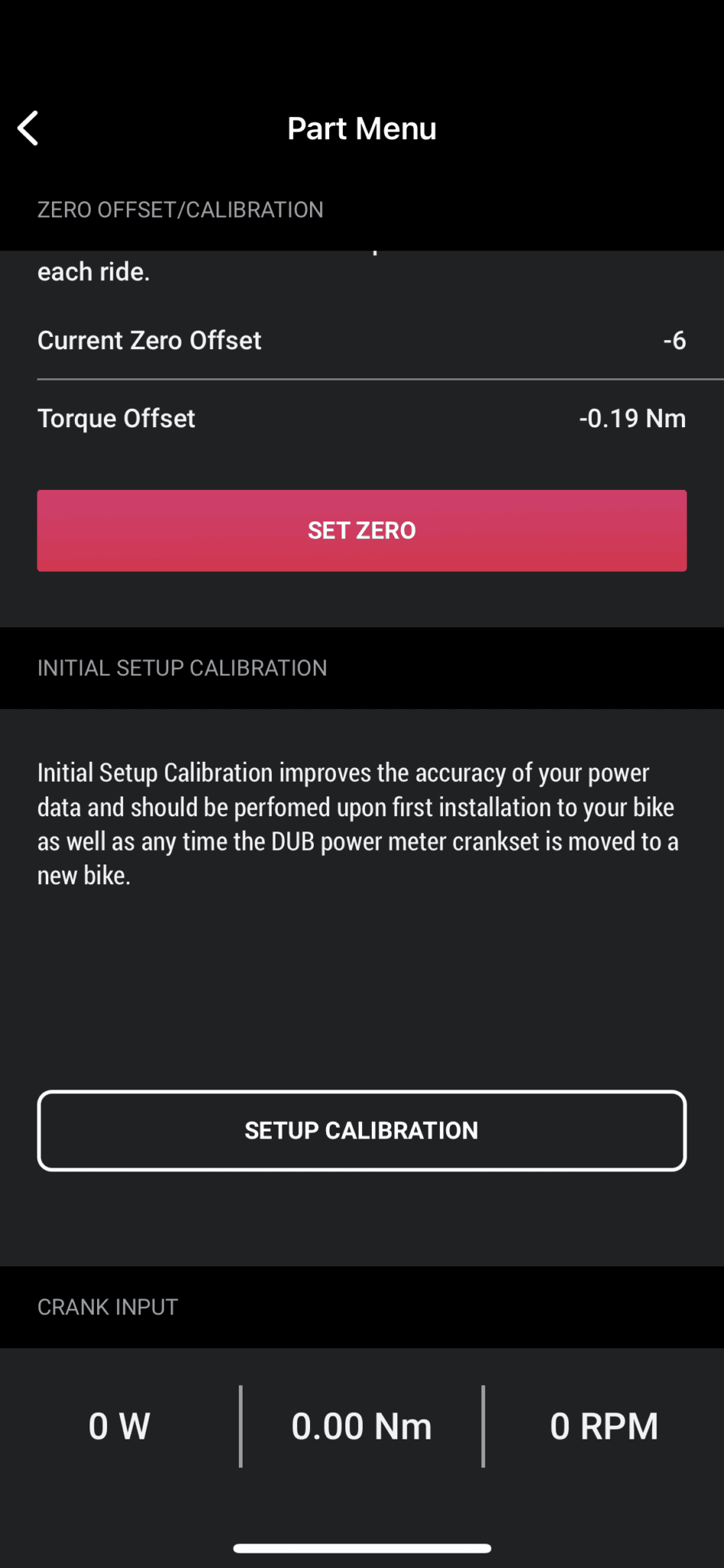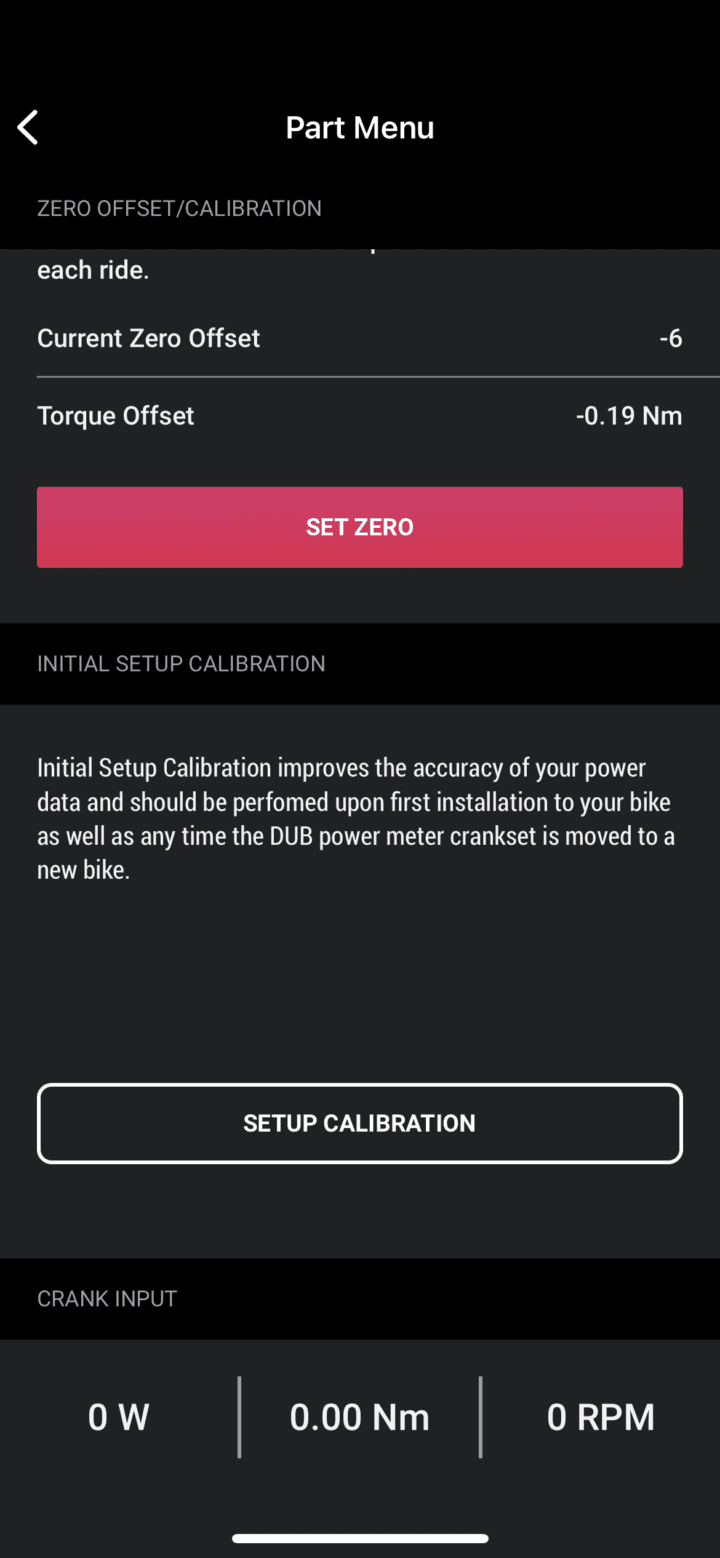 You can also adjust the slope from the app: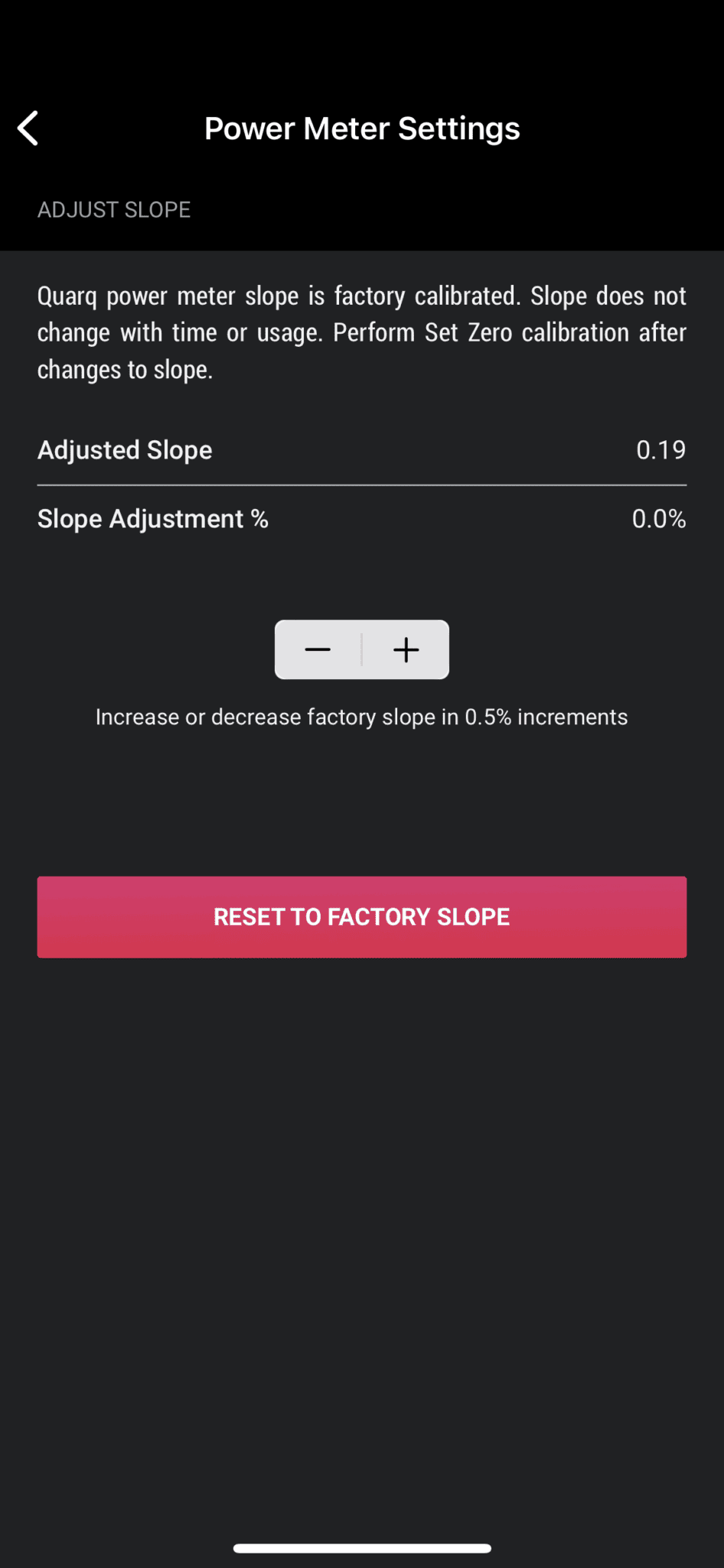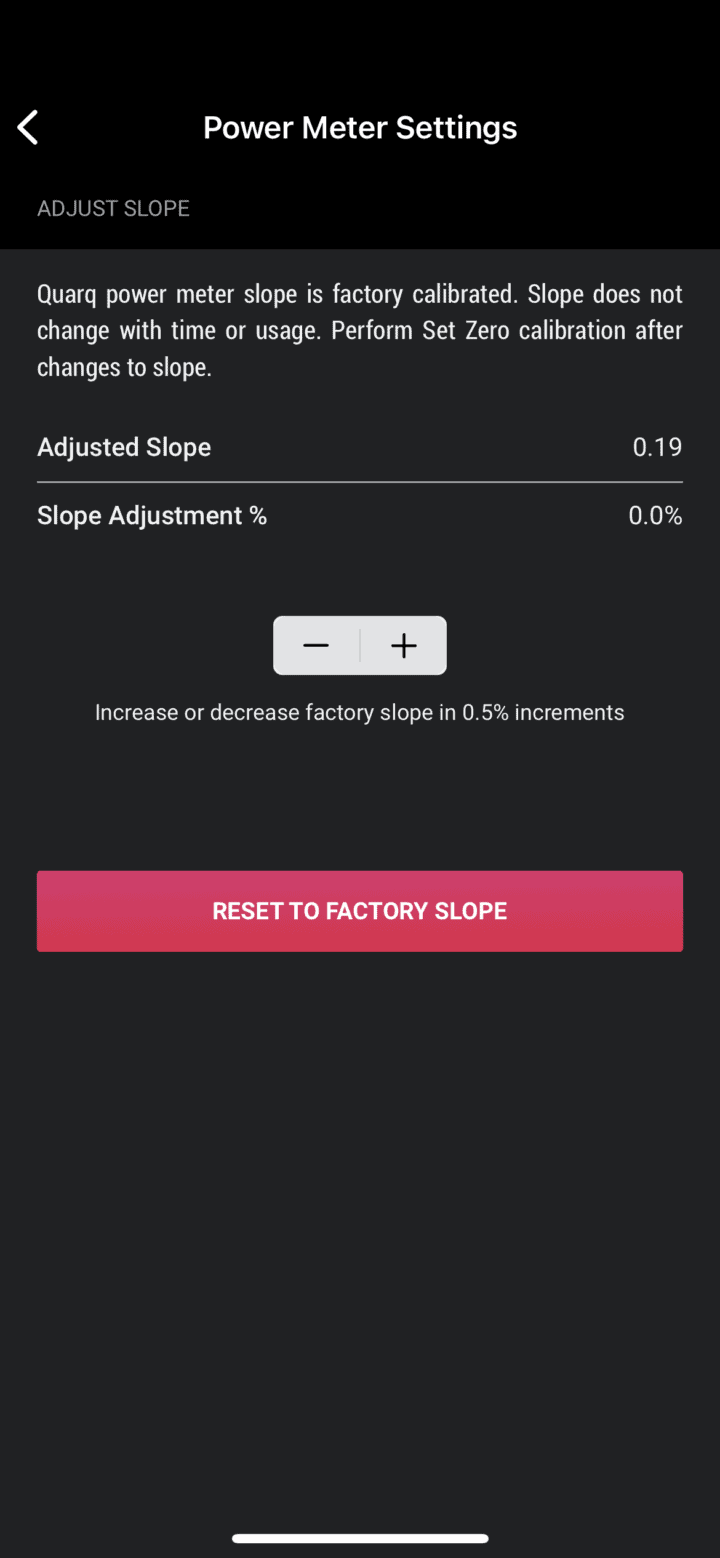 And of course, you can update the firmware and check the serial number and ANT+ ID (which is the last digits of the serial number):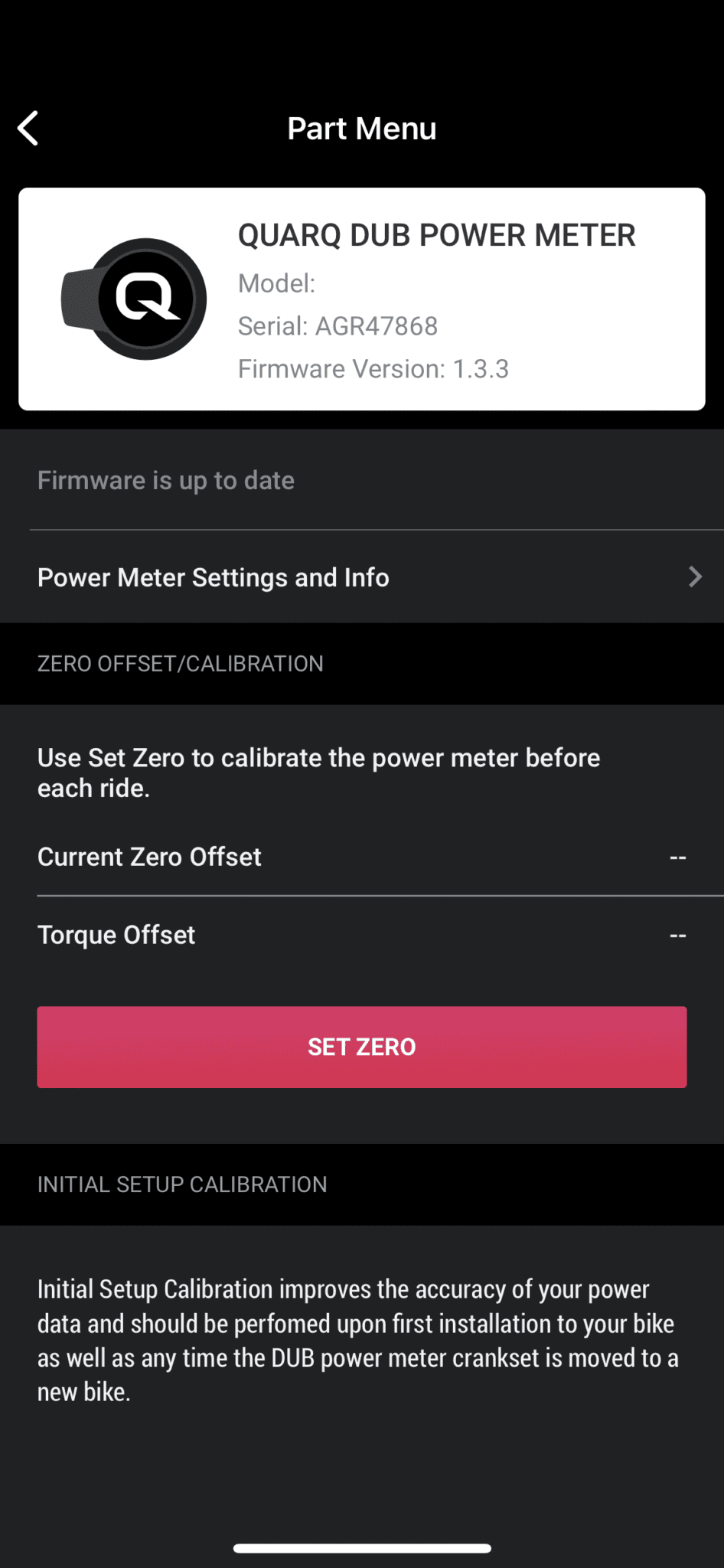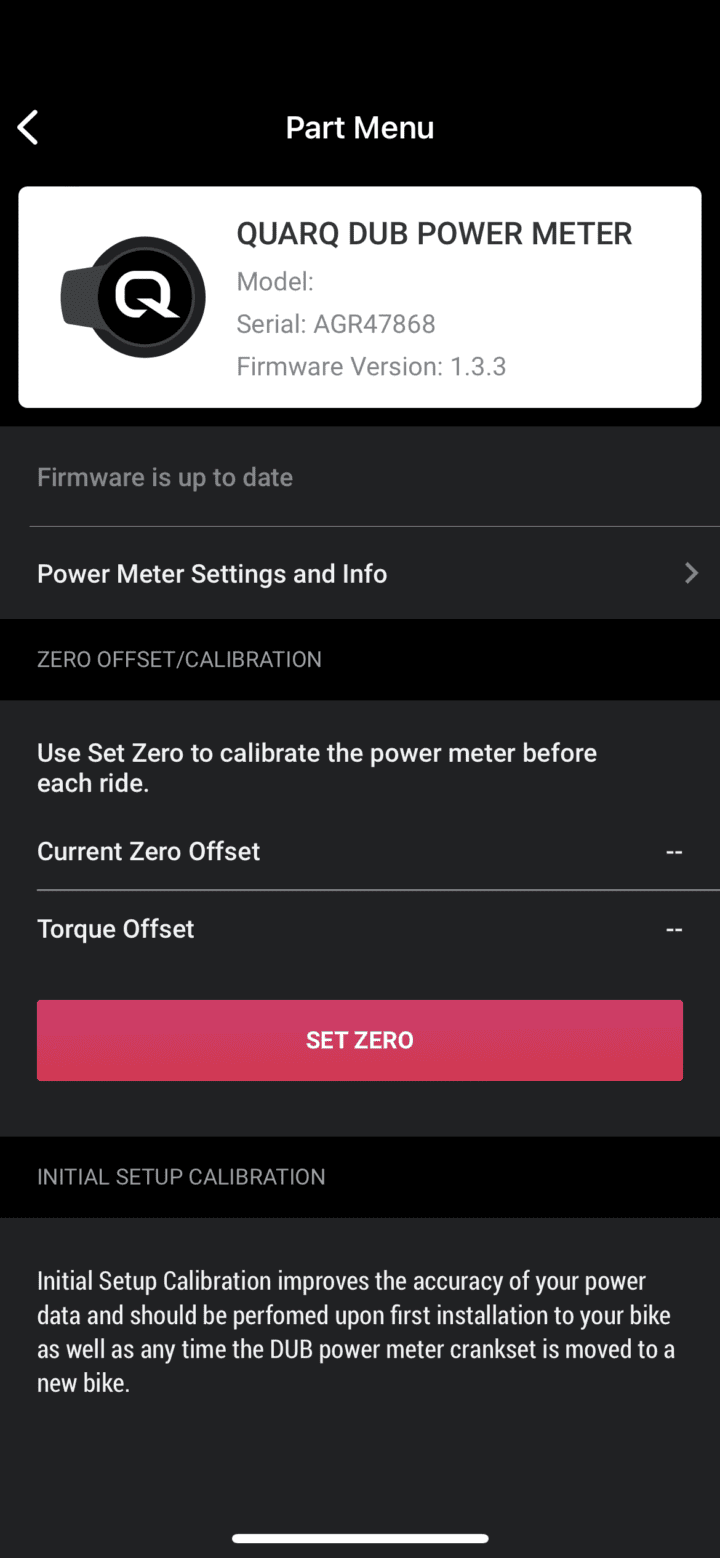 Back on your bike computer, you'll see total power displayed, as well as cadence. You won't see left/right balance, given that it doesn't measure that.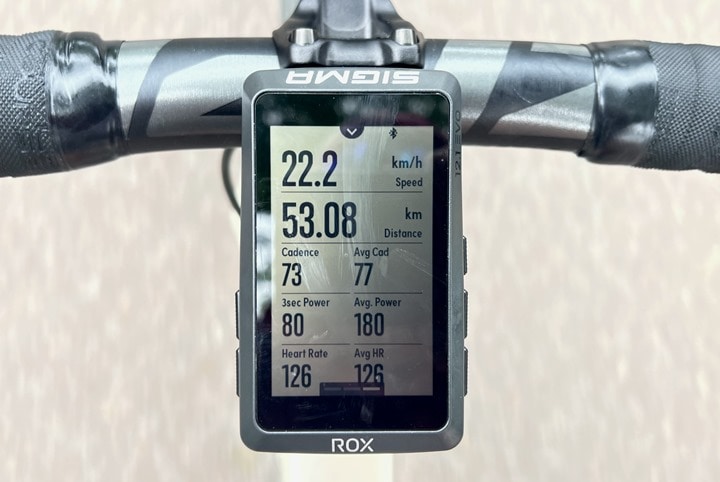 Likewise, the Apex power meter doesn't transmit torque effectiveness or pedal smoothness (logical, given being left-only). Your bike computer will calculate all the other stats like max power, average power, and related time stats.
You can, of course, also use the power meter indoors with apps like Zwift, where it'll show up as a power meter device. Though, given the left-only nature, most modern smart trainers will end up being the more accurate choice.
Power Meter Accuracy: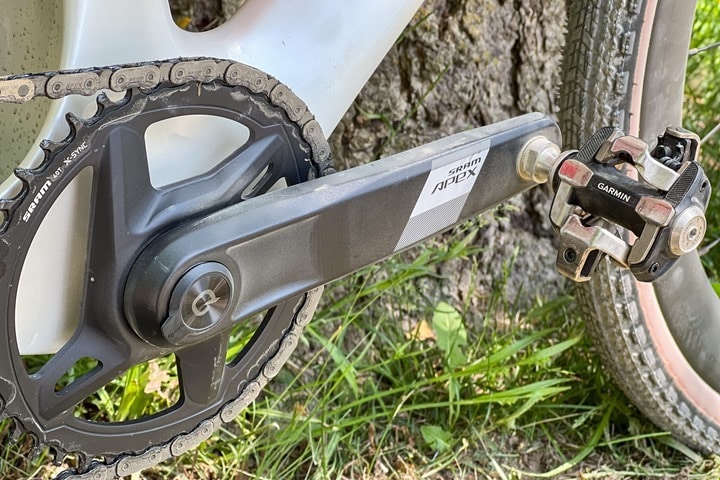 Now when it comes to judging power meter accuracy, normally it's pretty straightforward: Is it accurate when compared to 'known good' sources across a variety of scenarios: Indoors on a trainer, pavement outdoors, gravel outdoors, etc…  And in those cases, I'm usually looking at total power as the defining point.
However, with a left-only power meter, it's a bit messier. Out of the gate, we have to acknowledge the fact that it won't ever be as accurate as a full or dual-sided power meter. Instead, we look at two different things:
A) Is the left side at least technically accurate to other left-only sources?
B) How does total power then differ, despite this gap?
The thing is, the total power differences will be almost entirely due to differences in my legs and their power outputs. Very few people have perfectly balanced leg power output. And even fewer have balanced power across different intensities or durations. For example, my left/right balance shifts as I get more fatigued, and likewise, shifts at different intensities (e.g., 800w is differently balanced than 150w).
For the most part, major left/right differences (e.g., 40% left, 60% right) are fairly rare. Instead, 45%/55% are much more common. Point being, this second total-power comparison is interesting in terms of understanding the impact of a left-only power meter on a sample size of me. You'll probably be pretty similar in terms of overall accuracy, but you could also be better or worse.
So, let's start with an indoor trainer workout, to look at some cleaner data before going outdoors. In this data set, I've got a pair of Garmin Rally XC (Shimano SPD) pedals via Vector 3 spindles, and then a Wahoo KICKR V6. Here's the data from that set:

You can see that, on the whole, the total power values are actually pretty similar. Surprisingly so in fact – my legs were apparently feeling reasonably balanced that day.
When we zoom in on one of the intervals, we can see that it too is reasonably close. In fact the Apex power meter wasn't much different than the gap to the KICKR vs Vector. All in the ballpark.

However, there are some notable differences. Check out below where I break-out the Garmin dual-sided power into left/right channels. This allows me to compare the left side vs left sided SRAM Apex/Rival (the DCR Analyzer has it listed as a Rival, since it's unlisted/unannounced when I created these charts, and technically, it's the exact same product anyway).
We show a so-called 'Virtual Right', which is basically another way of saying 'half the power', it doesn't matter that in SRAM's case it's the left side. Sometimes it's a right-sided units, sometimes it's a left-sided unit. Either way – here it's a left-sided unit. So SRAM vs Garmin Vector 3 left is what we want. Notice how the left side dip there highlighted is correctly shown as left dip for both? Cool, huh?

This shows us that the accuracy of that left side is good here (and then we can cross-reference the Garmin pedals to the KICKR total power to see the same there).
Speaking of total power, here's the total power curve compared. Again, I had a surprisingly evenly balanced leg day, especially given this was after a redeye flight from the US with no sleep.

Oh, and while we're at it – the calculated cadence is solid too. I see one rando-drop on the Apex data (across both power/cadence), but in this case I don't know if the drop is on the watch side, or the power sensor side.

Next, let's transition outdoors, slowly increasing the complexity of each terrain type. This next ride was from last night. It's got sections of smooth pavement, sections of rough pavement, sections of cobblestones, and sections of compact dirt. Here's that data:

Obviously, the above data is more variable – and a bit messier. There's a couple of short gaps in the middle where I took some photos. Here's one of those photos. They're critical to this review – no gravel bike situation would be complete without it: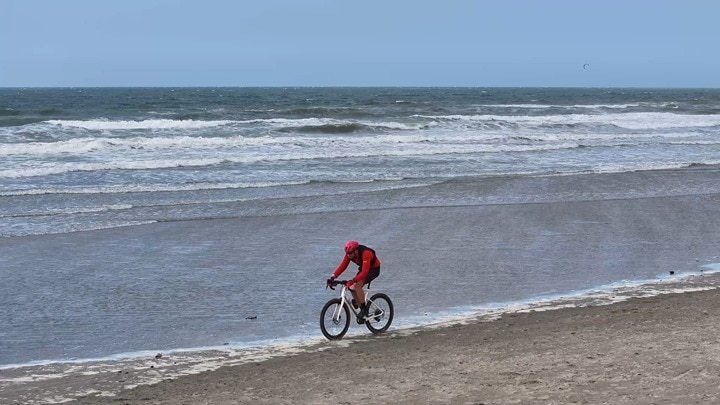 Meanwhile, you can see how the variability plays out in left/right power. Check out this little section here. The two left sides match perfectly, but, it shows a leg imbalance which then carries into total power I'll show in a second.

Meanwhile, a bit later in the ride, that leg imbalance is virtually gone – save a half-hearted sprint:

Still, if I look at the mean-max graph for the entire ride, you can see how this leg imbalance plays out, where at higher wattages the differences become more obvious (20w+), than at lower wattages:

Oh, cadence was good again. I did see one or two dropouts this time on the Vector 3 side. I guess random dropouts must be going around, tis the season.

Now, let's shift again, this time onto a blended beach ride, followed by part-MTB and part gravel trail ride. Sorta a blend of not-pavement situations. Here's a pretty picture: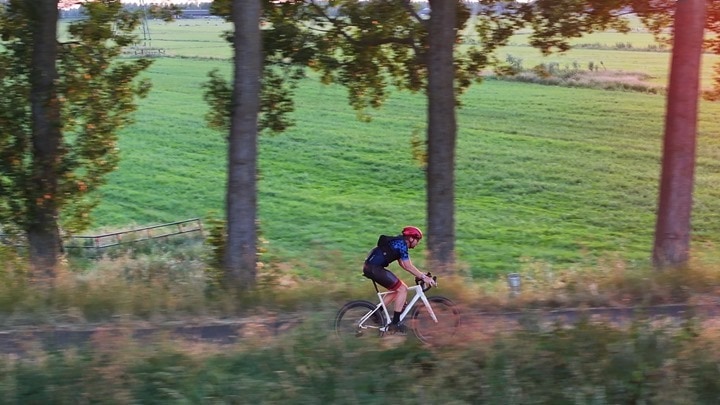 Oh, sorry, got distracted. Here's the data from that set:

Now again, when my legs match, it's great. And when they don't, it's not. Simple as that. Here's the total power up-top, overlaid against the leg-split power. And you can see super clearly the moments where my balance goes askew. Again, just the realities of a single-sided power meter.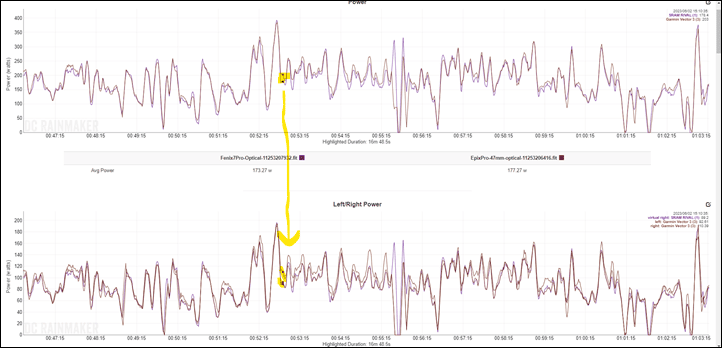 Meanwhile, mean-max power does manage to work itself mostly, which is kinda impressive. Sometimes these things even out, and sometimes not-so-much.

So, I'll save you a bunch of more random rides blending gravel + asphalt, and instead kick it up a notch with an almost entirely gravel + rando MTB trail ride (I did some extra rides here solo-cup). Bust most of the stuff was like this: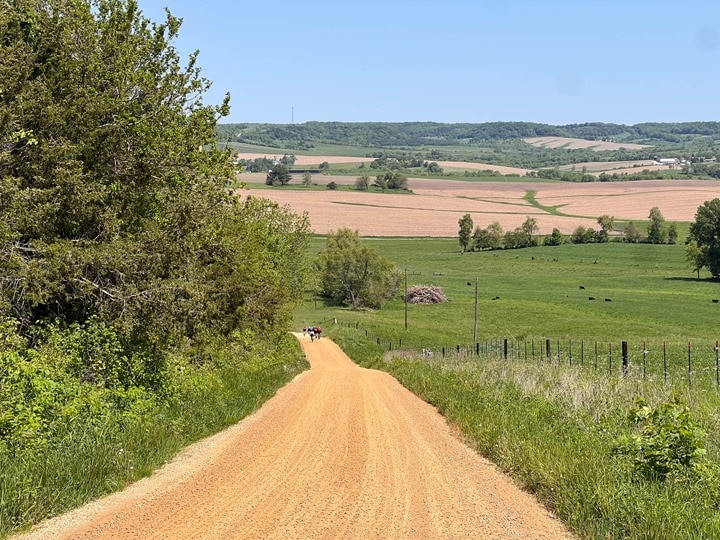 Here's the data from that:

Oh, in case you're wondering – that big gap towards the end? That's getting stuck on the wrong side of the tracks for a very very very long and slow-moving freight train.
Anyways, I love this set, because it's so good at showing the differences. Check out this section here, with both total power and the leg splits. When it's close, it's really close: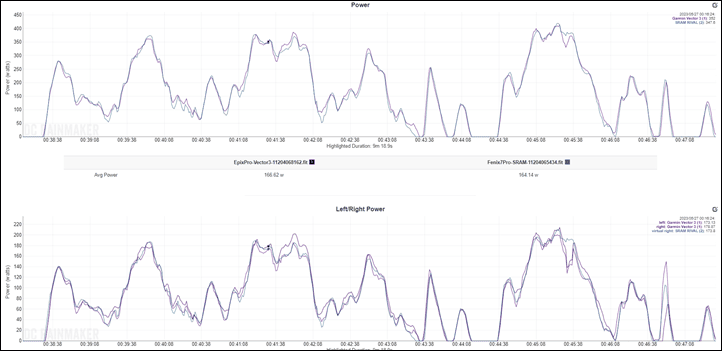 Likewise, at the end of the ride I thought it would be a good idea to go straight up the ski hill run, which is about 16-18% grade. No paths, just straight up the meadow/grass. As you can see below, that got painful. Rather painful. But in that, you can see how it impacts the left/right balance at various moments: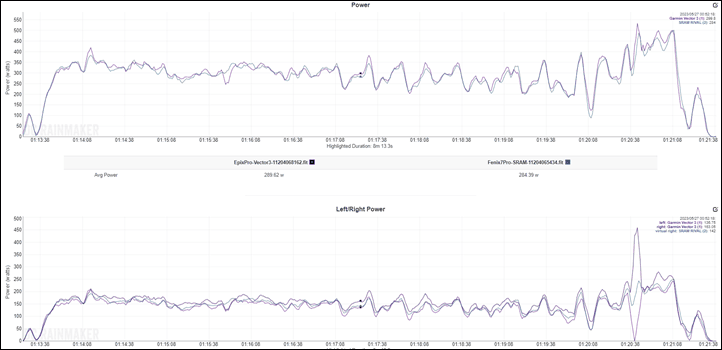 Also, for fun, check out this speed graph, as I zig-zagged my way up the slope – cutting my own trails as I went:

Still, again, the mean-max chart makes it look better than the per-second data, somewhat smoothing out some of these differences:

So, where do we stand on accuracy?
Well, starting off with the first piece – the left-sided power meter matches other left-sided only data – very well. So, in terms of straight gauge accuracy, I'm happy with that. Well done.
The next piece is total power, and again (for what I'm sure is the 34th time), in my case, that's variable based on my legs and how fatigued I am at the moment, the terrain, and whether or not I ate pizza last night. Yes, sometimes it's really close. And sometimes it's quite a ways away. I can't change that, nor can I tell you whether or not you should get a single-sided power meter. For me personally, I know I have enough variance throughout my year between legs, that it'd be difficult to track fitness gains with a single-sided unit. I want total-power to be accurate, whether that be via a dual-sided unit, or a total-output unit like a spider-based power meter.
(Note: All of the charts in these accuracy portions were created using the DCR Analyzer tool.  It allows you to compare power meters/trainers, heart rate, cadence, speed/pace, running power, GPS tracks and plenty more. You can use it as well for your own gadget comparisons, more details here.)
Wrap-Up: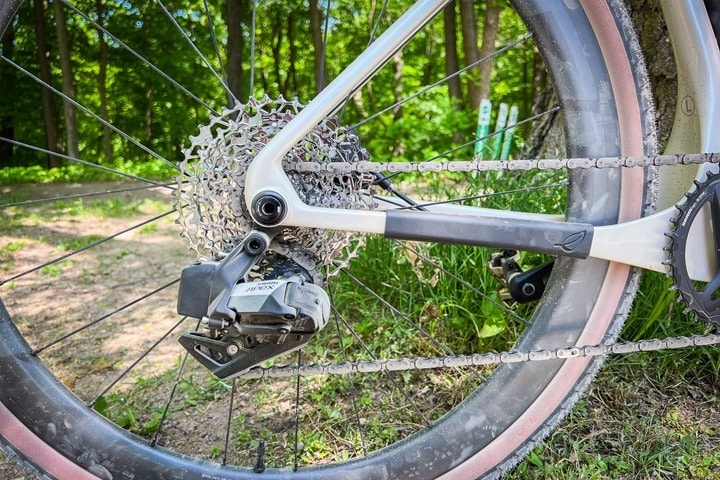 For most people, SRAM Apex AXS will be about getting wireless shifting and 12-speed in an affordable package, potentially including a power meter. SRAM says that in the case of the next step-up Rival AXS, they're seeing about 35% of the bike manufacturers choose to outfit their bikes with the SRAM Rival power meters built-in (that's effectively the same unit as here). The cost to the bike manufacturer is relatively low, and that's even the case to the consumer, with the upgrade price only being about $220USD to upgrade to the power-equipped option. Rarely has power been so affordable or accessible. And the same is true of the wireless shifting.
Sure, the entire groupset isn't the lightest out there, but for most people packing a gravel bike full of extra bags (or mud stuck to the side), a few grams here and there aren't gonna matter. Even an extra few hundred grams isn't going to matter. Instead, those folks (myself included) would likely happily take solid shifting performance and wireless shifting to boot.
Of course, when it comes to power meter accuracy, given you've got a single-sided power meter, it's going to vary from person to person. While my testing shows that the underlying strain gauge accuracy is solid, that won't matter if your legs have a strong imbalance (either static or dynamic). But again, the power meter fundamentals are solid, including across cadence data, no matter the terrain. I didn't see any concerns around wonky cadence or power spikes associated with impacts from terrain (e.g., rocks), which can occasionally be a concern with some power meters.
On the shifting side, I had no problems getting data into the Hammerhead system (where it correctly recognized it) or Garmin devices. Further, that data then showed up as well as then having the shift data show up in the AXS website too, detailing exactly how many shifts I completed, and which gears I spent the most time in. Admittedly, I've been getting that for years with my other bikes, and rarely look at it. But, I do appreciate the low-battery notifications/reminders via e-mail and smartphone push alerts.
It'll be interesting to see just how low the pricing can go for wireless shifting over the coming months, as more bikes equipped with Apex AXS get released.
With that – thanks for reading!