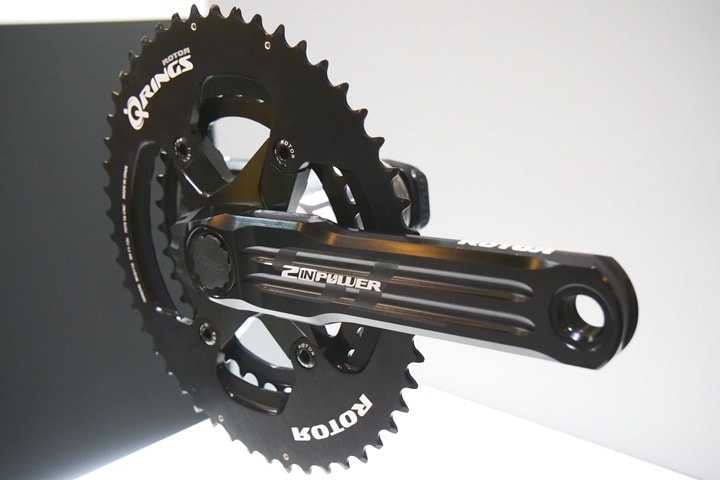 ROTOR has just announced their new 2INPOWER SL dual-sided power meter, an upgrade from the previous 2INPOWER edition. This new unit focuses on three core improvements: Lighter weight, less expensive price, and more accurate power readings. Effectively unlocking the threesome that power meter geeks lust after, at least in theory.
The new unit comes in at 729g (assuming a 170mm crank and a 50/34t round chainring), which is 70g lighter than their previous edition. The new unit goes with a glossy finish over the previous matte black finish, but does away with the red accents (obviously you can't have red accents mixing with other colors, that's a fashion faux-pas) .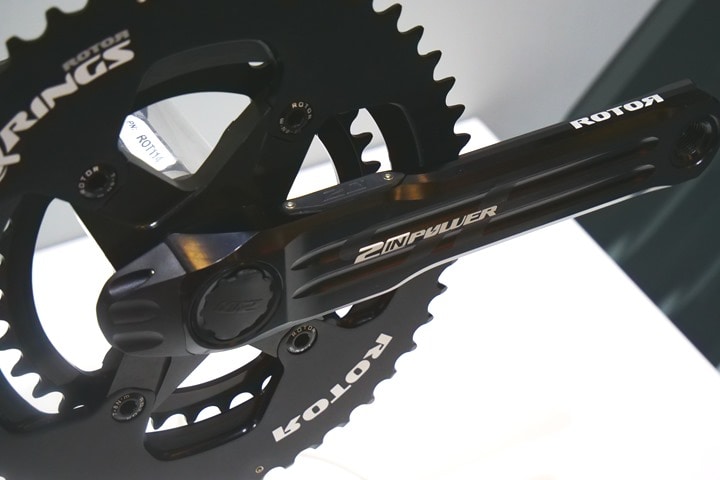 They've increased the claimed accuracy from +/- 2.0% to +/- 1.5%. With the 2INPOWER system, it's a dual-sided system, whereby one set of strain gauges is in the spindled (basically inside the bottom bracket) measuring the left-side power, whereas the second set of strain gauges is on the right crank arm. The company says those strain gauge placements remain unchanged from the past, but that new algorithms in a new firmware version are what's increasing the accuracy of the system. The system is rated for temperatures from –20°C to 50°C – ranges for which you have no desire to actually ride in.
The unit features a rechargeable battery, with a claimed battery life of 250 hours ride time and a 3-hour charge time. The system as a whole is now IP67 certified, versus the previous IPX7 certified. The difference being that IPX7 means you can put it on a creek bed underwater for 30 minutes at 1 meter, but it's actually not dust proof. Whereas the IP67 rating adds in dust handling while maintaining the poor-bike-handling situation that results in you being underwater for 30 minutes.
My only concern here is the battery cap cover just sorta pops out easily, without any retainer. Note the system is fully IP67 certified without the cap, and ROTOR tells me the cap falling off hasn't been an issue in their testing. But I've also seen these style caps over the years, and without any sort of retainer they eventually fall off. But again, something for testing down the road.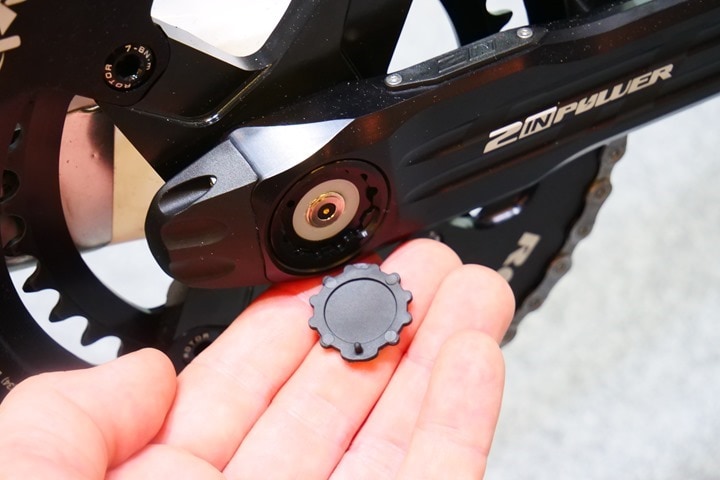 Pricing-wise, the new unit is 999EUR, or 1,199EUR including chainrings. Alternatively, in the US it's $999USD without chainrings. And most notably, it'll ship immediately (tomorrow).
Finally, it's worthwhile noting that ROTOR also announced a new power meter back at Sea Otter two months ago. That's a new spider-based MTB power meter, which specifically was focused on greater compatibility with frames (the spider is only 10mm thick), as well as smaller chainrings. So it's interesting for both MTB as well as gravel applications. Because it's a spider-based power meter, it'll capture total power fully (versus just left-only or just spindle-only capturing half the power). The spider price is 449EUR, with a claimed accuracy of +/- 1.5%, and a battery life of 350 hours (rechargeable unit, recharges in 3 hours).
At the moment, it's only compatible with ROTOR spindle/crank arms, but later this year ROTOR will be releasing a Shimano-compatible variant. They did have it in the booth (in the secret room), but wouldn't allow photos of it. That could be super interesting though for many riders, especially if it keeps the 449EUR pricing.
I'll likely be reviewing the 2INPOWER SL here at some point over the summer – so stay tuned for that! And of course, stay tuned for plenty more Eurobike bits this week as well.