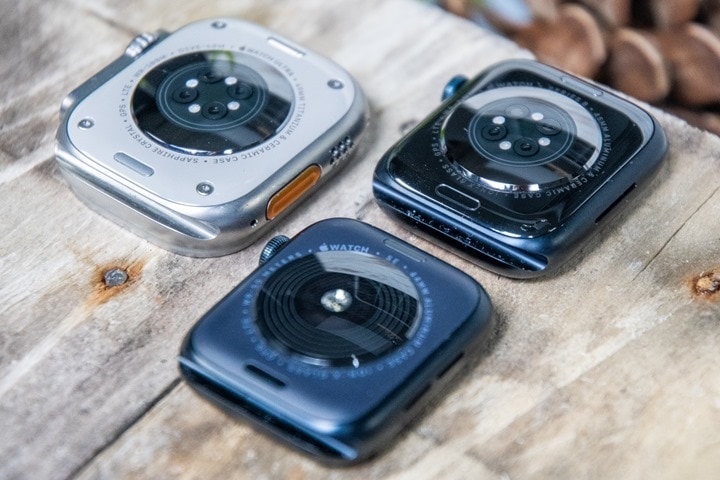 Let me set expectations up front: This post is 100% written for sports tech GNSS geeks. You see, back when the 2022 Apple Watch editions were announced back in September, there was one significant change: None of the new 2022 models would leverage our phone's GPS if your phone was within range. Up till now, every Apple Watch edition would utilize your phone's GPS if your phone was within range. Depending on your viewpoint, this was either good or bad.
For people that wanted to preserve their phone's battery life, this was annoying. Further, in cases where your phone might have been deep in a backpack or other non-ideal spot/pocket on your body, it reduced GPS accuracy of the watch. And way back in the early days of the Apple Watch, it also resulted in some weird GPS handover issues when leaving your home but your phone was still in range at the beginning of the workout, though, those were largely solved over time.
Inversely, for some people – they preferred this approach. Charging their phone was 'easier' throughout the day than removing a watch to top-off the battery, especially a watch known for comparatively short battery life.
However, that all changed with the 2022 Apple Watch editions. For the Apple Watch Ultra, Apple Watch Series 8, and Apple Watch SE (2nd gen/2022), all of these models will always use the internal GPS of the watch itself – and will never leverage your phone's GPS signal. It will always, and only, utilize the GPS in the watch itself. In the case of the Apple Watch Ultra, that meant it would always use its dual-frequency/multiband GPS, as opposed to perhaps an older phone without multiband GPS.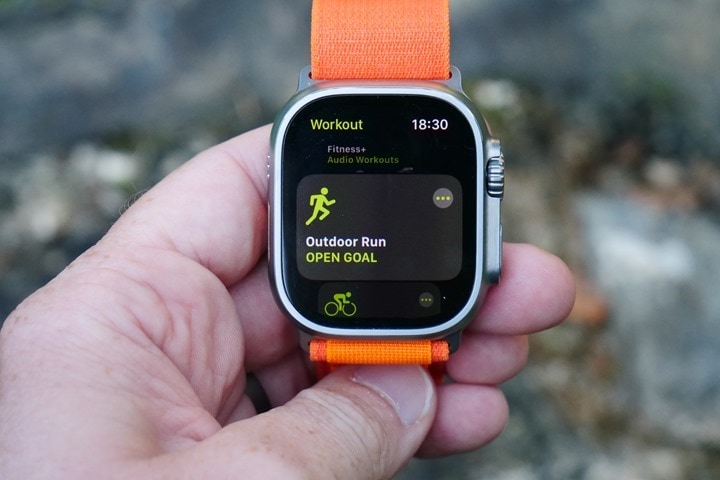 Now, setting aside which solution you prefer, the challenge was that Apple actually didn't formally clarify this in a support article or other written statement. Instead, it was noted more casually in the hands-on area at Apple's Headquarters following their big keynote, back in September. It was further re-iterated in follow-up media briefings, calls, and even a 24-message-long e-mail thread in my inbox discussing it, in depth. Unfortunately, none of those locations were spots where I could just direct the umpteen million of you that kept asking for a reference for this nugget of info.
However, that has now been solved. Apple has added a single line-item to the end of a support article that makes this clear, saying:
"Apple Watch Ultra, Series 8, and SE (2nd generation) use the built-in Apple Watch GPS even when your iPhone is nearby. To preserve battery life, older Apple Watch models use the GPS from your iPhone when available."
Of course, this concept was also relatively easily proven too – if you had a few watches and a few phones handy. You could visually confirm that on the new 2022 watches, they didn't burn your phone's battery as much during a GPS activity, as previous watches did. But doing such testing in an isolated way is tough for most people, given other background apps and such. Plus, it's just a heck of a lot easier to point folks at a single line of text.
Either way, I'm happy to see this officially covered in a support article, if for no other reason than to make happy a bunch of sports tech GPS/GNSS geeks like myself. Think of it like an early Christmas present, except, there's no chocolate or anything else to unwrap.
Of course, as for which GPS leveraging method you prefer – I suspect that debate will rage on. Ideally, I'd love to simply see a toggle allowing you to choose your preference. But, I suppose that'd be asking for another Christmas present.
With that, thanks for reading!