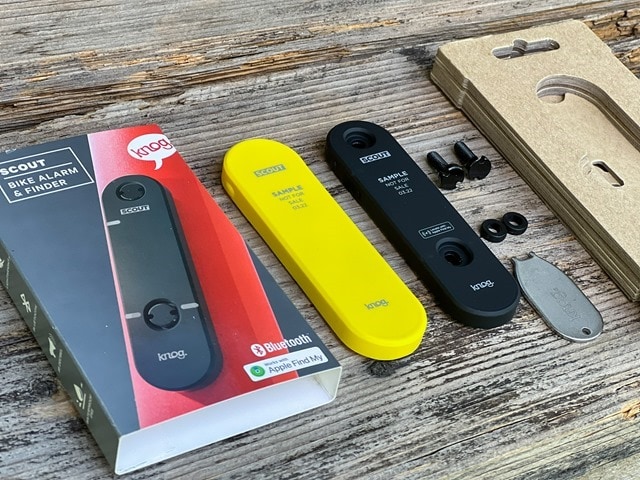 Knog has announced and shown their new Knog Scout device at Eurobike, which is a small pod that fits underneath a water bottle cage, and has Apple's Find My network built into it. Meaning, it's effectively got an AirTag built into it (it's not a holder, it's literally built inside). However, unlike an AirTag, this has a full 85db bike alarm too, which triggers if the bike is touched.
This device is part of Apple's Find My program which allows 3rd party companies to build Find My directly into their devices. In fact, Apple launched this program before AirTag's even existed, back in April 2021, with one of the first four companies being a bike company – VanMoof, to build Find My into their frames. While uptake of the Apple AirTag has been massive, adoption of the Find My program has been somewhat lackluster to date (I suspect chipset availability is driving some of that). Still, when companies do implement it, it's super cool.
Not only was the Knog Scout on display at Eurobike, but I managed to get one to take home, and have been using it for a few days now. So a few quick thoughts, and then a more in-depth review sometime in August. The unit will retail for $59, and be shipping in August (it received Apple certification the day before Eurobike).
First, the hardware basics:
– Small 22g pod
– Apple Find My built-in
– Motion detection feature
– 85db Bike Alarm
– Waterproof to IP65
– Single press button for quick arming
– Bluetooth connection to Knog App
– Fits/mounts under water bottle cages
Here's a quick look at the box: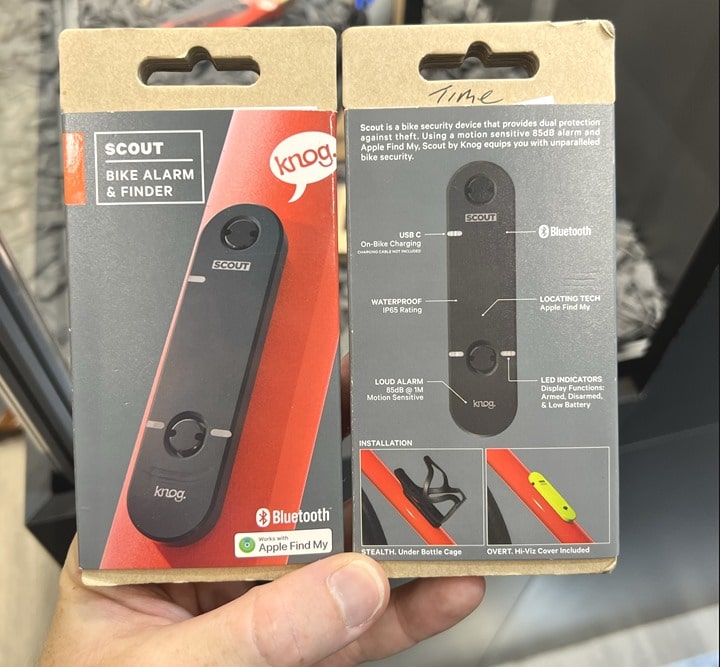 Once you remove the box, you've got these parts here: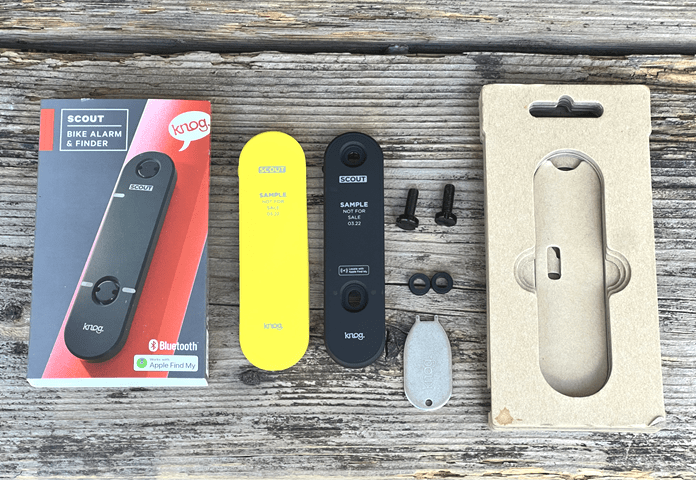 Essentially that boils down to:
A) The Knog Scout
B) Two specialized screws
C) Some extra spacers if no water bottle is used
D) A specialized key to unlock said screws
E) Silicon cover (yellow) if you want it more obvious
There's no USB-C cable included to charge it, but I presume in 2022 everyone has a USB-C cable around their home.
Installation was pretty dead simple. Just remove your water bottle cage, then stick the included screws inside the water bottle cage + unit together, and screw in using the included special little tool.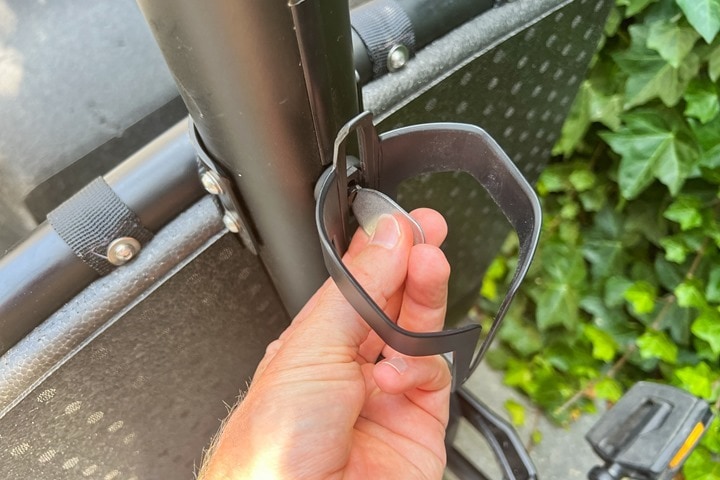 Obviously, any time you have devices like this, you'll need to have some unique tool to install it, so that it's not something readily available to thieves, or at least, not easily accessible. This one fits the bill. If you lose this tool, I suspect you could probably use a pair of pliers that are opened to rotate it around. It'd be finicky, but doable. But again, doing so to a bike that's not yours would easily trip the alarm.
Speaking of that alarm, you'll pair it up to the Knog app using Bluetooth, which then gives you a few options for alarm volume/sensitivity/etc (the middle one is per Scout device if you have multiple Scout's, the right-side one is for the whole app):
At the same time, you can tap the little location/GPS icon at the bottom, which opens up the Find My app and allows you to pair it there, just like any other Find My accessory (or Air Tag accessory).
With that, you're ready to go. On the alarm side, to arm it, you can either use the app, or, you can simply press the button on the unit. If you want to press the button though, the app has to be within range (even if opened in the background), which is logical for a variety of reasons. Say your phone is almost dead, you wouldn't want to enable the alarm and be unable to disarm it later.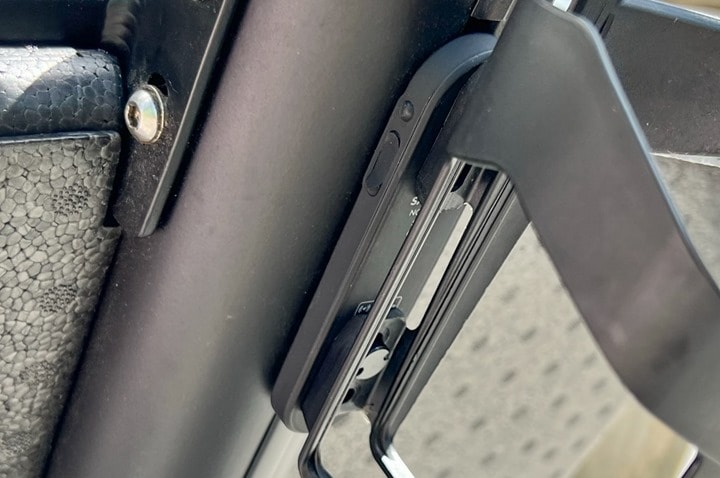 The alarm is certainly very loud, and will attract attention, though, it does get muffled a little bit by the frame/bike. While it'll absolutely attract the attention of anyone within a block, I wouldn't be opposed to just a bit louder to *REALLY* get people's attention. In terms of sensitivity, if you bump the bike, it gives one warning chirp, but won't set it off. However, anything more than a quick bump will activate the alarm. The alarm will both scream on the unit, but also on your phone if your phone is within Bluetooth range.
To disarm the alarm, you'd use the app – there isn't any disarm option on the unit itself, unless you factory reset it. But you can only factory reset it on a flat surface after dismounting it (since it requires you place the underside face upwards on said flat surface, before using a combination of button and USB cable). Point being, it's not viable out on the street to factory reset it.
In terms of the Find My side, it works exactly as an AirTag. You can find it anywhere in the world, as long as some other Apple device has passed by it at some point (which, is pretty much everywhere in the world). That also means you can enable lost mode, which notifies you the moment it detects another Apple device nearby, reporting its location to you – and even giving contact details in case someone wants to find you (optionally).
The only difference between the Knog Scout and an AirTag is that an AirTag also has the Ultrawide band for using your phone like a compass to find it when closer within range. But given this is attached to a bike (versus a small object), it's far easier to spot, and you can still use both the Find My's chirping option, as well as the Knog App option to trigger the alarm (when within about 30-40 meters in my testing). Also, an AirTag uses a replaceable battery, whereas this uses USB-C, with a claimed battery life of 6 months between charges. The Apple Find My app and Knog app, both show current battery status, and I'm reasonably sure you'll get an alert automatically from the Apple Find My app.
While this is twice the price of an AirTag, it's definitely worth it for me. Having the bike alarm is handy, for a few different scenarios for me:
A) Road Bike Café Stop: Unlike a regular AirTag, this will actually alarm the second someone touches my bike. Sure, you can use the Garmin Edge alarm functionality for that, but this is a million times louder and more sensitive. This is great for leaving the bike out-front, and not being super worried if it's roughly within sight, but not within arm's reach.
B) My Cargo Bike: Being able to alarm my bike, even when parked at home in our backyard, is handy. The alarm is loud enough that I can hear it inside the house, so if someone touches the bike, it'll trip. And then having Find My atop that in case someone tries to go somewhere with it, is handy. They could probably potentially knock it off with a few hammer blows, but frankly, the alarm is going to scare them off first. It's just not worth it to be rolling down the street in a relatively slow-moving cargo bike with this thing wailing. Alternatively, I suspect I could mount it on the underside of the cargo bike bucket, and make it darn-near impossible to whack with a hammer easily.
While I use Apple AirTag's for both of these situations today, they don't solve the alarm piece, which Knog solves.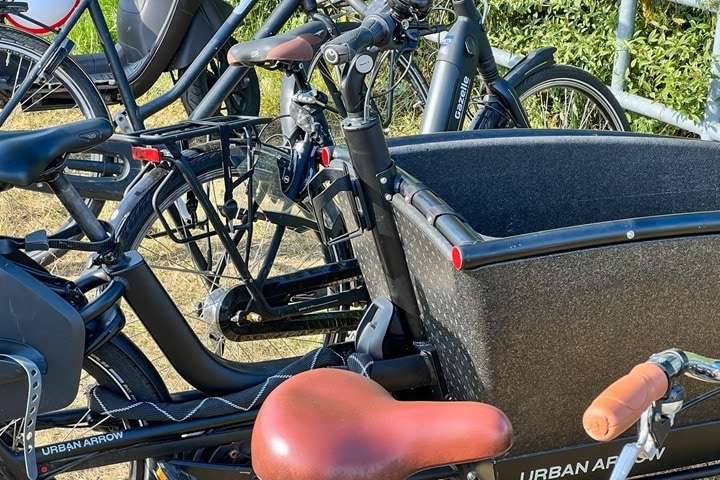 As soon as the Knog site opens for ordering, I'm ordering a slate of these. I just hope Apple will finally come along and allow shared AirTag access within a family, so that I can share the location of our bikes with my Wife (or visiting friends). Still, even without that, this is great.
Stay tuned for a full longer-term review later in August. I've got a final production unit that's set to arrive in the next day or two (the courier with the final units at Eurobike arrived a few hours after I left). With that, thanks for reading!