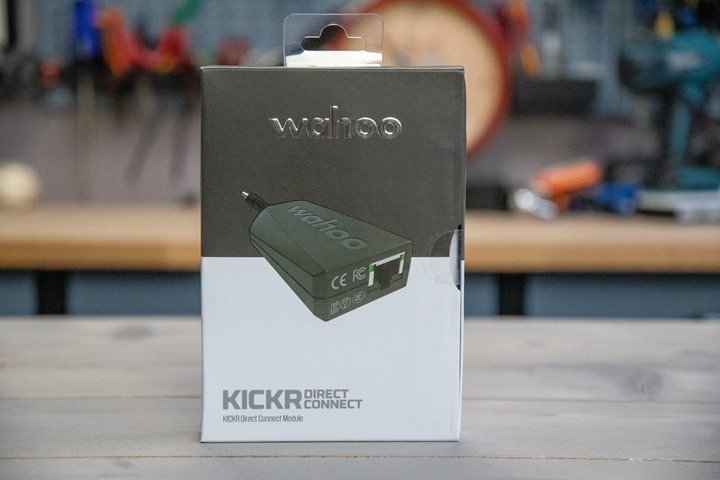 Today is apparently the day of 'Finally!' in the sports tech world. First, there was Suunto with 'finally' adding structured workout support. Then there was Wahoo with 'finally' adding some sort of climbing feature, and now we've got Zwift with 'finally' supporting Direct Connect. At this rate, we might even get Garmin to add a bike computer USB-C port by bedtime.
As you might remember, some 14 months ago, Wahoo started shipping their Direct Connect dongle/accessory, which adds an ethernet port to your Wahoo trainer, sidestepping any wireless connectivity issues your cycling pain cave might have. This would eliminate things like interference-induced dropouts that wrecked your Zwift Race. Except…Zwift wasn't supported at launch. Virtually every other major cycling app was, but not Zwift. Instead, there were promises of "later in the year" (2021), which never happened.
Well, never say never. Or I guess, just redefine never.
As of today, Zwift has rolled out support for connecting to Wahoo trainers via Direct Connect on all platforms except Windows/PC, which the company says is coming shortly. This means as of today it's supported on: iOS, Android, Apple TV, and Mac. As long as you're on game version 1.23.3 on those platforms, it should be available.
Quick Overview: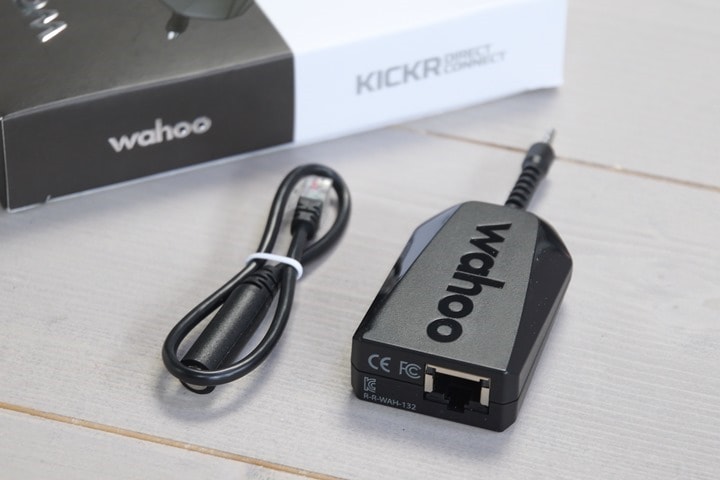 The way Direct Connect works is that the Wahoo Direct Connect (aka Dircon) adapter is plugged into the side of your Wahoo trainer. At present, only the Wahoo KICKR V5, and Wahoo KICKR ROLLR trainers have the adapter connector port. That port on those trainers looks like an RJ45 telephone jack, but is slightly different internally in terms of wiring.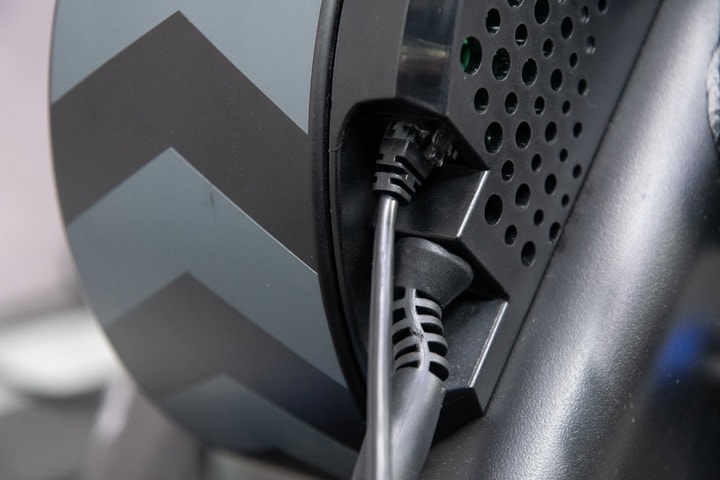 Then from there, you take your Wahoo Direct Connect adapter, stick it in said port, and then plug in an ethernet cable, which connects to your local ethernet hub/switch/router.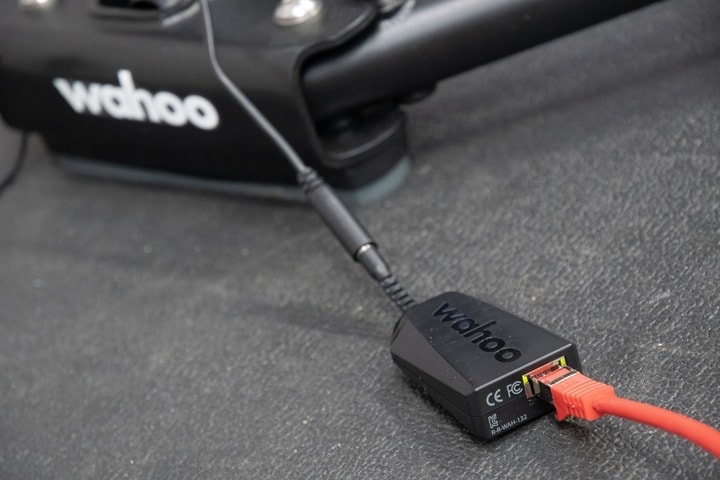 In a scenario where you're trying to eliminate all wireless connectivity, then you might even connect your computer or Apple TV via ethernet, but practically speaking, the dropouts most people are concerned with aren't WiFi ones, but instead ANT+ or Bluetooth Smart dropouts. Further, if you really want to, you can actually directly connect the Wahoo Direct Connect adapter to your computer (Mac/PC, once the PC is supported) on a spare ethernet port, assuming your computer has either WiFi or another ethernet port.
In any case, with everything plugged in, simply go into the Zwift pairing menu, and search for your trainer like normal. You'll now see a new ethernet port icon, showing the Wahoo KICKR trainer listed there: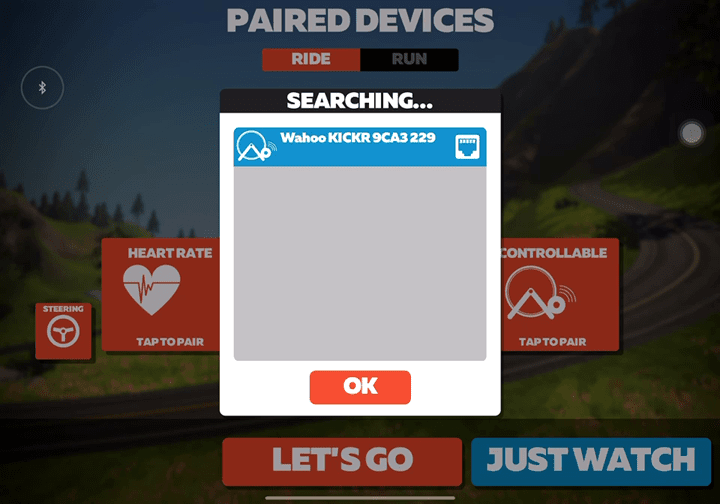 And this is true of all the connection types, so that includes both the cadence from the trainer, as well as the controllable side – everything would be via the ethernet connection: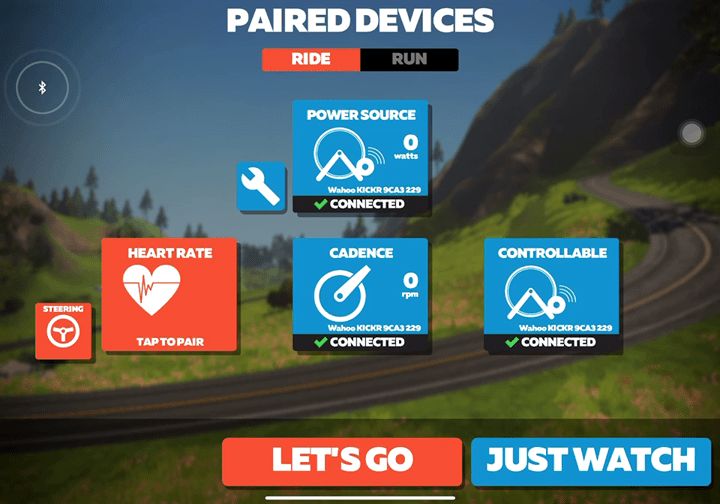 Note that, technically speaking, your computer needs to have Bluetooth installed under the covers, as Wahoo leverages that behind the scenes for the protocol, but not the connectivity. Meaning, it leverages the language of Bluetooth, which your computer must know how to speak – even if it isn't doing it wirelessly. Practically speaking, none of this matters unless your computer is crazy old and doesn't have any Bluetooth installed. Also note, thanks to Des of DesFit for grabbing these screenshots for me while I'm traveling this week.
I haven't had a chance to dive into this in-depth on Zwift, but I'll do so now that I finally have a reason to complete my full in-depth review that's been sitting on the pending shelf for a year. I previously used it with other apps, and it worked quite well. Though, I don't tend to have many dropout issues.
Wrap-Up: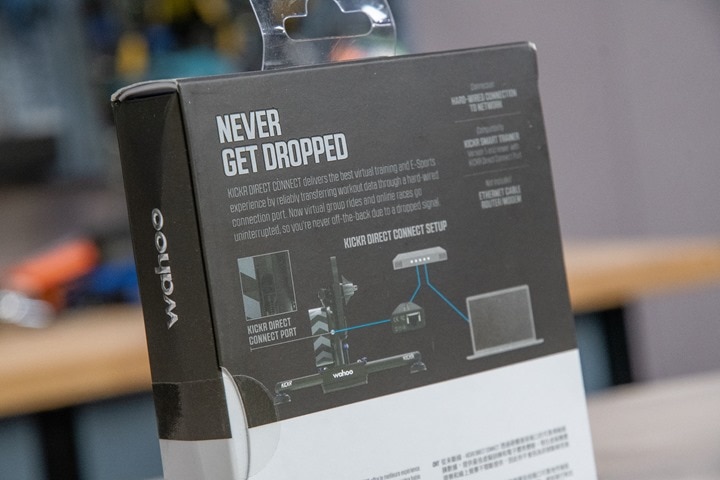 It's good to see Zwift wrap this up. I was growing concerned that Zwift was basically going to let this die on the vine, and then magically it'll be supported for the Zwift Trainer/Bike once announced – especially since Zwift asked these companies to implement this. And as useful as it may be for some riders on other platforms, realistically, the key one people wanted it for was Zwift and specifically racing.
Now that Zwift has implemented it, I'd like to see everyone just agree this is the protocol to use for wired trainer connectivity. Meaning, Wahoo has previously said other companies could leverage this in their own trainers as basically an open-source library. In roughly the same way all the other trainer app companies implemented it quickly (despite technically being competitors to Wahoo's own SYSTEM, then called The Sufferfest). Given that trainer companies are somewhat running out of ways to innovate in this space, I suspect wired connectivity will become a bit of a selling point moving forward. It'd be nice to see the market not get fragmented on different standards here.
But hey, in the meantime, I'll just be happy that Zwift finally implemented it. See, Tuesdays aren't all that bad after all!
With that, thanks for reading!
Found This Post Useful? Support The Site!
At the end of the day, I'm an athlete just like you looking for the most detail possible on a new purchase. These posts generally take a lot of time to put together, so if you're shopping for the Wahoo KICKR Direct Connect Adapter or any other accessory items, please consider using the affiliate links below! As an Amazon Associate I earn from qualifying purchases. It doesn't cost you anything extra, but your purchases help support this website a lot. Even more, if you shop with TPC (The Pro's Closet), you'll save $40 on purchases over $200 with coupon code DCRAIN40! The Pro's Closet has been a long-time partner of the site here - including sponsoring videos like my cargo bike race, as well as just being an awesome Colorado-based company full of good humans. Check them out with the links below and the DCRAIN40 coupon!
And of course – you can always sign-up to be a DCR Supporter! That gets you an ad-free DCR, access to the DCR Quarantine Corner video series packed with behind the scenes tidbits...and it also makes you awesome. And being awesome is what it's all about!