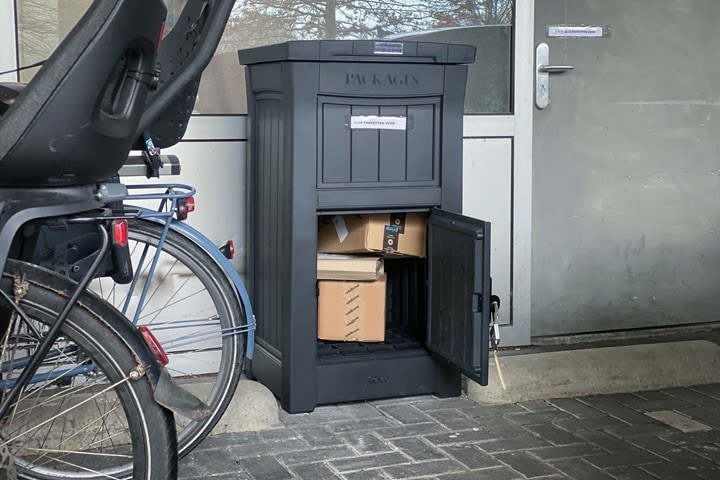 Last month on my Instagram Stories I published a quick set of photos of assembling a package delivery box. Nothing special per se, but I noted how I also hooked it up to a cheap WiFi sensor so I could be alerted when the delivery person dropped a package in the box, via smartphone (and watch) notifications.
I thought this was mostly mundane.
Oh but was I horribly wrong!
An army of you had a gazillion questions, and specifically, wanted to know what I got. So, here's a quick post on it [Update: It's not quick, sorry].
Note – I'm definitely not getting into package delivery box reviews. My experience is representative of building exactly one box. Which, I most definitely researched far too long, and then bought myself. Along with spending an equally unreasonable amount of time researching automation sensors for it. I might end up buying a second one for home down the road. And while I've only built/bought/utilized one delivery box, I have now 5 weeks of data on it, with probably 50+ packages.
And in case you just wanted the two parts, here they are:
The box: Keter Parcel Drop Box (Amazon Germany here)
The automation sensor: Tuya/Oswoo Wireless Door & Window Sensor (Amazon Germany here)
As with most random little sensors, they appear to be sold under different branding in different countries. Ok, let's get onto the details. Also, writing this line in after I've written the full post – I don't know how I wrote this much text about a plastic box. I apologize!
The Details: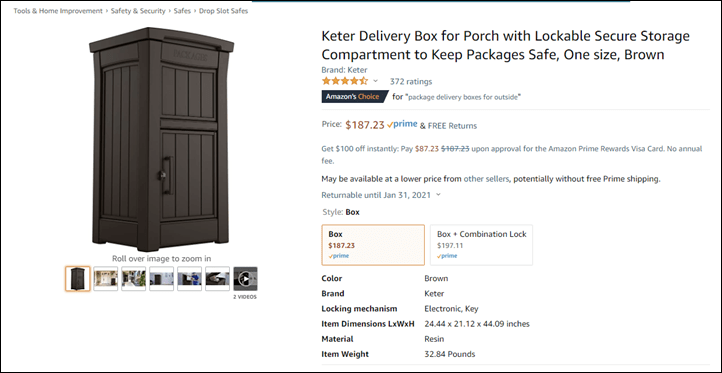 As one might surmise, I get a lot of packages at the DCR Cave. A blend of things to review, as well as things to support reviews or the process of making of them. The vast majority of these are relatively small, for example: watches, bike computers, power meters, drones, action cameras, etc… Certainly, some are massive – like for indoor trainers or a bike treadmill. But 90-95% of the weekly box arrival is roughly the size of a shoebox.
And for the vast majority of the day (roughly 9AM to 6PM), I'm at the office, and can accept packages. However, package couriers arrive before I get to the office (while I'm still dropping the kids off for school), as well as sometimes after I leave. Plus, I go on rides/runs/etc during the day, and don't want to miss something. So for me this box is mostly about catching 'edge case' type deliveries.
But, we'll get into some of the theft aspects later.
Anyway, I ordered the Keter one. Mostly because…umm…it was the only one I could find with any reviews or availability here in Europe. I found one other one, but it looked a bit wonky – so I skipped it. In the US, you've got way more options. Perhaps those are better, I don't know. It arrived a few days later – a bit of package inception if you ask me: A delivery box arriving via a delivery service to hold future deliveries.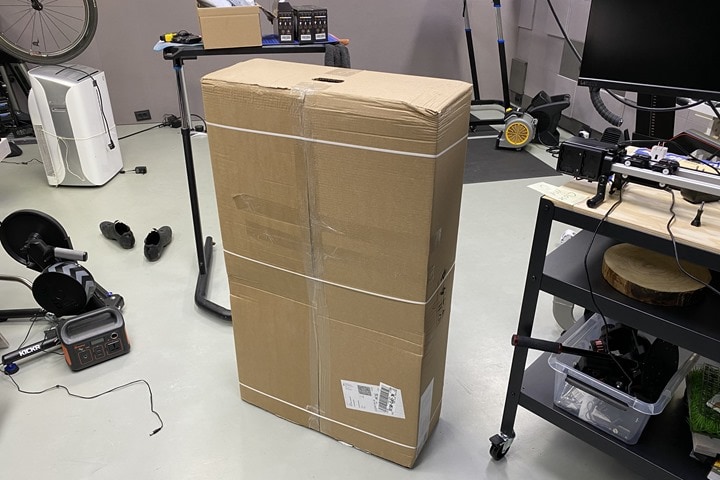 So I dumped all the parts out. The entire thing was essentially molded plastic. But once we build it, it's a beast.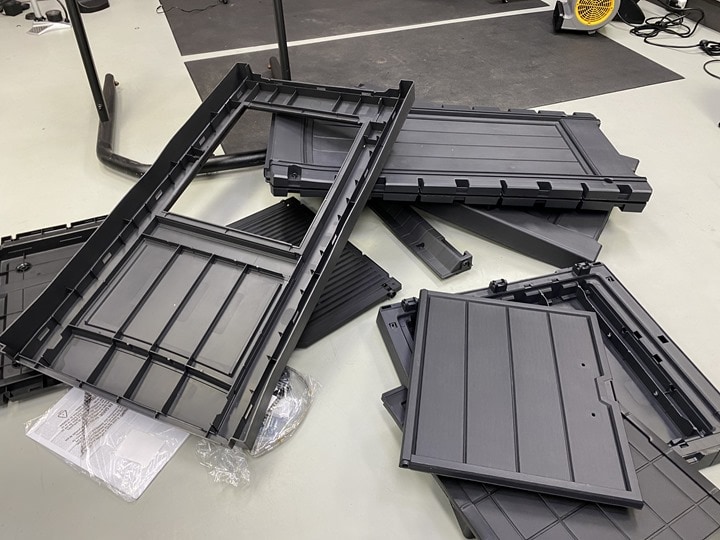 You'll just need a single Philips head screwdriver to put in a handful of screws, though the rest is actually using these plastic pegs. I don't have that many good photos, because I didn't really anticipate writing about it.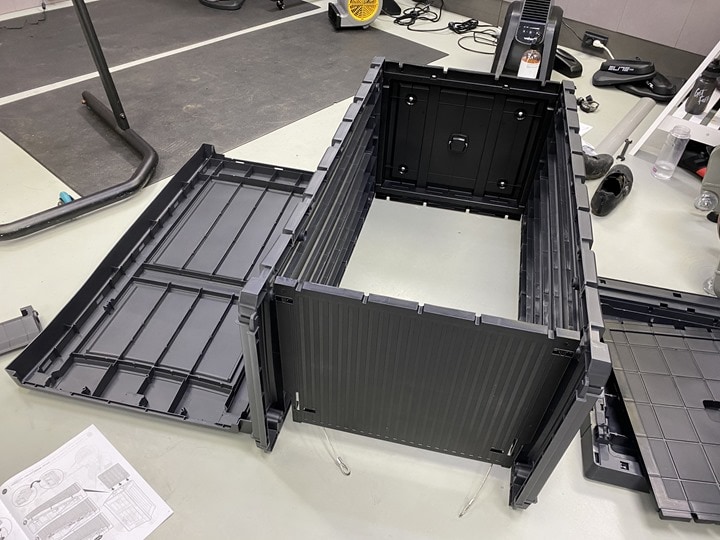 Essentially, assembly is just like a molded plastic version of Ikea. If you can assemble a small Ikea cabinet – you can assemble this non-Ikea plastic thing.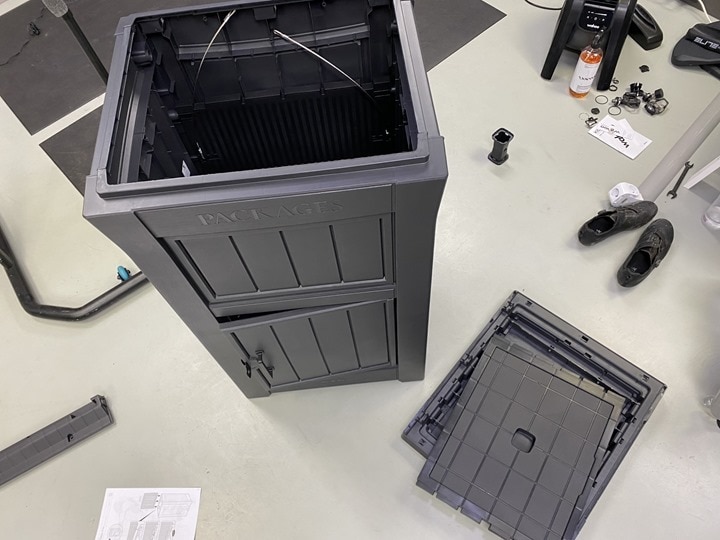 It took me maybe 15 minutes of both assembling (while watching cycling YouTube videos in the background).  Then, I dragged it downstairs to the front door.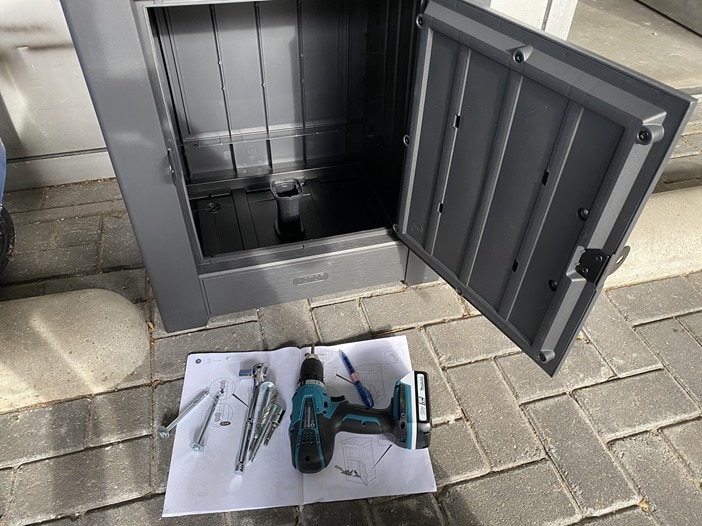 It's here I drilled it into the ground. Well, first I grabbed my hammer-drill and then made some deep holes in the bricks, before then drilling it to the ground. You can also fill the base with sand. I'll do both, as I've got a few extra sand-bags at home I'll bring in tomorrow or so [Update 5 weeks later: Eventually I'll bring that sandbag in.]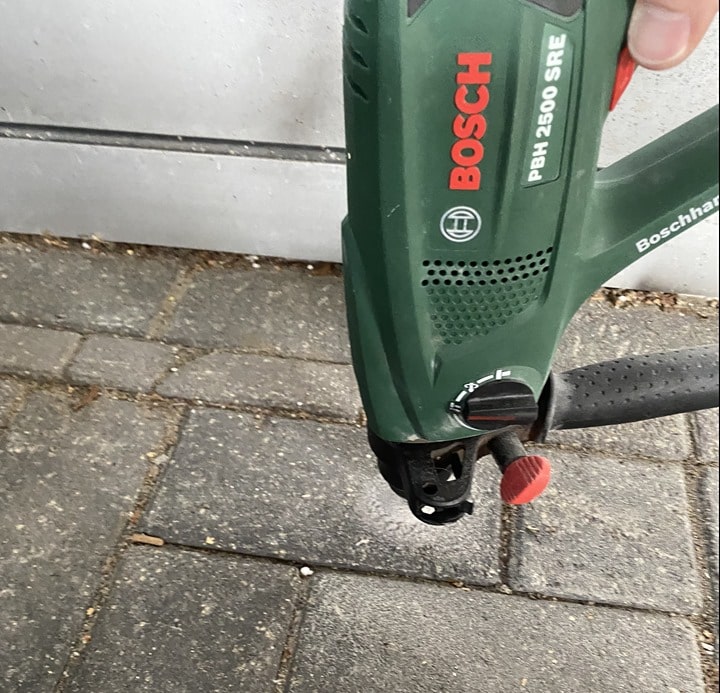 Realistically, if someone really wanted to take it, with enough force they could. But frankly, it's just not a likely problem for the DCR Cave. The Cave sits within the walls of another property with its own massive fences, and security system, guards, and even a moat around it (I'm not kidding). And we've got numerous cameras of our own and such too. Plus, our office neighbors work outside most of the day building things, so the likelihood of someone pulling up and trying to tie this to the back of a truck and taking it is minimal.
Next comes the smart bits!
I bought some sensors. Specifically ones that would detect whether or not the door and flappers inside had opened. Sure, I could use a standard motion sensor for this. But large delivery trucks routinely go past very close to the box, and I didn't want vibrations or super bright semi-truck lights through cracks in the box triggering it. So I settled on a door sensor instead. It would be able to more reliably detect an open or closed state.
However, I didn't want a dependency on just Bluetooth Smart – because that would mean a dependency on my phone. Instead, I wanted it to work via some other always-present network. That gets you quickly into the realm of numerous devices that then require their own 'hub' to install. Which costs even more. However, I managed to find some WiFi-enabled door sensors. They run on 2xAAA batteries, and simply just turn on to send the notification and turn off when done. The battery claims to last a year. Oh, and they cost $11 each.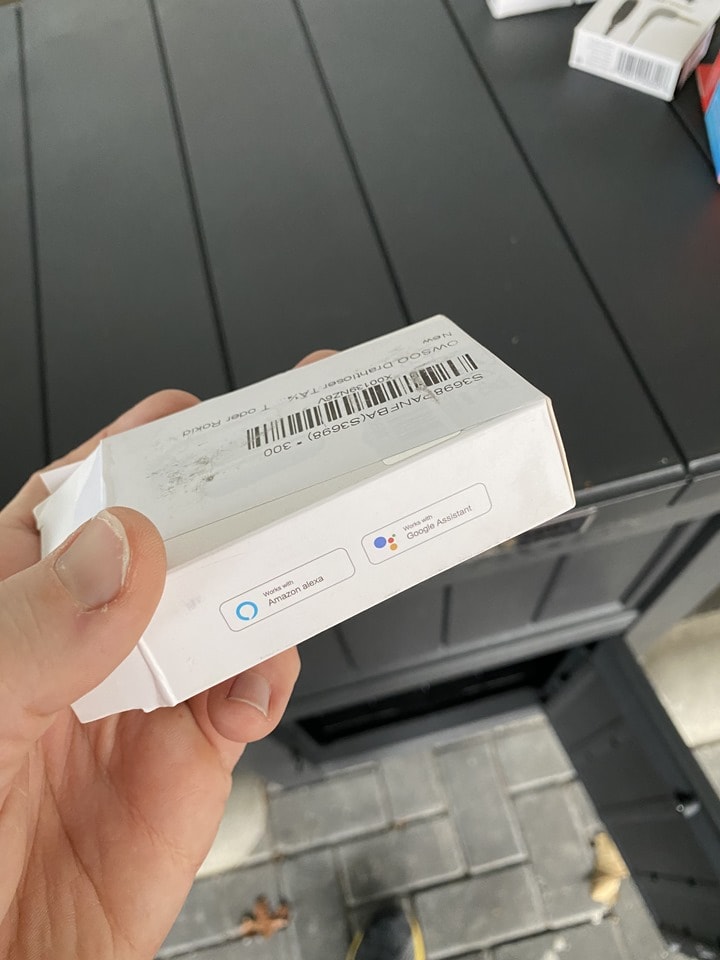 I bought three of them. One for the delivery box, one for the front door, and one for the massive rolling garage door. Might as well go big I figured!  They also integrate with Amazon Alexa and Google Home.
Like many home automation sensors, these are from a relative no-name brand. And the packaging supports that brand philosophy. I didn't really care, they were $11 after all and had pretty strong Amazon reviews (well, in Amazon Germany anyway).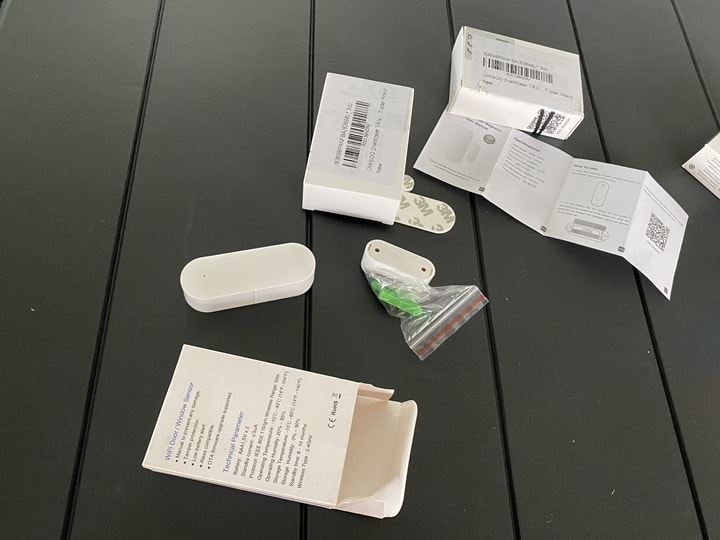 I got them set up using their smartphone app, which basically tells it the WiFi network to use. I found that all three sensors would fail the first time my phone tried to find/setup them, but then the 2nd or 3rd go they were found and could be configured.
Next, I had to get it mounted in the box. There isn't a great spot to do this on this particular box. There are plenty of non-great spots though, which with a minor shim applied gets the two sensor parts close enough. Essentially the sensor is just two pieces with magnets, and when they come close enough it triggers. So they need to be fairly close in the 'closed' position. I rummaged around the Cave and found some hard plastic pieces in an old GoPro bin that would be a perfect shim.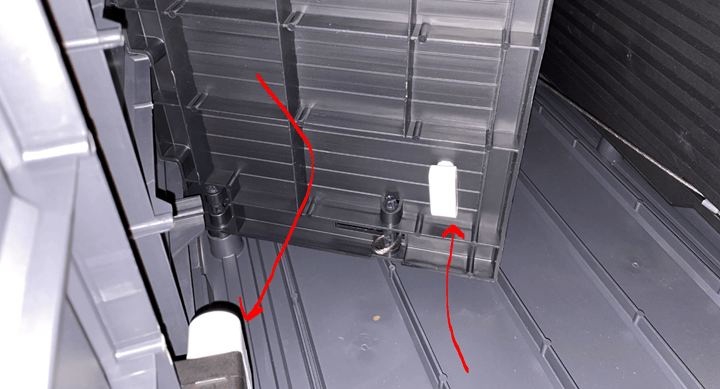 I then found a couple of extra GoPro double-sided sticky mounts for them, and half a super-glue tube leftover. Combine all that together and magic – a sensor that's not going anywhere. In theory the case will still open for me to change batteries. But I'll cross that bridge when I have to down the road.
Oh, and in case it's not clear, the lid lifts up, and the packages are inserted into it. Like a FedEx/UPS or similar dropbox, the way it's designed once you close the lid after putting a package in, they drop into a chute that seals them inside. You can't access that space when the lid is open. The only way to access all the packages deposited is via the front door (with a key). It's hard to show without a drawing, so here's the manual that kinda shows it. Basically the two red arrows point to two overlapping flaps. As you close the lid these flaps open to drop the package in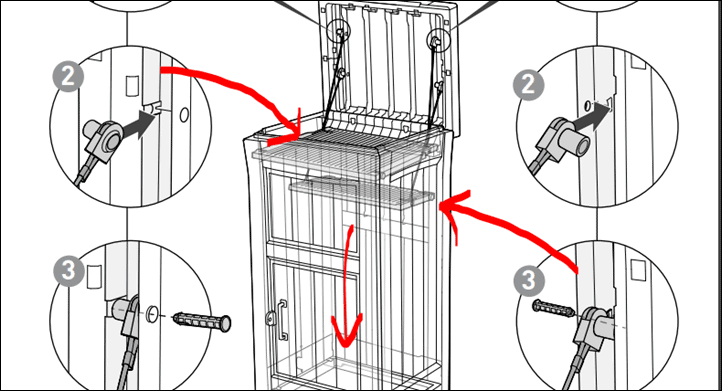 With that, I was ready to test! I placed all the packages in there that I had received that morning and the night before, and everything that came in fit easily. And more importantly, I could 'store' a crapton of packages. You put your own padlock on it. For which that metal bit is about the only metal pieces on the unit itself, save the screws into the ground. Most importantly though for my test, when the lid opened, I received a push smartphone notification within about 2-3 seconds. I could then correlate that with the Nest Cam directly in front of it if I wanted to.
I suppose if I wanted to get really advanced one could put multiple cameras inside and a light that triggers to then be able to see who the package was from.  But, probably unnecessary. On second thought…don't tempt me!
As I mentioned earlier, it integrates with Google Home and Amazon Alexa. The Google Home integration is mostly useless since it can't trigger an event the best I can tell (meaning, I wanted it to then trigger my Google speaker to say 'Yo, a package has been delivered'). It can't do that. However, on Alexa it can, and thus, it does. So I hooked up an older Amazon Echo Dot speaker:
It'll now announce that I've got a new package. However, I clearly need to come up with something far more clever and witty. I'm open to suggestions.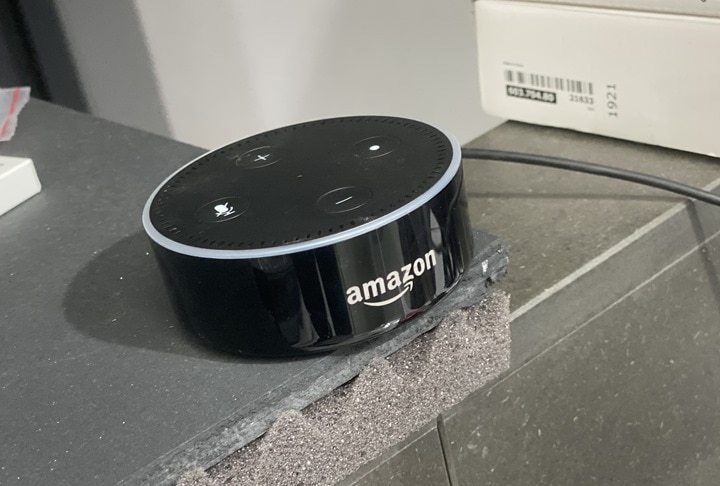 Also, it integrates with IFTTT as well, so I could create a package delivery log if I wanted to. Which, obviously I will [Update 5 weeks later: Still not yet].
Now, the big question – will package delivery people use it? So far…yes.
But I also think we're a relative exception here. As much as I might give my unending stream of delivery couriers a hard time, they always make an effort to try and deliver the package (ALL OF THEM!). They'll wait 30-60 seconds for someone to answer the doorbell. They'll try multiple office neighbors. They'll even happily leave it where I say via the Nest Doorbell audio speaker, if I catch it in time. Heck, the UPS and FedEx guys will even wait if he's a bit early (such as 8:42AM) until I get there most mornings, since my office is about the first stop on their route. They're great. So leaving it in the box is sorta an easy-button for them.
Thus, to that end, I expect my results with this will probably be FAR better than the average bear's, simply because my bears are better. Or something like that.
Here's my tracker results on week 1. Also, that week was an absurdly high number of deliveries – primarily due to a bunch of last-minute products showing up back in early November:
Day 1: 5 Packages Delivered…before I assembled box. 0 arrivals after assembly complete.
Day 2: PostNL decided to not even attempt delivery, simply delivered to Tabacco shop.
Day 3: First DHL man of the morning just waltzed into the Cave since I was there, no doorbell either. Kinda know him by now. Second DHL man ding-donged, but didn't attempt delivery, started walking back to truck. I then went out and asked why. He said he didn't see the three signs we taped to the top/side of box, and front door. But he thought the box was cool when I showed him. I re-did the signs to be clearer/bigger.
Day 4: [No packages attempted/delivered]
Day 5: First UPS man of the day immediately attempted to put package in box, but just 1CM too big. He tried though!
Day 6: DHL delivered 5 packages straight to the box! One package was slightly too big, and placed semi-hidden behind the box (perfect!).
Day 7: First DHL of the day required customs payment, I was there. Next DHL man delivered 3 packages straight to box! And then for the 3rd delivery person of the day, we…umm…ran out of space. Doh! He tried to stick one last package in there and ran out of space. He dinged the Nest doorbell and I had him put it behind.
The main lesson learned! Put a note on the box clearly stating instructions, and put a note on your door, also stating the same!
Here's the boxes after coming back from a ride – completely filled. One of those days where Amazon decided to put each item in a different box.
Now…let's fast forward 5 weeks?
Wait, you think I have data on that? Nah. But I don't need it. After a week's worth of 'training', it's been amazing.
Every single package that could fit was delivered into the box. Two bike trainers didn't fit. And ironically enough, this morning the box shown below didn't fit. But it was no big deal, the UPS guy ding-donged the doorbell to ask what I wanted done, and I answered that since I was going to be there in a few minutes anyways, just leave it behind: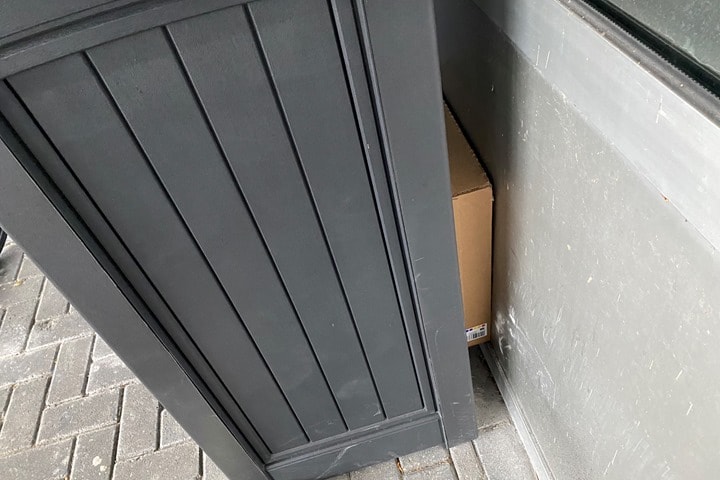 While I haven't interviewed every delivery person, all the regulars seem to love it. It's efficient for them, and most don't even bother now ringing the doorbell, which is realistically a pain for both of us (since my desk is some 30 meters away on a different floor). Our neighbor offices are also jealous too.
All in all – super happy with it. It's saved me having to track down countless packages elsewhere, especially for early morning and weekend deliveries. Since installing it, I've not once had to go anywhere else to get a package.
With that – I leave you back on your weekend – thanks for reading!
Found This Post Useful? Support The Site!
At the end of the day, I'm an athlete just like you looking for the most detail possible on a new purchase. These posts generally take a lot of time to put together, so if you're shopping for the Keter Delivery Box or Wireless WiFi Door Sensor or any other accessory items, please consider using the affiliate links below! As an Amazon Associate I earn from qualifying purchases. It doesn't cost you anything extra, but your purchases help support this website a lot. Even more, if you use Backcountry.com or Competitive Cyclist with coupon code DCRAINMAKER, first time users save 15% on applicable products! Or, with TPC (The Pro's Closet), you'll save $40 on purchases over $200 with coupon code DCRAIN40!
And of course – you can always sign-up to be a DCR Supporter! That gets you an ad-free DCR, access to the DCR Quarantine Corner video series packed with behind the scenes tidbits...and it also makes you awesome. And being awesome is what it's all about!