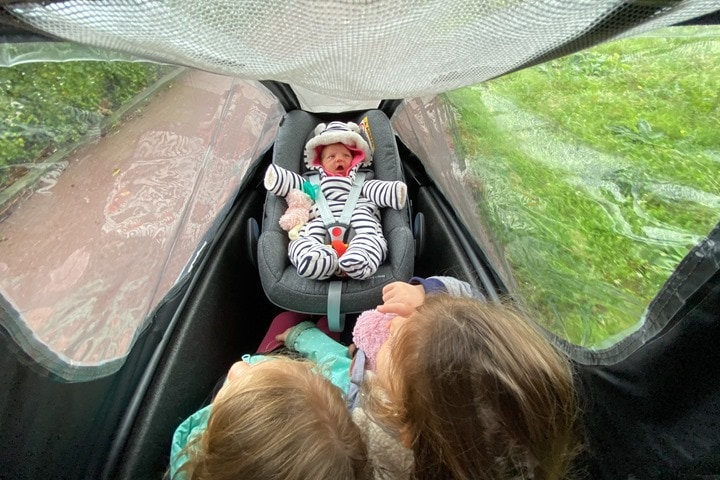 So I'm a wee bit behind on this, and those of you following The Girl's Instagram will notice as such, but – we recently unboxed a new addition to the DCR Family: P3 (short for Peanut 3). She joined her two sisters (and fur sister Lucy) two weekends ago. Everyone is doing well, and she's already been logging time on the bike in the last few weeks.
As with P1 & P2, there were no unboxing photos or video shots for this product. Though, the Dutch hospitals did offer multiple times to assist in such a production, which we politely declined. Of course, like any parent, we have overcompensated for that with plenty of photos since then.
As is also normal in the Netherlands, she came home just over 3.5 hours post birth (around 12AM), where she got to meet both P1 & P2 in the morning when they woke up (and Lucy):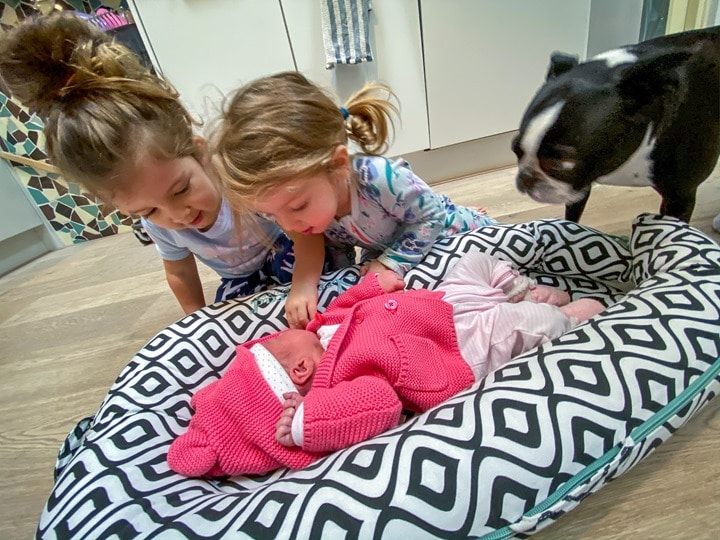 The little nugget is healthy and pretty happy. And Mom is also doing super well too. In fact, she's already up and pedaling around on the bike…because…Amsterdam? How else would she get around?
As you've probably gathered, she was born here in Amsterdam (her sisters were both born in Paris). But like her siblings, she won't gather EU citizenship anytime soon. Instead, she'll soon pick up both American and Canadian citizenship once we get her taken to the passport photo place around the corner and get that always hideously bad baby passport photo taken.  Though if we're here long enough, she could eventually pick up her Dutch credentials.  If nothing else, she'll always have a birth certificate that says Amsterdam.
Both Peanut 1 & 2 love having her around, and trying to be mommy to her. Lucy is also gently tolerant of her, though, clearly realizes her position on the totem pole continues to slip.
P3 enjoys the bike like her sisters. We've got her situated in the Urban Arrow using a Maxi-Cosi adapter (or car-seat adapter for Americans). Then the two other kids sit on the bench.
We also have room for one more kid on the back, though that's reserved mostly as the time-out position (or, a place to stash scooters this weekend). Trust us, three Peanuts is enough love in this household. Any more love and all my fitness trackers will give-up entirely on sleep tracking.
Speaking of which, like P2 we use virtually no smart baby tech with P3. I don't even think we've pulled out the baby scale yet for her. We tried a sock monitoring thing with P1, but she disliked it significantly and we never bothered with P2. P3 is happy to just chillax all day long in your arms or nearby. No monitoring or tracking needed here. Don't worry, once they become teenagers I'll install ankle bracelet GPS trackers – obviously.
With that – hope everyone had a great weekend!
(P.S.: While it hasn't been updated for P3, here's our large list of mom/baby/kids gear that we've been using with the three kiddos. A lot of you have asked, so we put it in one handy place! From a sport-specific standpoint, the main thing we use is the running stroller. Though P3 is still a bit too young for that, but both P1 & P2 get usage on that.)