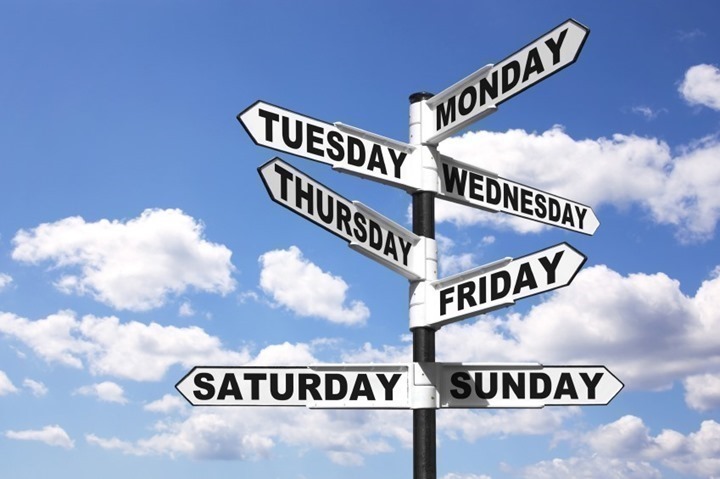 The Week in Review is a collection of both all the goodness I've written during the past week around the internet, as well as a small pile of links I found interesting – generally endurance sports related. I've often wondered what to do with all of the coolness that people write, and while I share a lot of it on Twitter and Facebook, this is a better forum for sending it on to y'all. Most times these different streams don't overlap, so be on the lookout at all these places for good stuff!
So with that, let's get into the action!
DCRainmaker.com posts in the past week:
Here's all the goodness that ended up on the main page of DCRainmaker.com this past week.
Sunday: Week in Review–May 1st, 2016
Monday: 5 Random Things From A Weekend in Venice
Wednesday: Hands-on with the new Garmin Vivomove watch
Suunto & Garmin Sales (Garmin Ends Today):
Just a reminder that the Garmin sale that started a few weeks ago is ending today (end of Saturday), deals there are:
Garmin Vivofit – $49 (was $79) – Review here
Garmin Vivofit with HRM strap – $79 (was $109) – Review here
Garmin Vivofit2 – $69 (was $99) – Hands-on here
Garmin Vivofit2 with HRM strap – $99 (was $129) – Hands-on here
Garmin Vivosmart HR – $129 (was $149) – Review here
Garmin Vivoactive – $169 (was $249) – Review here
Garmin Vivoactive with HRM strap – $199 (was $299) – Review here
Garmin Forerunner 15 GPS watch – $99 (was $119) – Review here
Garmin Forerunner 15 GPS watch with HRM strap – $129 (was $149) – Review here
In addition, Suunto has just kicked off a sale as well on the Ambit 3 series (in-depth review here):
Suunto Ambit3 Run: $199 w/o HR strap, $249 w/strap ($50 off)
Suunto Ambit3 Sport: $254 w/o HR strap, $304 w/strap ($75 off)
Suunto Ambit3 Sport Sapphire: $354 w/o HR strap, $404 w/strap ($75 off)
Suunto Ambit3 Peak: $299 w/o HR strap, $349 w/HR strap ($100 off)
Suunto Ambit3 Peak Sapphire: $399 w/o HR strap, $445 w/HR strap ($100 off)
Here's a link to all the Suunto watches on sale.  Note that each model also has various color options too.
The Suunto sale runs until June 19th, 2016.  All the above qualify for free US shipping via Clever Training.
My YouTube Uploads of Note This Week:
Here's the new videos that I uploaded the Tube of You this past week!  Definitely swing over to the channel to subscribe, or hit up that like button.
DCR Podcast!
Here's a handful of the topics discussed in this past week's podcast:
– Thoughts on sleep trackers (such as Emfit & Withings Aura)
– The Withings acquisition by Nokia
– Livestreaming video from action cams to the world
– Kickstarter optical HR sensor projects (and overachieving)
– Chicken or the egg: Upcoming baby or leaving full time job
– And much more!
Listen to the full podcast here on the Podcast player, or just download it directly here.
Stuff that I found interesting around the interwebs:
Here's a not-so-small smattering of all the random things that I stumbled on while doing my civic duty to find the end of the Internet:
1) A deeper dive into how UCI looks for hidden motors: While my video from Paris-Roubaix shows the basic process employed at a race, this pieces dives into the technology more.
2) Ironman announces hidden motor testing: And it sounds like Ironman 70.3 St. George will be the first up, starting today.  I personally wish they wouldn't have announced ahead of time, and simply scanned bikes in transition after the bike segment.  That's what's kinda great about triathlon: There are no bike swaps, and everyone's bike sits in a secure area that's easily accessible to race officials (with plenty of time to scan).
3) GoPro Karma Drone delayed till end of year: That hurts a lot.  No two ways about it, missing the summer season is huge.  Especially because aside from snow-sports, the vast majority of consumers will use and *show-off* a drone like this best in summer weather.  Hopefully the delay is worth the wait in added features, stability, or…ice cream sandwiches.
4) What to call openwater swim temperatures: A handy guide from our Scottish friends.
5) Polar rolls out running programs: These new running training plans cover an assortment of running race distances, and auto-populate your calendar with specified workouts for the race goal you're trying to hit.
6) The 85-year-old running legend: You know, just a 1hr 50min half-marathon…again…at 85yo.
7) Paralympic Swimmer Disqualified for Olympic Rings Tattoo: I'd agree with Neal, this is stupid.  Especially given it's both a new rule, as well as one not previously enforced even when the rule was there.
Sports Technology Software/Firmware Updates This Week:
Each week I quickly highlight some of the new firmware, app, software and website service updates that I see go out. If you're a sports technology company and release an update – shoot me a quick note (just one liners is perfect, or Tweet it at me is even better) and I'll make mention of it here. If I don't know about it, I won't be able to post about it. Sound good?  Oh – and if you want to get a head start on things, this page is a great resource for watching Garmin firmware updates.
Wahoo ELEMNT firmware update: A bunch of updates, most heavily focused on mapping related items.  Note: be sure to update your phone app as well.
Polar A300 Firmware Update: Adds Polar Balance scale compatibility, smartphone notifications.
Polar M450 Firmware Update: Addresses Strava paused time issues.
Fenix3/Fenix3 HR/Tactix Brava/Quatix 3 Firmware Update: Massive pile of new features that were previously beta features, now available in production firmware version.
Garmin FR230/235 Firmware Update: Connect IQ updates, ability to manually add sensor, battery improvements for Alaskans and Norwegians.
Garmin FR630 Firmware Update: Same as FR230/235, plus WiFi improvements.
—
Thanks for reading all, have a great weekend!