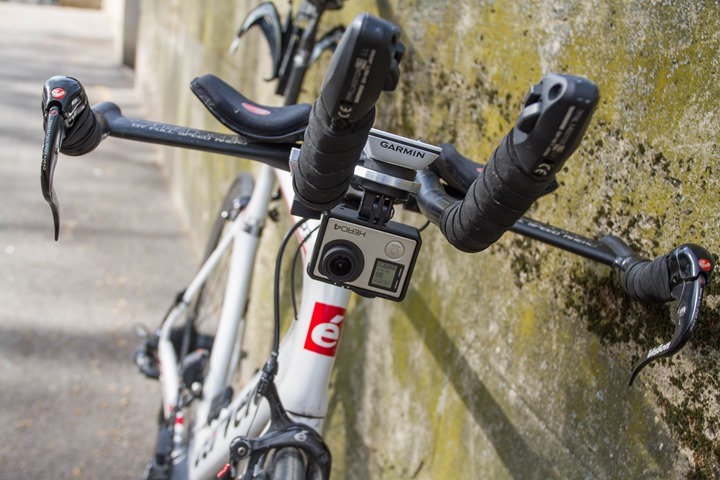 As I alluded to last week, the winds of the bike mount world be blowing strong this spring.
Not one to be outdone, PowerPod has jumped into the combination GoPro/Garmin mount market for triathlon bikes with their latest product.  This has them joining Bar Fly with their just announced triathlon/TT bike combo mount, as well as some modular options from Rec Mounts.
Mount Overview: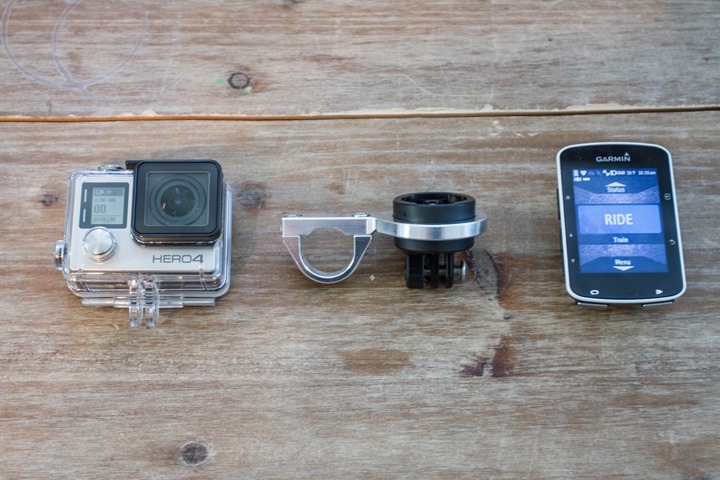 In the case of Velocomp/PowerPod, they've partnered with Womo Designs based in Seattle to create their mount.  Womo Designs creates mostly custom and high-end mounts today, including for various pro teams.  Somewhat like another Pacific Northwest company (K-Edge), their mounts are made of machined aluminum and tend to be on the stronger end of the spectrum.  Consequently, these aluminum mounts also tend to be priced a bit higher.
Oh – first, a disclaimer: The unit I have right now being a prototype isn't finished/anodized with a black casing. So it's silver.  I contemplated coloring it black with a Sharpie, but then I could only find a green or pink Sharpie around the studio.  So…scratch that idea.
The unit latches on with two screws and the small included Allen key.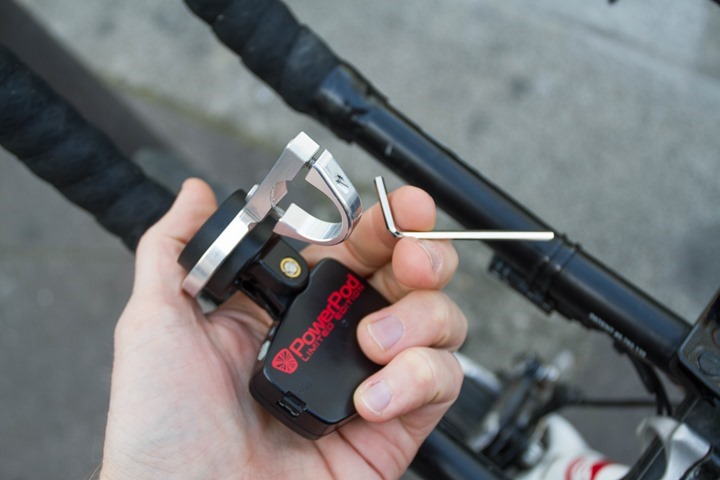 The mount includes a Garmin quarter-turn mount at the top.  While the prototype unit I have here is hard-set for the Edge series, I'm told the final production units will allow you to rotate it for both Edge and Forerunner quick release kits (which have a 90° offset from the Edge units).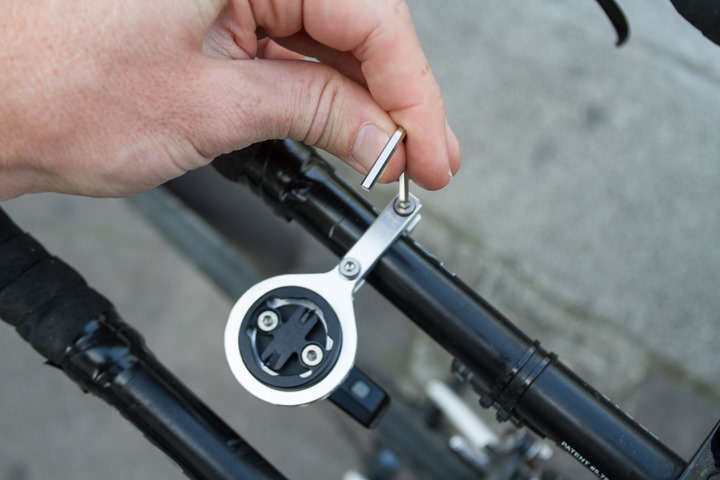 Below deck you've got the standard GoPro mount.  This allows you to mount not only a GoPro, but also any GoPro compatible products.  In the case of Velocomp/PowerPod, their primary interest is in the PowerPod power meter, which uses the GoPro mount:
But even with their own product in mind, they seem to recognize the market for other mounted accessories.  For example, any of the GoPro units:
Or even the Cycliq Fly12, which seems well supported by this beefier mount (since it's a beefier unit).  In other words, I probably wouldn't stick the Fly12 on a plastic Bar Fly mount due to the much heavier weight.  Whereas this metal is more than fine.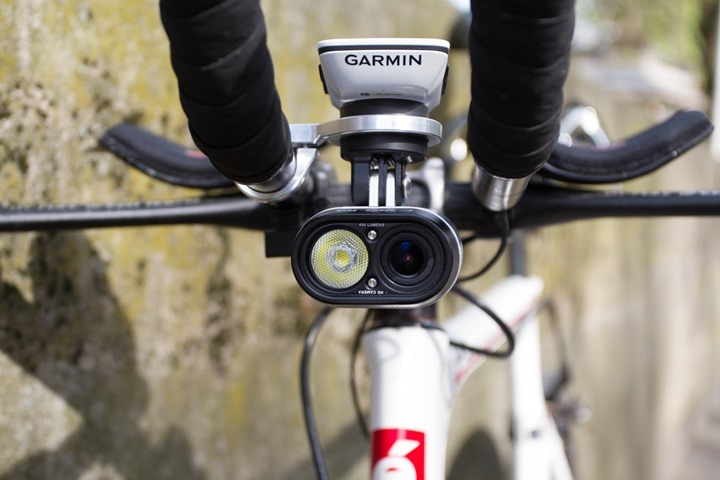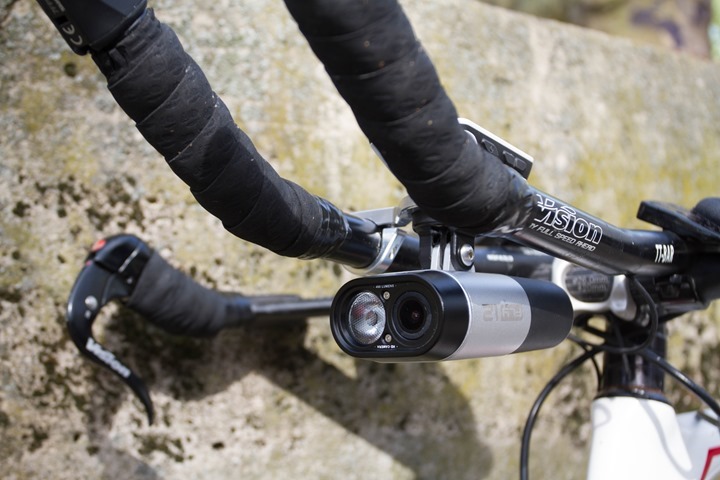 One interesting/unique feature of the PowerPod TT mount is that you can actually rotate the GoPro portion of the mount in any direction.  This is similar to Womo Designs' other mounts, which allow you to loosen the screws and then point the mount in any direction you like.  So in theory if you wanted to you could point it sideways.
I'm not sure what exactly the applicability is of this type of feature, but I've long since learned that folks have come up with creative needs (and solutions) for just about everything out there.
Also of note is that it does include it's own screw to lock in anything you mount below.  While you technically could use a GoPro thumb screw, you'd probably have problems with getting it out between the aerobars.  In my setup, my aerobars are fairly close together.  But if you had them further apart it wouldn't be an issue.  So I just used the included screw and Allen Key.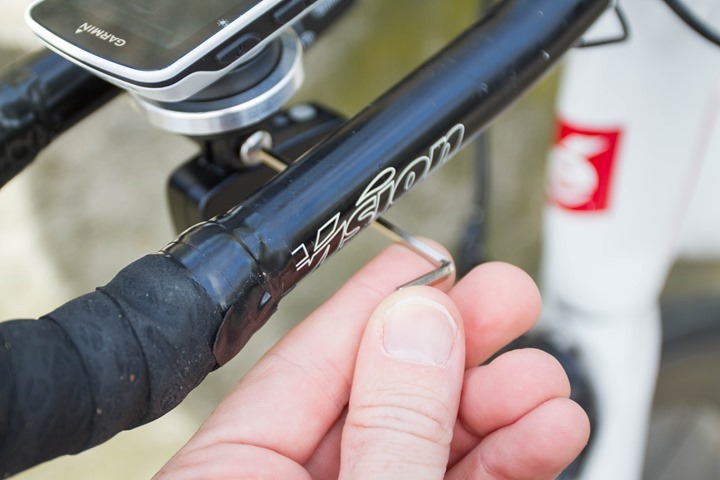 Test Video Sample:
I headed out for a ride around town with it to capture a bit of video footage.  Here's some random clips strung together of a nice warm spring day:
Not too shabby.  The mount really has virtually no give to it.  I'd say there's actually a bit more give in the GoPro frame plastic housing/shell itself than anything else (actually more noticeable than I'd previously realized).  Obviously with any mount, but especially in the case of a TT/triathlon bike and aerobars you'll want to ensure the bars aren't in the image.  But even more so – ensure that after you place your hands on the aerobars and wrap your fingers around the tip of them, that they aren't in the frame (an easy mistake to make since they wouldn't show up in earlier framing images).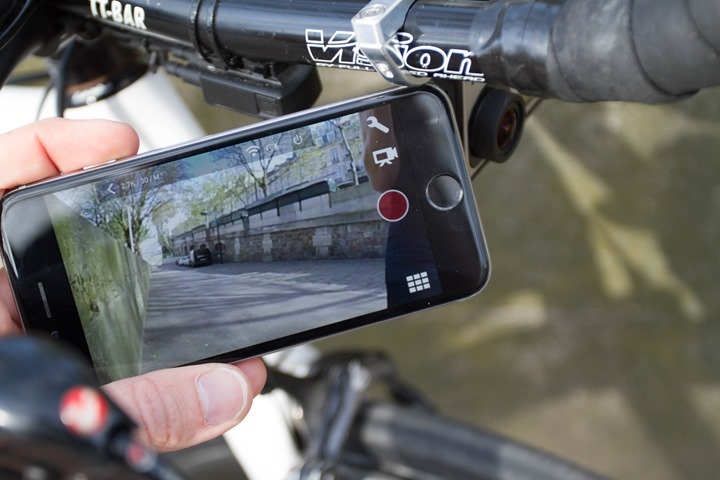 About the only downside to the mount is that it has a bit more vertical height than the Bar Fly combo mount.  Meaning the middle part between the GoPro and the Garmin is vertically denser.  On the flipside, you want the GoPro to be 'pushed down' a bit from the aerobars, otherwise you'd get them in the shot (non-ideal).  It's the upper Garmin part you'd want more flush if possible.
Additionally, as is the case with any of these combo mounts, they would preclude (or at least make difficult) any form of front-end hydration system mounted to your aerobars.  So you'd have to consider that depending on the type of racing or training.  And speaking of racing, keep in mind that at present WTC (World Triathlon Corporation, owner of Ironman branded races) does not permit cameras in their races.  But if you're using this mount for the PowerPod, then that's a non-issue.  Same goes for training.
Finally, the mount will start shipping in mid-May for $59.  Though you can pre-order it now.
With that – thanks for reading!