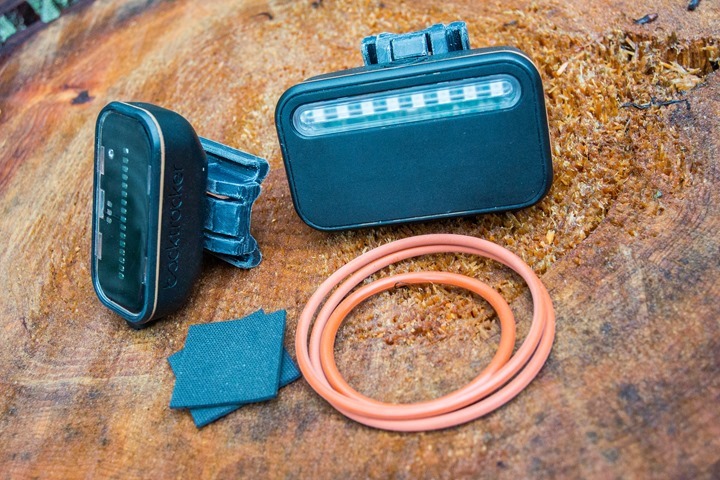 A few weeks ago a new product jumped onto the crowd-funded scene: Backtracker.  This device is essentially a radar warning system for your bike.  The idea is that it can warn you of approaching cars on a LED display on your handlebars, potentially reducing the chance of an incident.  This logic is driven by the fact that some 40% of bike fatalities occur with the bike being hit from behind by a vehicle.
The theory behind the system is that you might not always hear a car approach (especially fast moving ones), and in cases of bad weather, you might not always see it either (fog/etc…).  Thus by using radar they can cut through both issues and display that in a minimalist way on your handlebars, increasing your awareness.
The engineering team overnighted a unit out for me to use for about 24 hours, just enough time to get in a ride and poke at the system a bit.  Here's the run-down on how it all works.  Do keep in mind that everything you see is of prototype quality/finish, and that like all crowd-funded projects it depends on funding from backers to move forward.
The Components:
So let's dive through all the components of the system, which is admittedly pretty simple.
First up you've got arguably the most important piece – the radar component.  This portion has the ability to detect approaching traffic via radar, and then relays that to the second component to communicate to you.  Additionally, as you'll see it has a light-strip as well to warn approaching cars that you're there.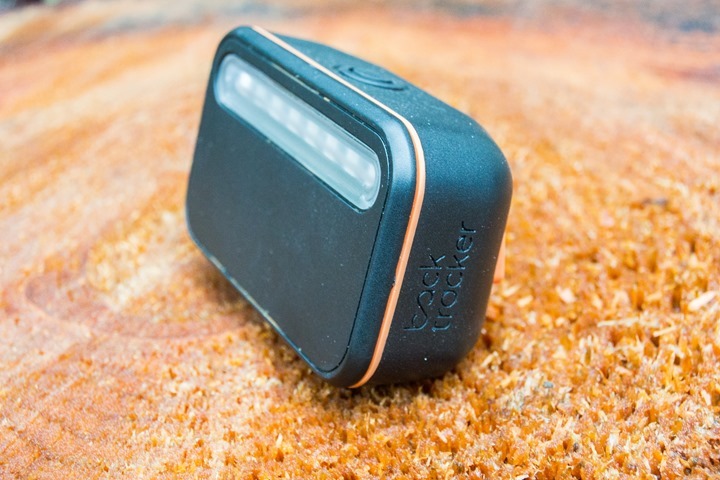 The unit clips into a mounting system via a rail-style mount on the back.  On top is a simple on/off button to turn on/off the system.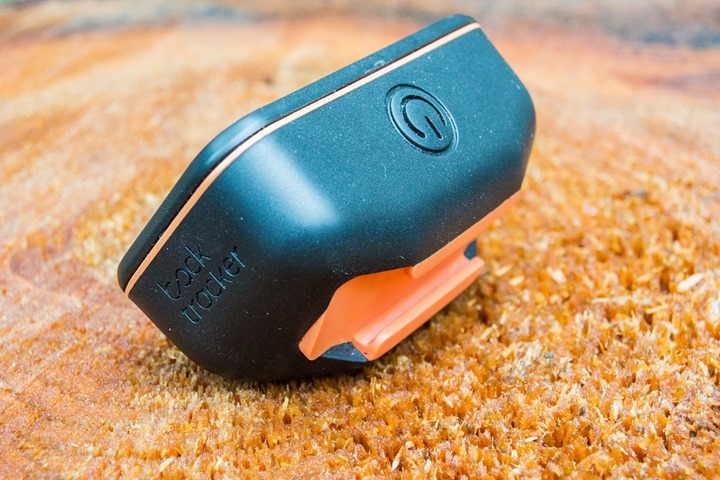 The whole thing is charged via USB, and should last about 8 hours.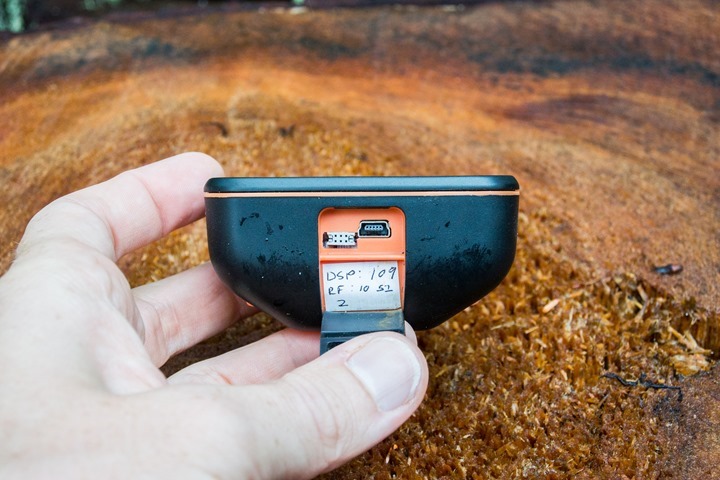 Next you've got the display portion.  This sits on your handlebars and warns you of the approaching cars.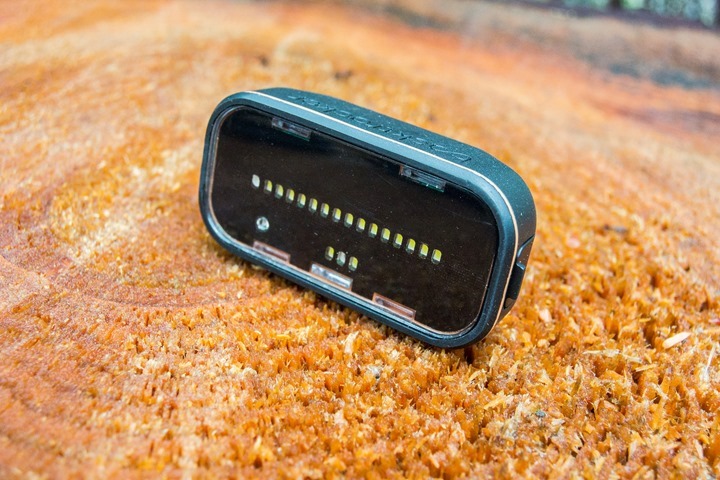 Now these two units talk to each other using Bluetooth Low Energy.  Even better is that Backtracker plans to release an API allowing Bluetooth Smart capable devices and apps to interact with the system.  This means that you could directly integrate this with a cycling head unit, or even an app like Strava or Wahoo Fitness.
Like the back component, this too is charged via mini-USB and also has a rail mounting system.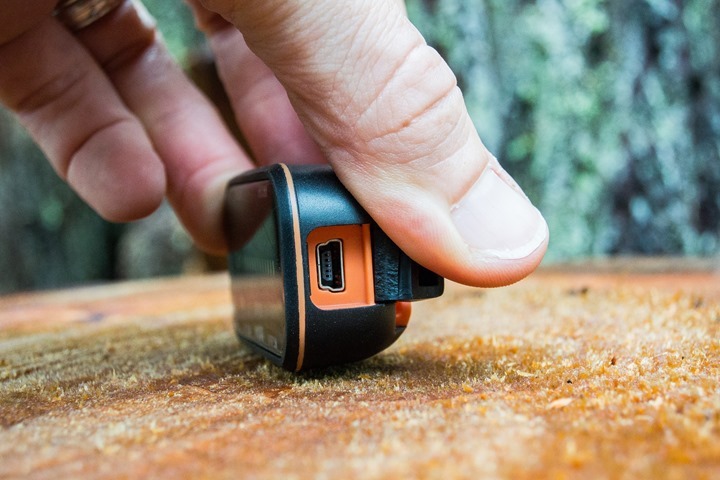 Both units will then mount to this rail mounting system. Obviously these are prototype mounts that appear to be 3D-printed, thus they look a bit vintage.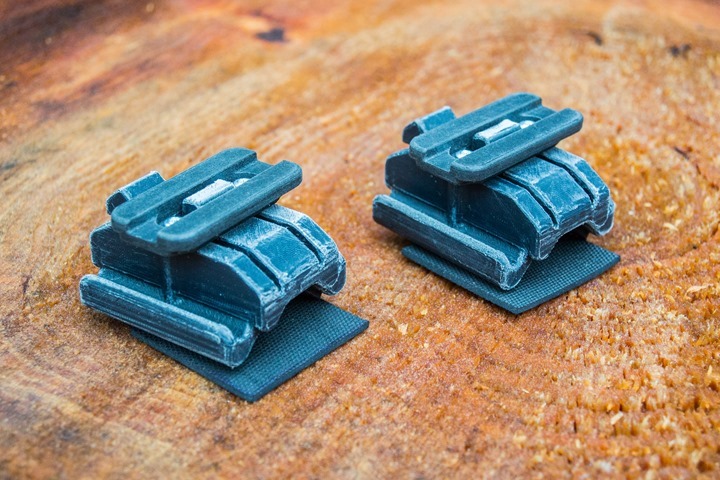 Once attached, it looks sorta like this: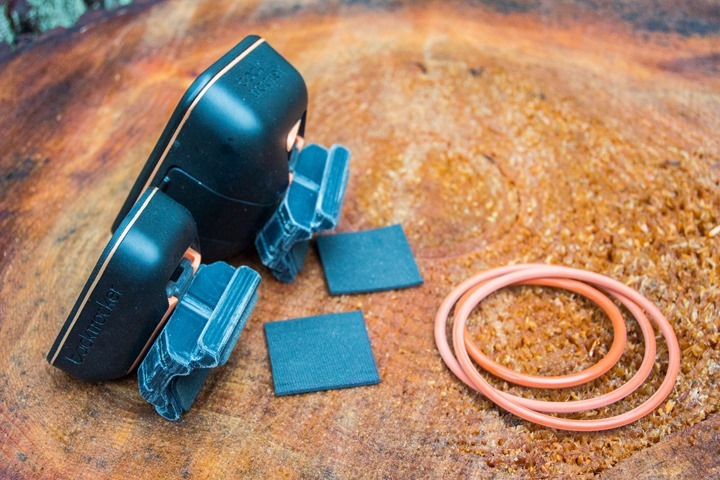 Speaking of attachment, let's hook it up to the bike.  Or, in my case specifically, my Dad's bike – since I'm travelling for work out in Seattle this week.  Thus, thanks Dad for letting me borrow your bike!
Installation:
Installation is about as simple as it gets.  You've got two pieces, one goes on the seatpost, and one goes on your handlebars.
Starting with the seatpost you'll mount the larger of the two units – the radar and rear light component.
As you can see, this just uses a simple industrial rubber band to stay on.  Additionally, they've included a small bit of non-slip material to help keep it snuggly in place.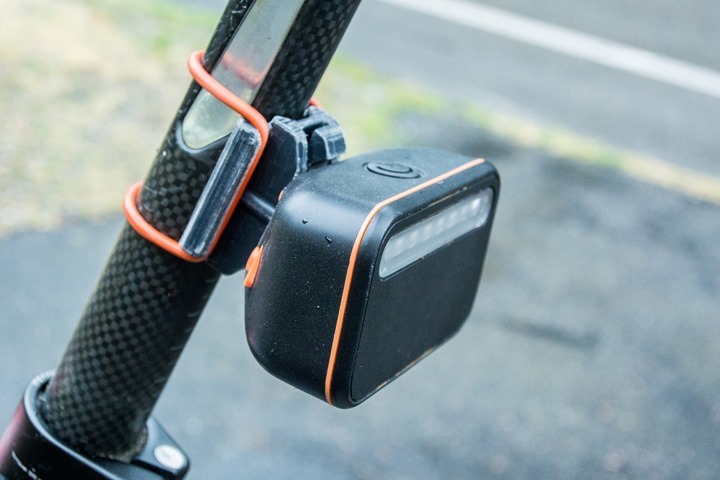 In case you're curious – here's the red light shown below.  Note that intensity seen here is a bit below actual intensity since in the prototype they sent me they had reduced the brightness as they were working with them inside and were tired of getting blinded.  I'm told normally they'd have adjusted the brightness upwards.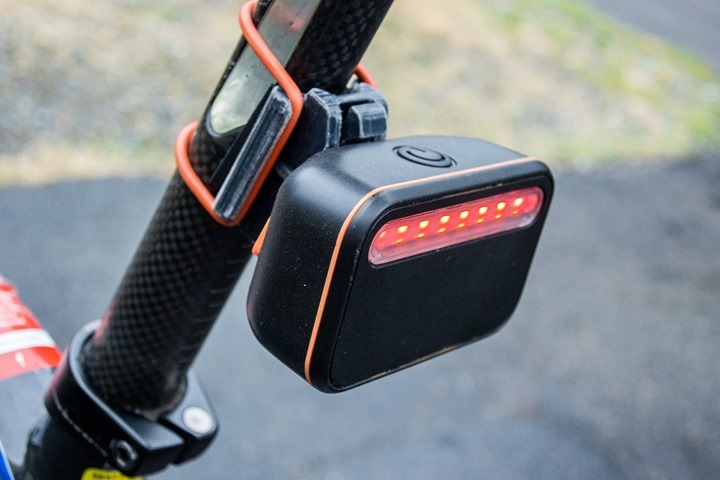 Next, we go ahead and mount the front display system.  This should be mounted vertically such that the green light is at the top.  You could mount it either to the handlebar, or your top tube.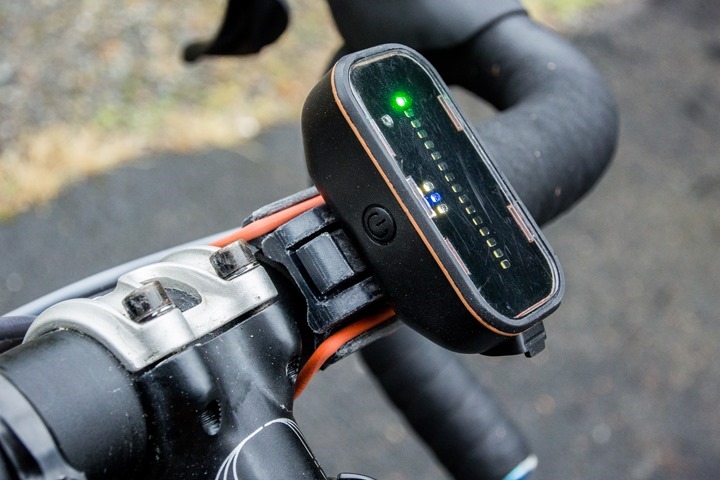 Again, same industrial strength rubber band and non-slip material to keep it all in place.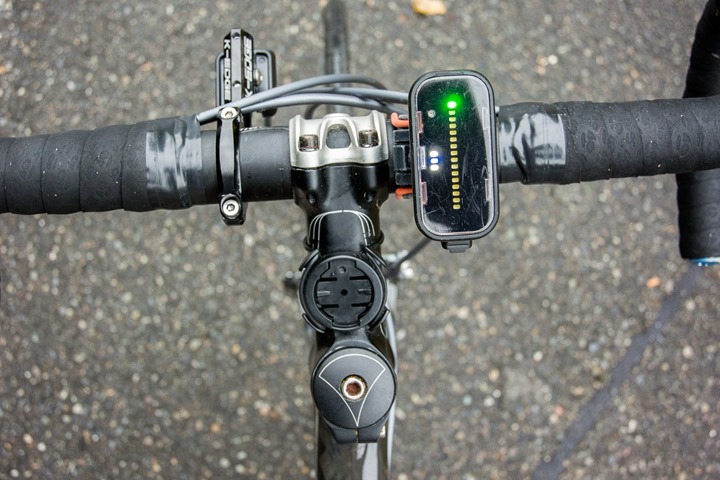 Note that the units slide off the mount using a simple rail/clip system, so you can easily take them with you off the bike while leaving the mount in place.
Usage in traffic:
Next we'll head outside.  In my case, outside meant starting at 6:45AM on a miserably wet and sideways rain kinda day.  No better test weather, right?  Which, btw, is a good time to point out that the lights in most of these images look a little blurry.  That's simply because it was pouring out and keeping the camera lens free of rain droplets would have been no easier had I been underwater.
So let's walk through each component step by step and how it all works.  First up is the rear system that's on the seatpost.  This unit has radar capability to detect cars approaching you.  It's constantly scanning and updating, looking for approaching vehicles – such as below: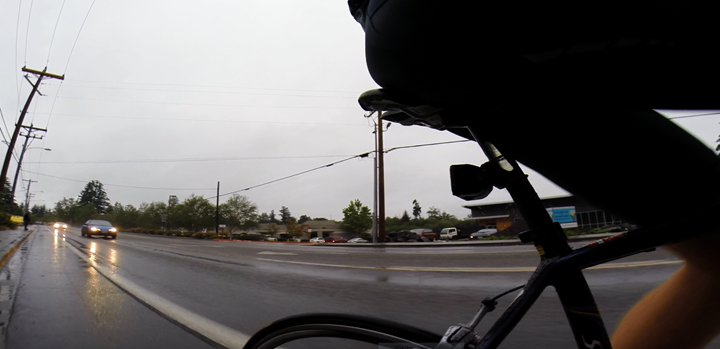 This rear unit is actually communicating to two different audiences.  First is the car behind you.  When it's far away (such as 100m away), it'll slowly blink.  The closer the car gets to you, the more rapidly it blinks – thus drawing attention to you.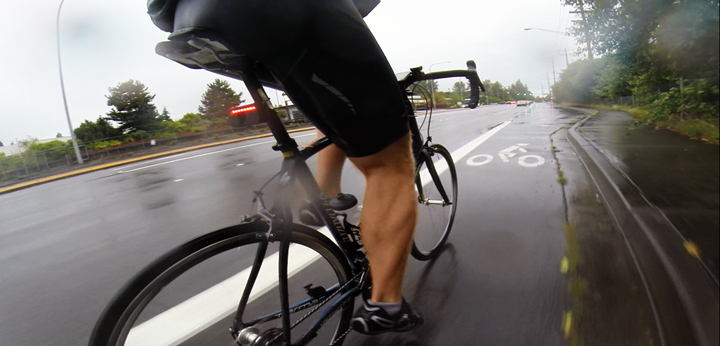 I was somewhat surprised in how much traffic actually slowed down in what appears to be a reaction to this.  There were numerous cars that approached rather quickly, but as the blinking increased it appeared they slowed a bit.
Once a car passes, it goes back to just a steady blink.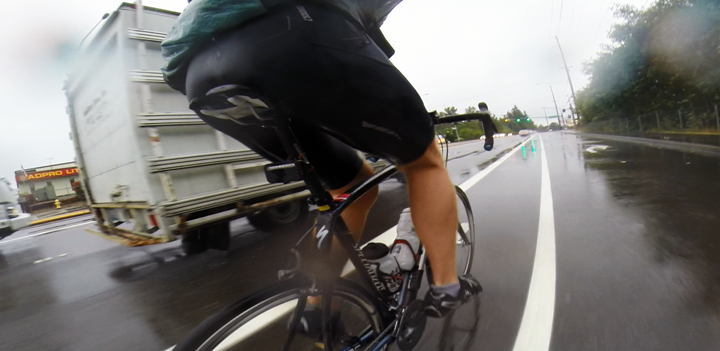 Now, while it's doing this, it's also communicating information wirelessly to the little handlebar display unit.  This display unit acts like a visual 'map' of the roadway behind you.  Think of yourself in the very top spot on the light bar, where the green dot is: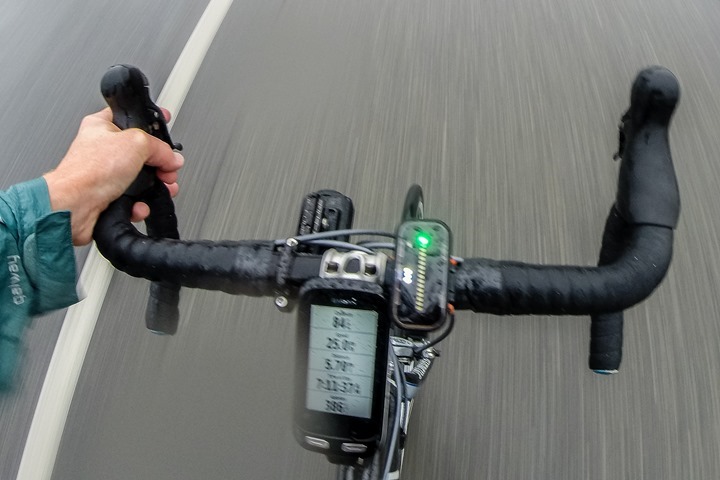 As a car approaches it switches to yellow, indicating a car is approaching at normal speeds.  There will be a single dot that then travels from the bottom of the light bar up to the top, depending on how far away it is.  The closer the car gets to you, the closer the light gets to the top (you).  For example, below it's perhaps 75 meters away still.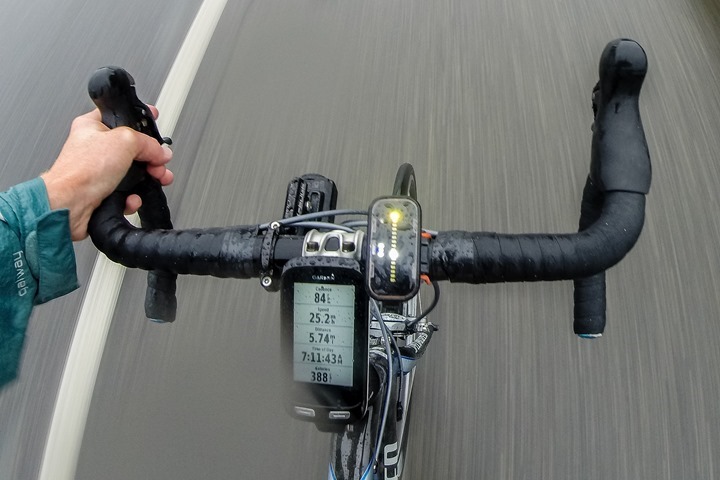 Now, it's much closer, just about to pass me.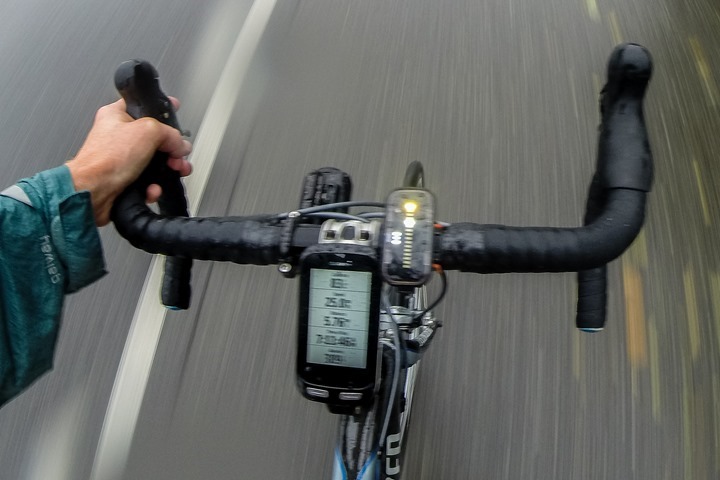 The second the car passes by, it goes back to green and stays green until another car comes in view – which is about 150y away from you.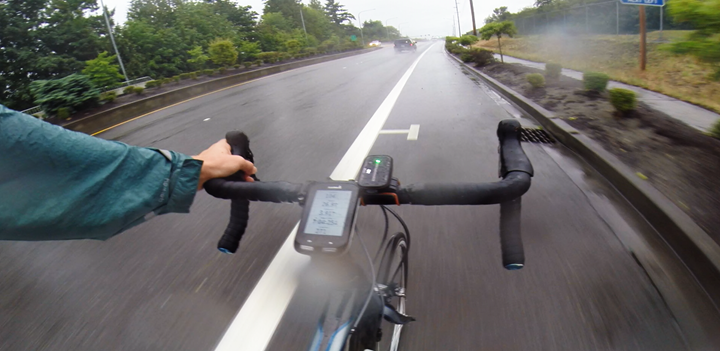 Now, when there's multiple cars, it'll actually show a single light dot for each car.  For example, here you can see three cars.  Two are at the top obscured by rain droplets on the camera lens, and then a third just approaching the edge of view: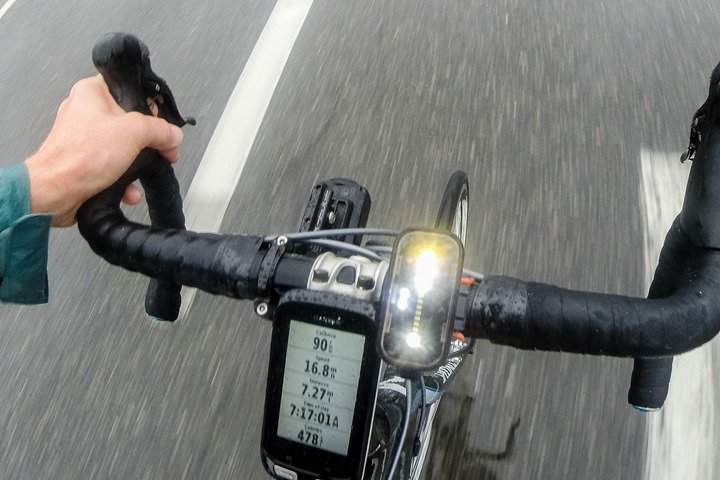 Now there's one final scenario that it'll show – which is extremely fast moving cars.  In that case it'll blink crazy-red that a car is approaching at very high speed.  I had this occur once during my ride when a car zipped by far faster than other cars. Unfortunately I didn't have a camera on it at the time and no other cars came by as fast again.  Still, it caught my attention that there was a car moving far faster than the others.
I did pick up on a couple of interesting situations.  First is that the unit can actually see around bends pretty easily.  For example, on this road below it curves to the right.  When I came through this section going the other way, a car wasn't directly behind me, but rather around the corner and it picked it up.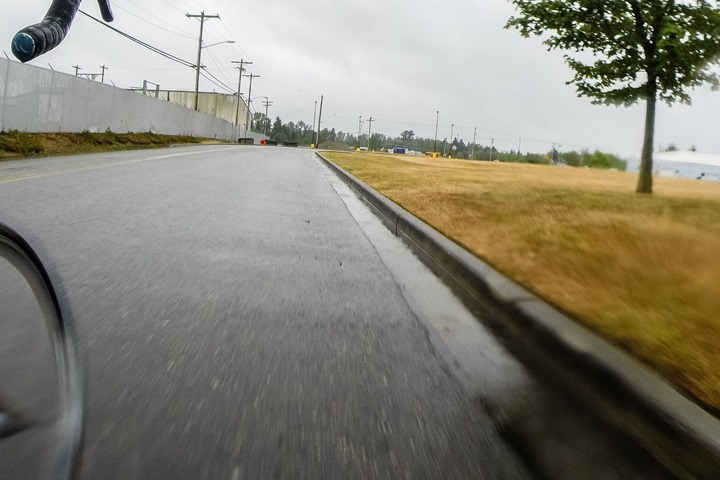 This is likely because it's picking up a fairly wide scope of moving vehicles.  For example, below I was on a short bike trail and it actually picked up the cars off to my left moving towards me.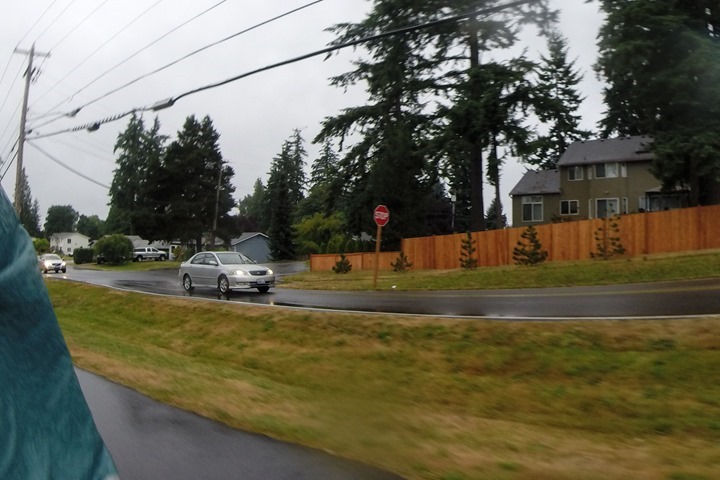 It will correctly ignore cars going in the opposite direction.  So these two cars going opposite of me weren't on my radar map, but only the one approaching me.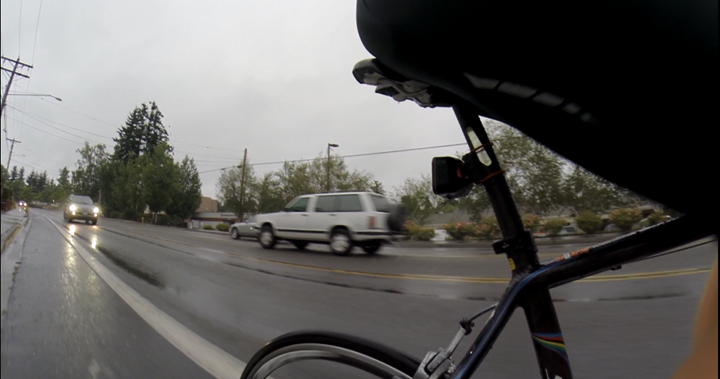 So how does this all look in video format?  Good, I thought you'd never ask.
Here's a clip where I walk (err…ride) you through the different things occurring on the system.  The rundown of what you'll see:
1) First you'll watch as a light-dot (car) slowly comes up and passes me.  The car takes approximately forever to pass me. (0:00-0:13)

2) Next, you'll see another car enter the edge of the radar range (light at bottom), I then pan back to show you how far away the car (van) is still (0:14-0:22)

3) Then, I place the camera in view to show you the blinking light, which will slowly increase as the van comes by. (0:22-0:35).

4) Right as the van passes me at the 0:35 marker, you'll see the light reduces blinking frequency before increasing it again as more cars pass.

5) Next, around the 0:53 marker I pan back up to show you the display again as duel cars come up behind me, and then even more cars – each time you'll see the white dots progress to the top of the display before a car appears on my left.

6) After a series of cars passes, the light finally goes green (1:20) – indicating no further cars are approaching me.
Here's the clip:
Got all that?  Good.
As you can see, it's pretty simple.
In my hour-long ride full of traffic like this I only saw it 'miss' a single car on my display, which, is pretty darn impressive.  I suspect it missed it because the car's speed nearly identically matched mine, so it was sorta in no-man's land of approaching nor not approaching.
My Thoughts: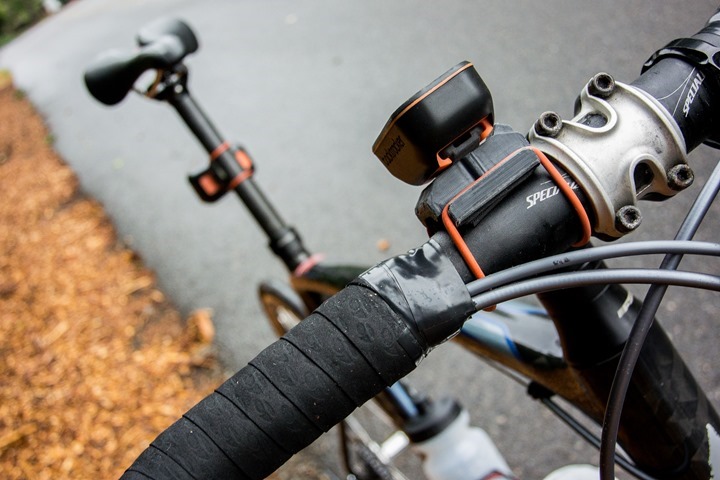 Many of you know my thoughts on crowd-funded projects.  I'm notoriously hard on companies that talk a great line, but have nothing to show for it.  In the case of Backtracker though, that's clearly not the case.  They sent out a unit with nothing more than 'give it a shot'. There were virtually no caveats other than trying to avoid heavy rain (since the prototype/test unit isn't fully waterproofed).  Despite me sorta being forced to ignore that, it worked great.
And I've gotta say – I came away from this morning's ride really impressed.  My route was in many ways exactly what this technology was built for.  As you can see from the photos and videos it was bursts of traffic with cars flying past me.  It was really cool having a bit of an extra sense that a car was approaching.  It certainly doesn't take away your responsibility for not doing something stupid – nor will it reduce every incident, but it makes you acutely aware of the traffic around you.
With that said though – I actually think the potential for incorporation of this technology far exceeds how they're selling it today as part of the crowd-funded program.  I think the real potential here is direct integration into head units.  Because they offer a 3rd party API/SDK, that means that someone like Garmin could actually replicate the warning lights directly into their head unit (either on the screen, or on a separate light band).  That would reduce handlebar duplication/space issues and offer incredible value.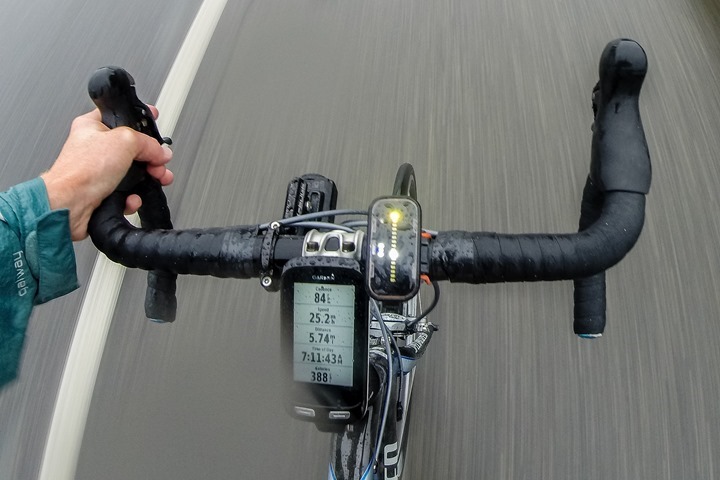 I do wonder how much more successful they would be if they had established a few partnerships ahead of time with companies like Garmin/Polar/Wahoo/etc, and then just sold the rear radar unit, rather than complete sets.  Especially when looking at products like the Garmin Touring, which is aimed more at the cross-country rider who's more likely to want additional awareness.  This also tends to include the same market of older cyclists who's hearing might be less optimal, and thus less able to hear approaching traffic.
Looking at Backtrackers timelines of December 2014 delivery – I'd have to believe that's fully achievable.  Heck, I saw pretty much no issues on my ride today.  So it would really come down to manufacturing and polish in order to hit those timelines.
With that, feel free to drop any questions down below and I'd be happy to try and get the answers to them – thanks for reading and have a great weekend!