In-Depth Thoughts from The Girl
Hey Hey!
Thank you so much for all your emails after the last newsletter! It seems a lot of people have similar shoe questions and experiences as me. So I've set up a shoe day next week at a local running store, with several shoe experts. Ray and I will both get analyzed using their very fancy indoor force-plate running track system/computer, and then fitted for the "best" shoe for our anatomical needs combined with our running goal needs. Stay tuned, I hope to get that newsletter to you early March! IFFFF you have a question you want answered by an industry shoe guru, go ahead and send it my way and I'll try to add it to the interview list for next week.
If you didn't read the last newsletter, I was telling you how I had this big running challenge, The Bermuda Triangle Running Challenge, coming up in January (past), but I was constantly hitting a brick wall in training due to injuries. And by injuries, I'm talking about 2 years of start-and-stop training, which you can imagine is incredibly frustrating! So after a chat with a friend who works for Brooks, he eventually gave me the eyebrow raise and asked if I maybe thought it could be the shoe... Gasp! Never! I've been running in the same brand, same model for 10+ years! Spoiler alert, it was the shoe.
Anyways, my shoe friend didn't want to go crazy and change my shoe drastically, but suggested another running shoe, still by the same brand but with a little more support and a little less heel drop. I kid you not, I made it to my weekend of running races without even a whisper from the nagging injuries that all started back almost 2 years ago!
Not only did I make it to Bermuda healthy and ready to run, I also somehow came away from the weekend with some hardware! But I'll get to that in a minute. First I'll give a recap of the race weekend (it's a wee bit long, so grab a coffee and come back). This was a race weekend that I think I might be able to talk Ray into another time; we had that much fun!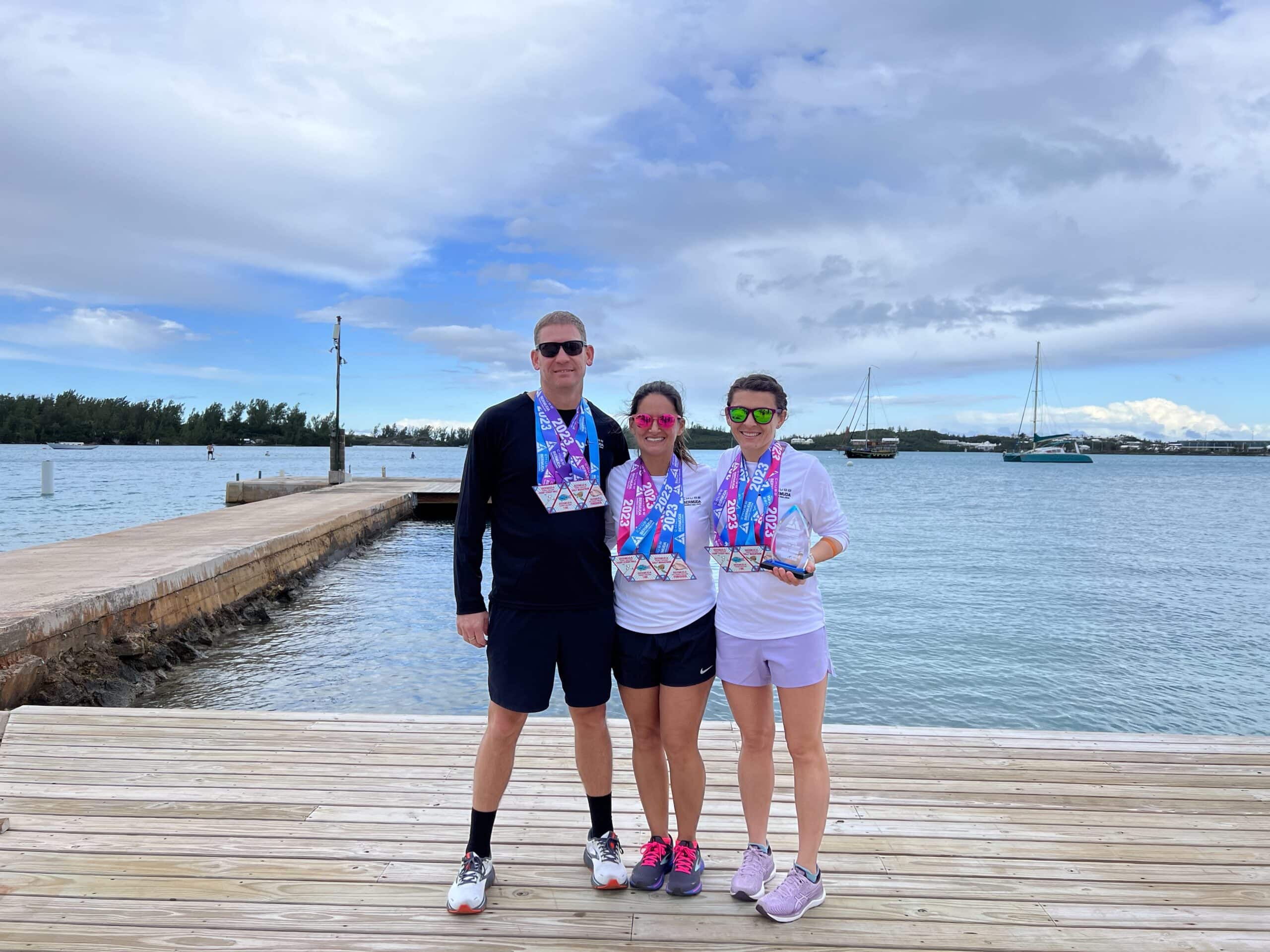 So my friends and I arrived Thursday around dinner time in Bermuda. Unfortunately, one of my friends' bags (and half of rest of Delta's flight that day) didn't make it out of Atlanta. She's a smart cookie and had her running shoes on, but the rest of her race gear was not so lucky. With high hopes it would come on the next morning's flight we went out for dinner before turning in early.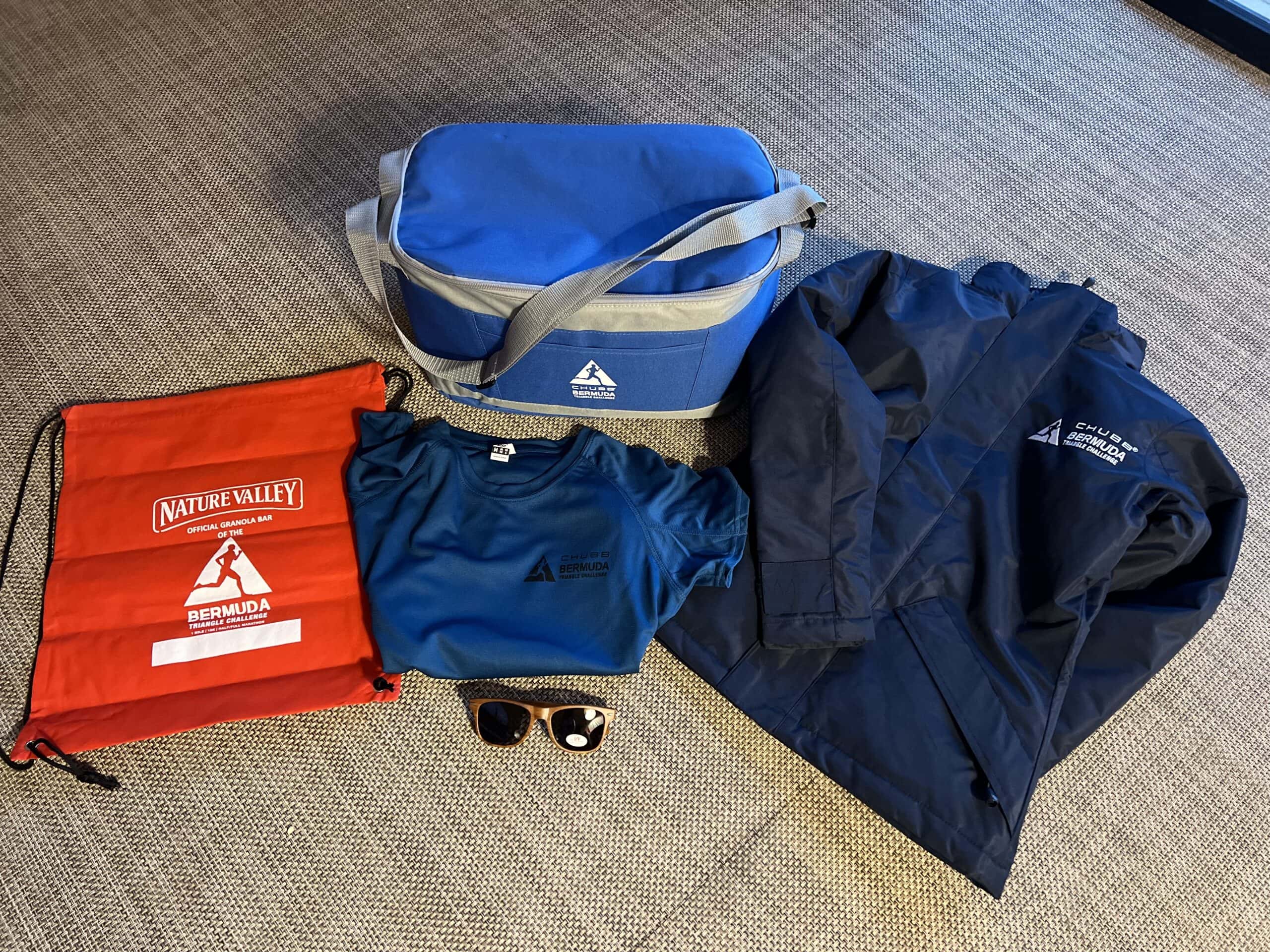 Friday, we had packet pick-up in the morning, and then the first of the three races that evening. The race expo was small but, the race swag was great! We didn't have a lot of time to hang out anyways as we needed to find a local sports store to try to find my friend a laundry list of running gear that would last her the next 3 days of races. At this point in the afternoon Delta wasn't giving strong vibes she would EVER see her bag again DOH.  
Friday night came up on us quickly! The first race was a 1-miler. Remember, this race weekend is to celebrate my friend's 40th birthday. We had no intentions of really racing anything hard, it was supposed to be just fun and chugging along with each other over the next few days. But THEN, as we turned the corner around the half-mile marker, one of our friends starts pushing the pace and making a go for it. Folks… this is like waving a juicy steak in front of a starving dog. I was under the impression that we were just taking the night easy and having a shakeout run. So when my friend took off, it was on. So we had a little bit of a negative-split happening there in the 1-mile race. I believe we started with 8 min mile pace and ended in the low 5s. Ooops!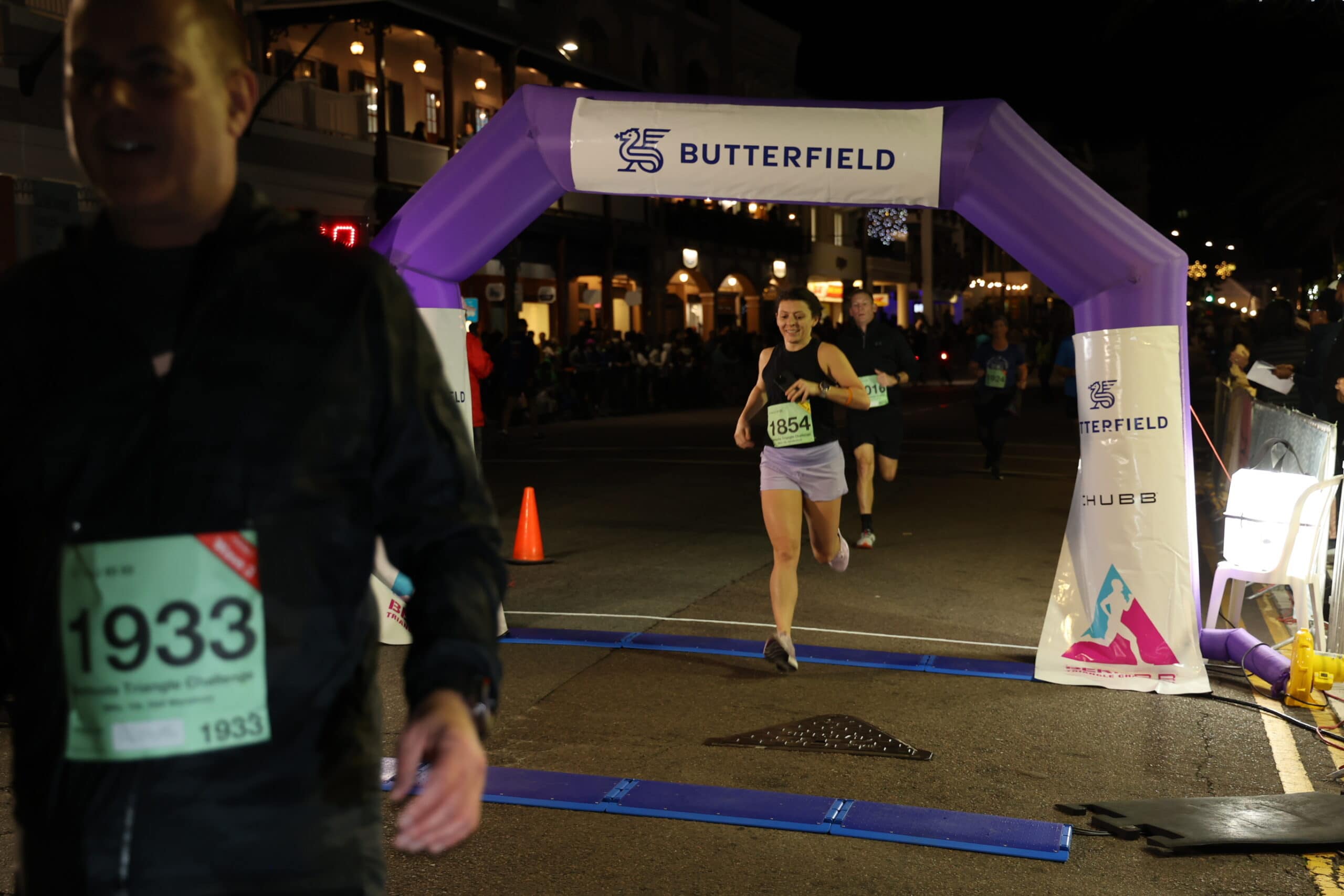 After our age group race, there was a slew of other 1 mile races on the menu. The elites ran a male and female race. As well, the local schools had a challenge that I believe the kids had to qualify for. We stayed and cheered our lungs out for the kiddos. I love when events like this make a point to get the local school kids involved!
Saturday morning came faster than I would have liked. At this point my body is starting to realize I'm not on the correct sleep schedule. As well, Bermuda was calling for quite a tropical storm on this day. We were all hoping we could get the race done and dusted before the major winds arrived.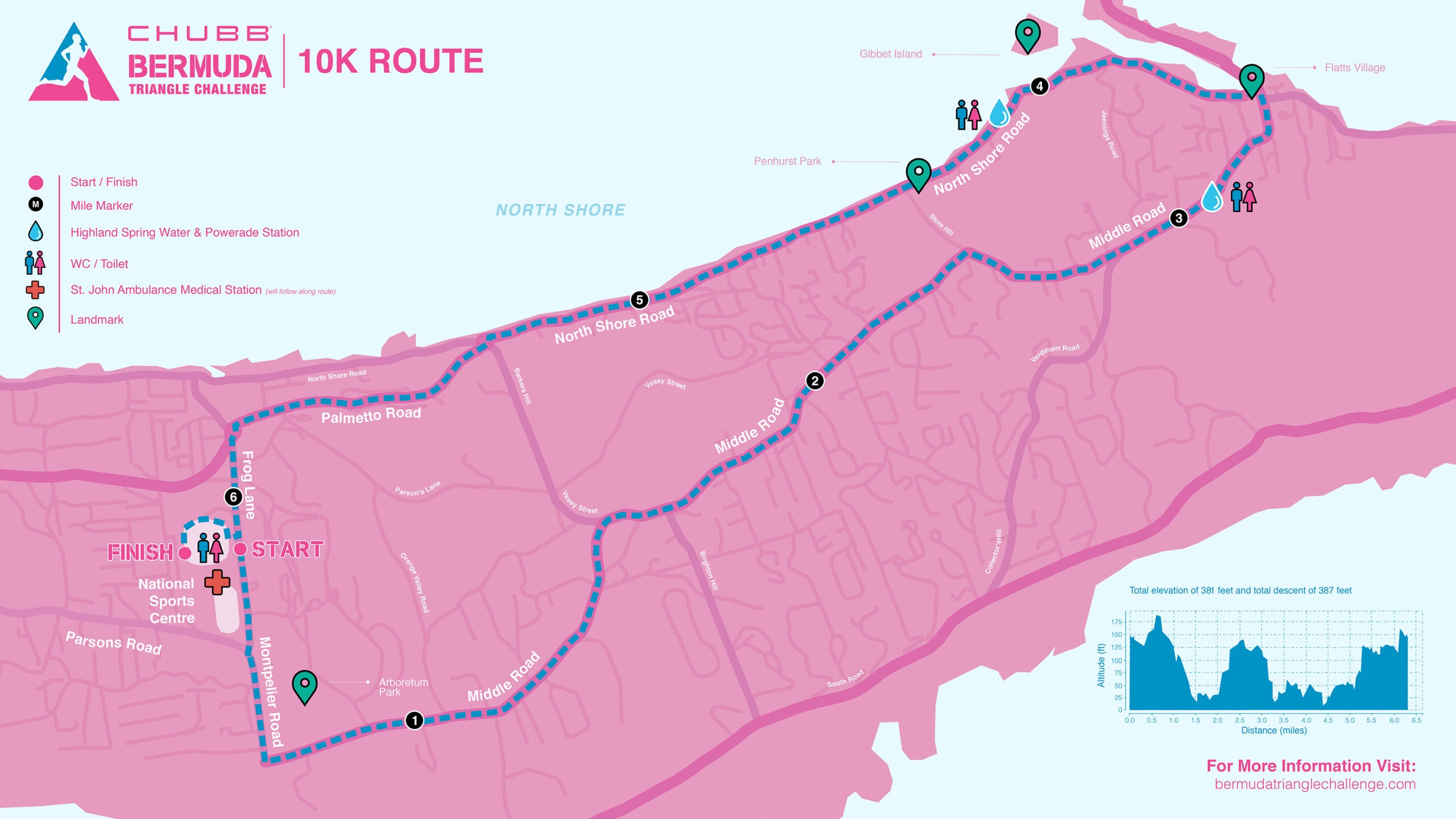 The race on Saturday was 10km. And holy mother of gawd the hills. Have I mentioned that this was supposed to be a "fun run" kind of weekend? With that in mind, I have to admit my ignorance here. I did NOT at any point look at the race courses that alone any elevation graphs for the courses. I guess one can no longer assume "tropical islands are always flat". Also, me thinks the race director had a little fun making this course and connecting the island's worst hills possible on the race course. I'll just say this, by the end of the 10k race every single tip of every single toe on my feet resembled the mushroom character from Super Mario Brothers. While climbing the hills was rough, for sure it was all of the descending that killed me in the end. Although that last hill around mile 5 was definitely the course's epic piece de resistance! For funsies, I'll let you see some of the HRs and the elevation graphs for what was supposed to be a nice "tempo run".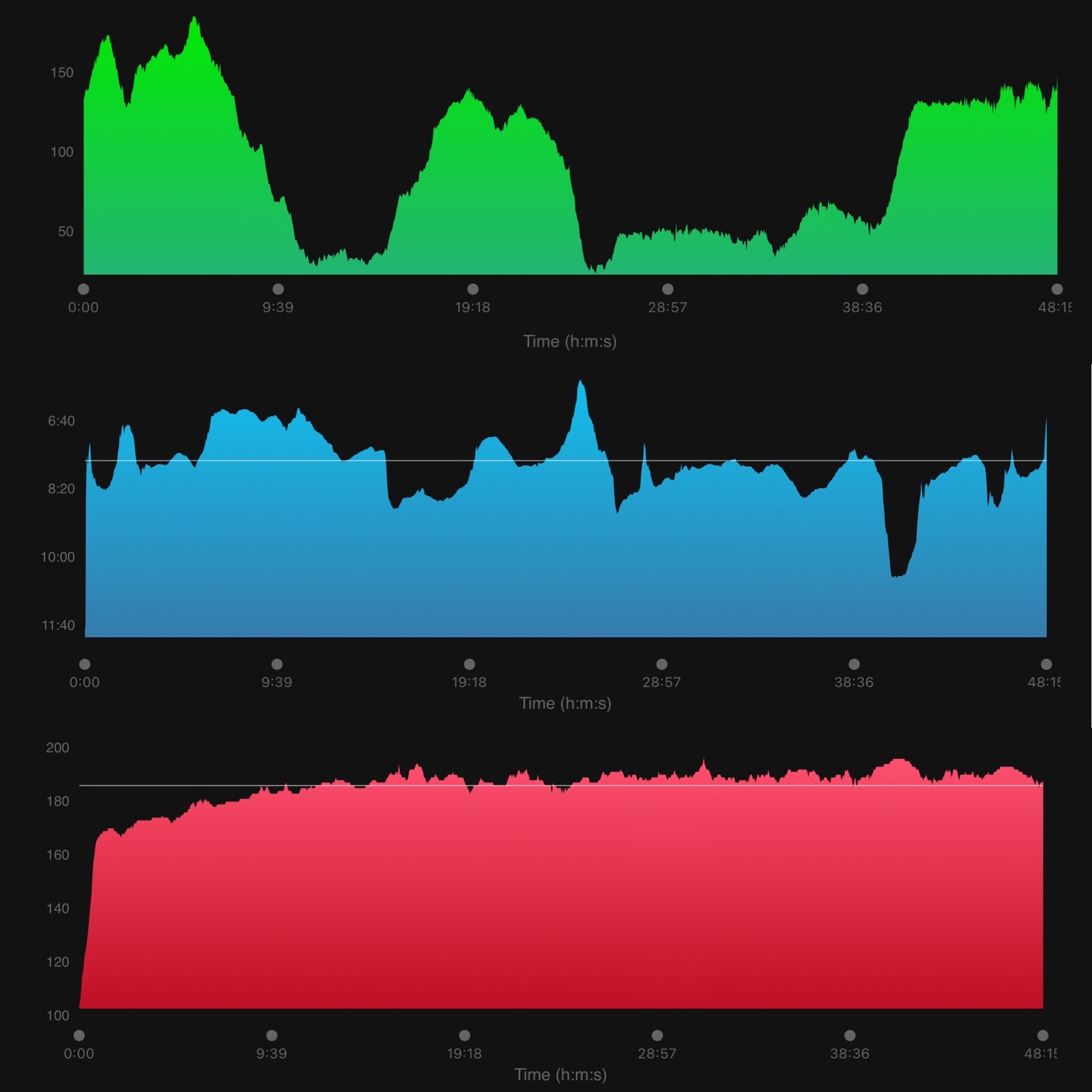 After the race was over, everyone involved in the event that day was thanking the weatherman for holding off the worst of the storm. The wind had really picked up, and the rain was slowly rolling in with big fat rain drops. Once we got into the cool-down area, the awards started pretty quickly and then the hotel shuttles started lining up. By the time we got back to the hotel it was full-on crazy outside. Lightening, power outages, downed trees, and the wind was throwing hotel pool furniture across the yard. But honestly, that was fine. It kept us crazy kids from spending the rest of the day baking in the sun, and instead firmly planted in the hotel lobby for an intense multi-hour game of Monopoly! We were party animals.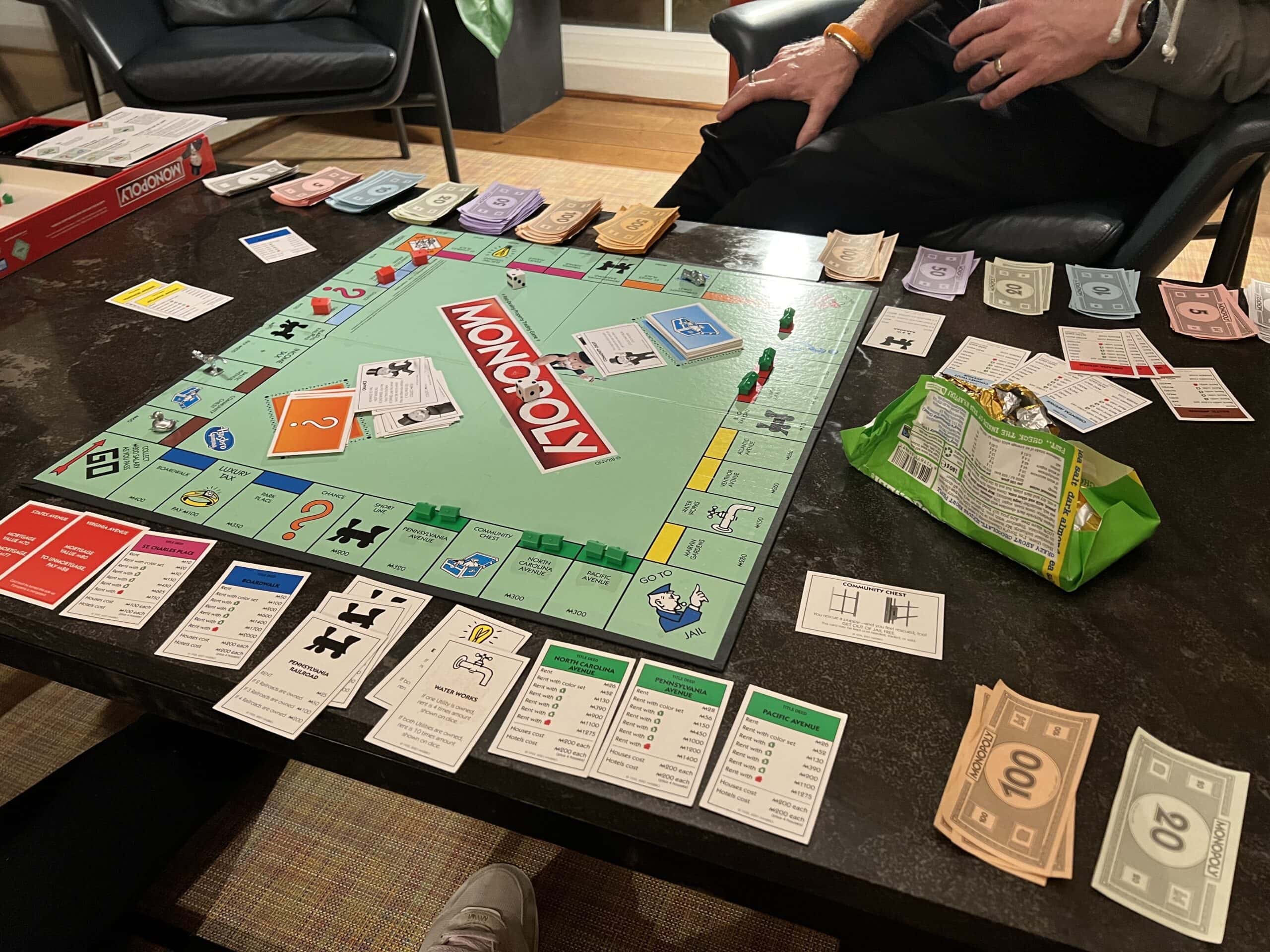 Eventually, we called it a day after one of my not-so-friendly friends dropped hotels on all of his investments and crushed our hopes and dreams of making it one more time passed Go. At this point, my circadian rhythm was about as screwed as my quads. I needed to waddle myself back to my room for a hot bath and as much magnesium cream as one can tolerate being rubbed into their legs. I guess this is what I get for living on a pancake and thinking that running over culverts counted as my hill training.
Sleep Saturday night was hard to come by. The tropical storm was still raging and I genuinely was concerned the sliding doors to my balcony were going to become makeshift flying carpets. So when the winds finally calmed down in the wee hours, I think the entire island's population of roosters came out to celebrate. It's fine, we had to be on the shuttles to the race start early anyways, and at this point I really wasn't sure I was going to run the race. The quads were completely and totally shot and a half marathon at this point seemed like Mt Everest. I had to go down the stairs backwards, and it was really questionable if I could squeeze all those blistered toes back into those sneakers! Folks, I was looking like a mess.
Do you know what always helps when you're struggling? A phone call to Mister Ray! Being that he was 6 hours ahead of me I gave him a call. Ray knows my tendencies with races, and that would be "RUN! As fast as you can from the gun". Haha I wish I was kidding, but I do have a hard time reining it in. So he told me to slow my roll, run with my friends, and yeah, if $hit isn't feeling right with the legs, just walk off the course and get a ride back. ZERO point in ruining your season before it even starts! Plus, everything hurt except for the injuries I've been battling for the past 2 years – which already seemed like a major win!
So, before the start of the race I left my friends for a 1-2 mile run just to shake things out and see if it was really viable to run 13.1 miles today. Upon finding my friends again, we all agreed to just shuffle along until around mile 4, where we knew there was another monster hill awaiting us. After that we would all chat about how everyone was feeling. Until then the goal was to keep the pace a super easy 8:50 to maybe 8:30min/mile (that's about 5:26's for you km/min folks).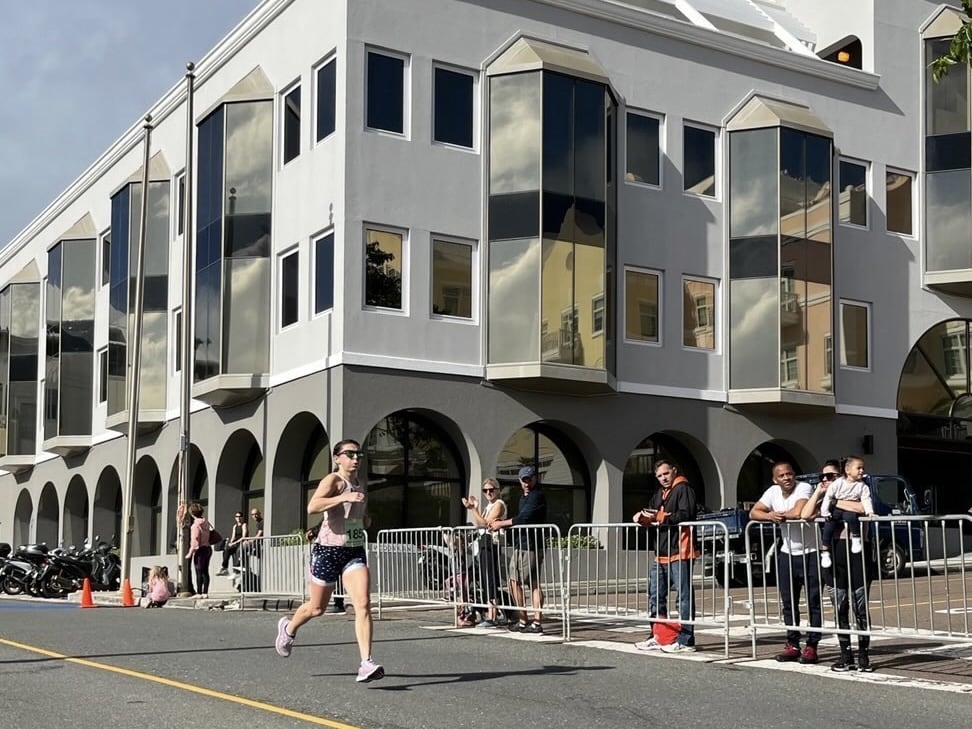 Well, I don't know what happened, maybe it was that the sun came out or I just really needed a good shake-out run to get the legs going. But after the big hill, I was really feeling good. I certainly didn't sprint off into the distance, but I got the green light from my friends to go on and we'd see each other at the finish line. Slowly but surely I chugged along shaving time off each mile and reeling in runners that were ahead. What started out as 8:50min/mile average ended in a just sub 7 min/mile pace. The second half of the race was really a fun course with lots of rollers to keep it interesting (though still pretty challenging). I was super happy with the effort on the run, I kept the intensity increasing, but I don't think it was ever out of control or putting myself at risk for an injury. I also passed two pirates at some point, so I'm not sure I'll ever get to make that statement again?
My friends weren't too far behind, and I was the crazy person at the top of the hill before the finishing shoot yelling them in! We all had the goal of finishing the whole 3 race challenge in under 3 hours combined time, and we all did which was pretty cool!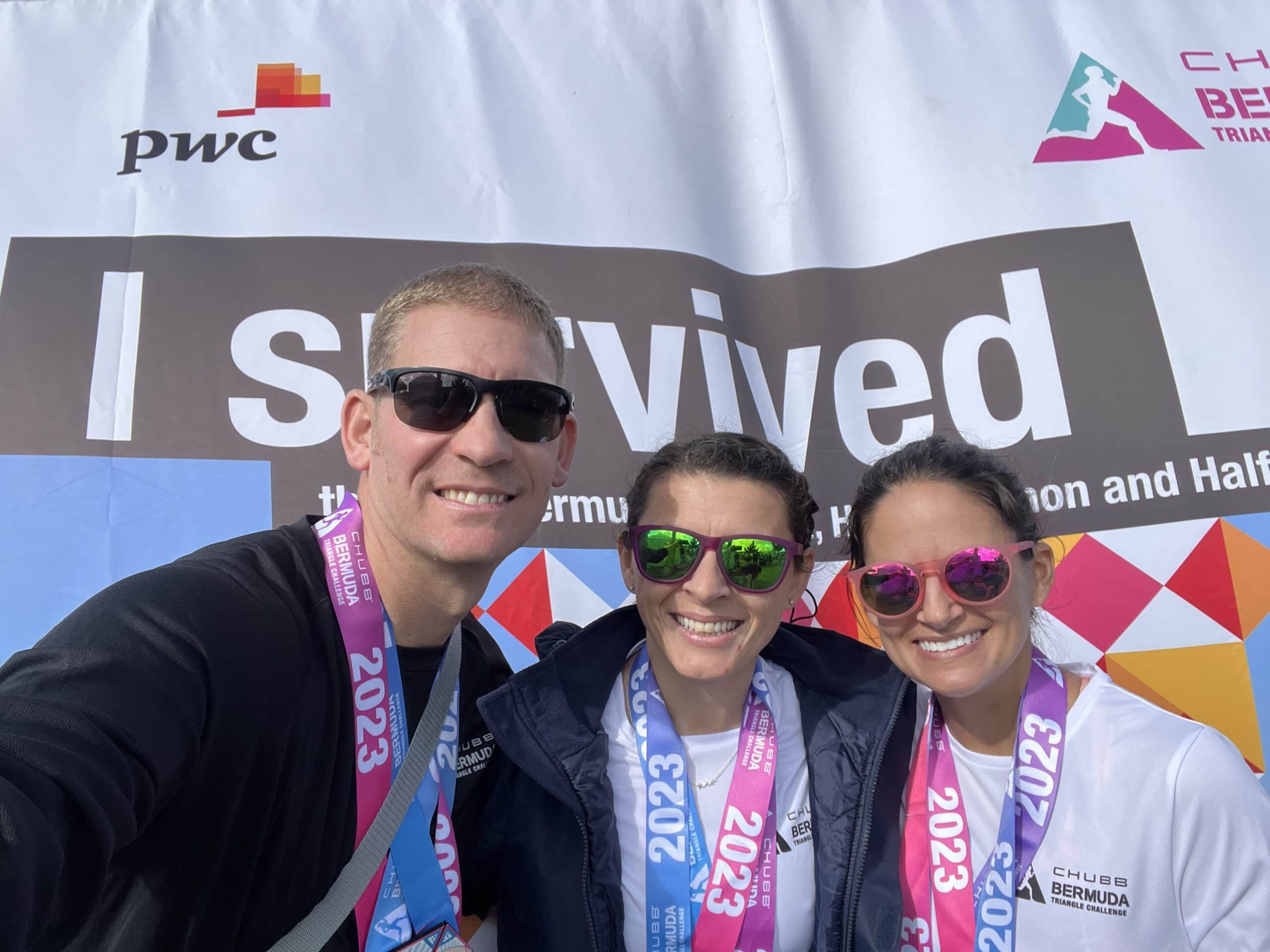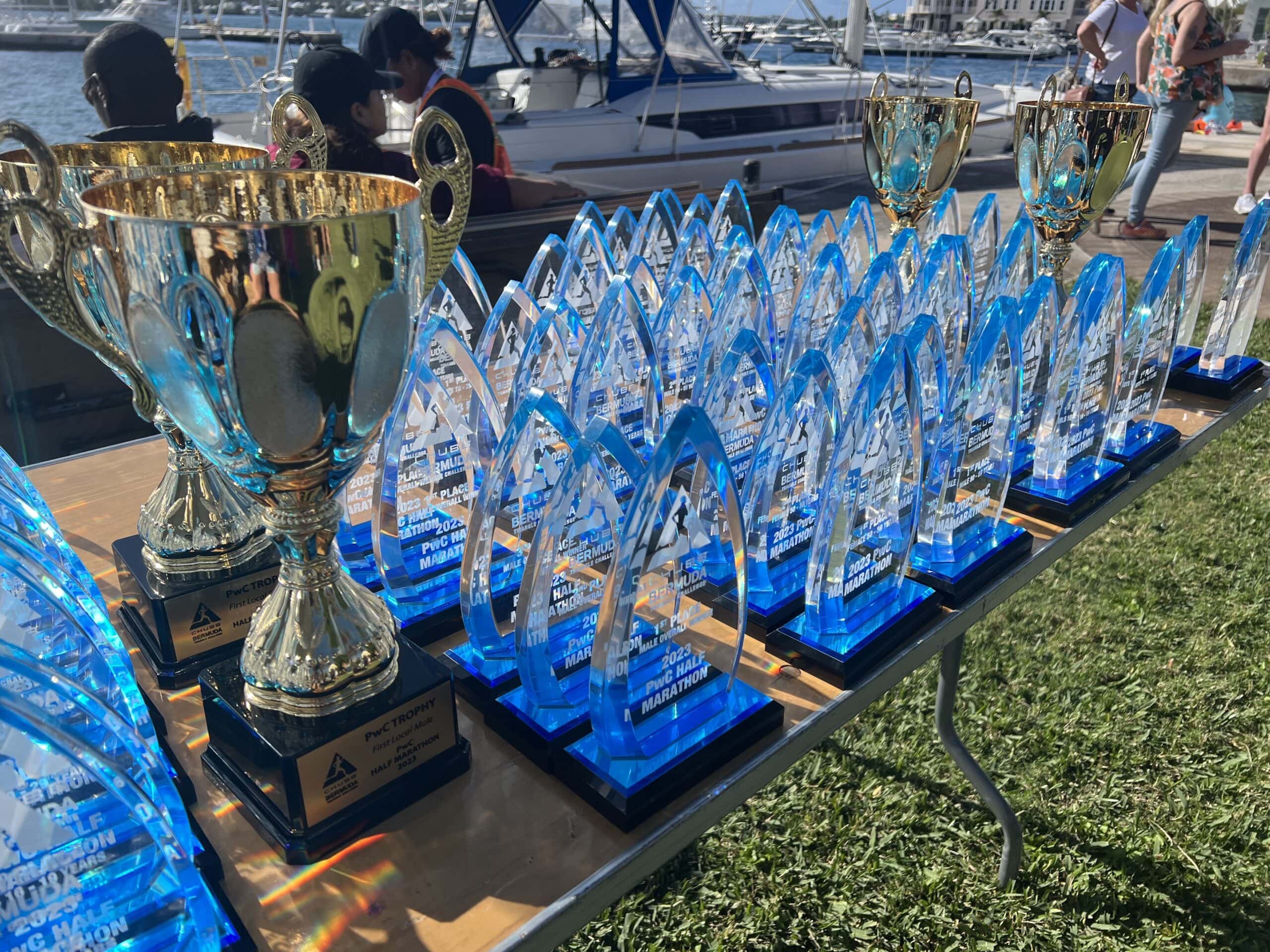 After some time of wandering around the finish area, we went to cheer for all the marathon and half marathon winners at the awards. But what we didn't know was there were awards for the "Challenge Winners", which was essentially everyone who did the three races. So as we were leaving waddling out of the park that hosted the finish area's after party, my friend starts yelling "Bobbie that's you! That's you!!!" and sure enough the loudspeaker is calling out my name. So now I'm half waddling, half pirate limping (did I mention that the legs promptly clamped up once cooled down?) to the man with the microphone. I had to ask him "what did I win?", then a lady had to help me up onto the podium as I just didn't trust my legs would make that big of a step!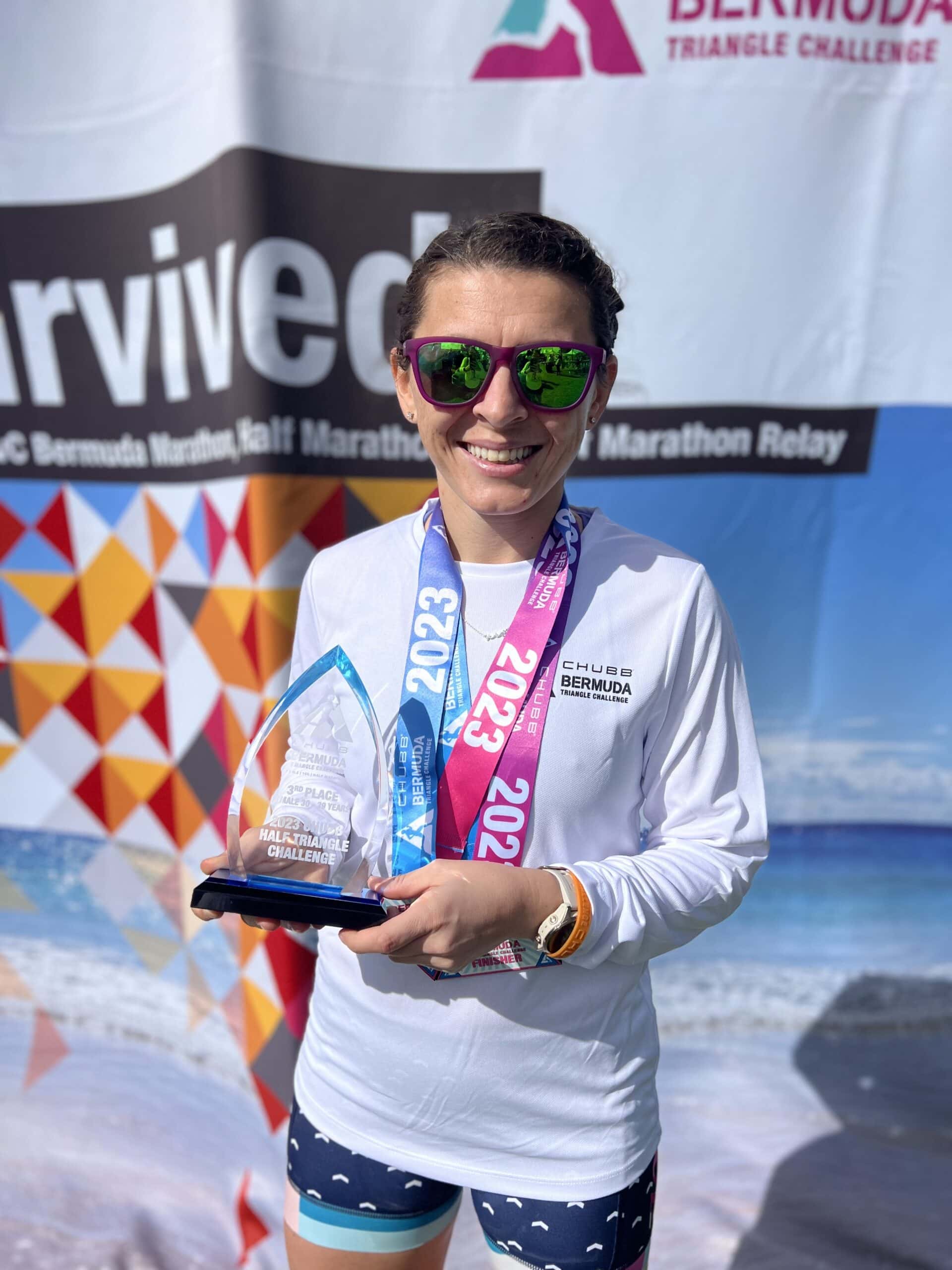 Without further ado, I present to you my 3rd place trophy for the Women's 35-39 AG Challenge! Since I don't know if I'll ever grace the steps of a podium again, I'm still proudly shining this beauty on my desk of my office...hahaha! It was such a surprise; my friends were cheering pretty loud!
So that's it. The Bermuda Triangle Running Challenge in a nutshell. The race was super well supported, very well organized, great environment, and awesome swag. Topping it all off was a reunion with my very best friends, and I couldn't have asked for a better week in Bermuda (well, more sun next time?) If 3 races in 3 days is of any interest to you, and you have hills you can train on leading up to the event, I give this race 2 big thumbs up and would encourage you to start off your new year with this one on your calendar!
I hope you enjoyed the race recap! Thanks for reading the newsletter, and I'll chat to you in another 2 weeks (or so...) with all the news on the new running footwear.
Bobbie
(The Girl)