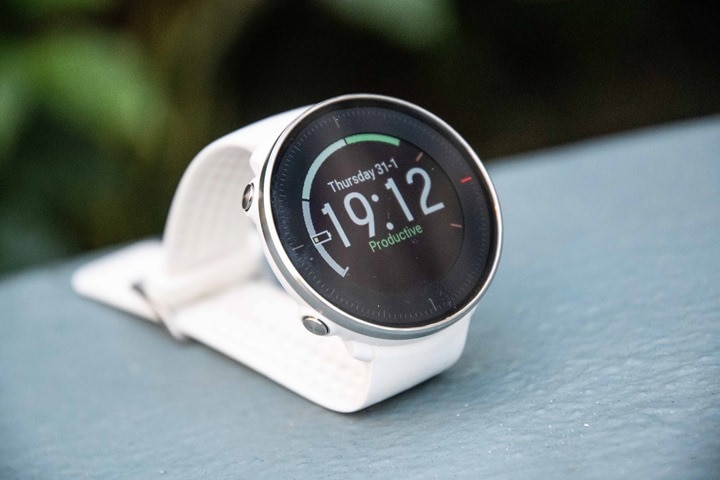 It's been nearly five months since Polar first announced the Vantage series watches, including the Vantage M and Vantage V.  You probably saw my Vantage V review a couple months back. Since then I've transitioned to using the less expensive sibling, the Vantage M for the past 2.5 months. Every run, ride, swim, and 24×7 as well. Lots and lots of time – all in the pursuit of this review (and justification for eating more cookies too of course).
The Vantage M is priced significantly lower than the Vantage V – $279 versus $499, making it potentially far more compelling. But it also lacks some of the fancier Vantage V features – such as a built-in running power meter, a barometric altimeter, and Polar's Recovery Pro metrics. Still, at that price point the offering is compelling – and puts it up against Suunto's Spartan Trainer Wrist HR. But can it compete on accuracy? And what about the other missing features? Well, I dive into that.
With that, note that I've primarily been using a media loaner from Polar of the Vantage M, though I've already gone out and got my own via normal retail channels. I'll be sending back the media loaner one shortly to Polar, like I normally do. If you found this review useful, hit up the links at the end to support the site.
What's new: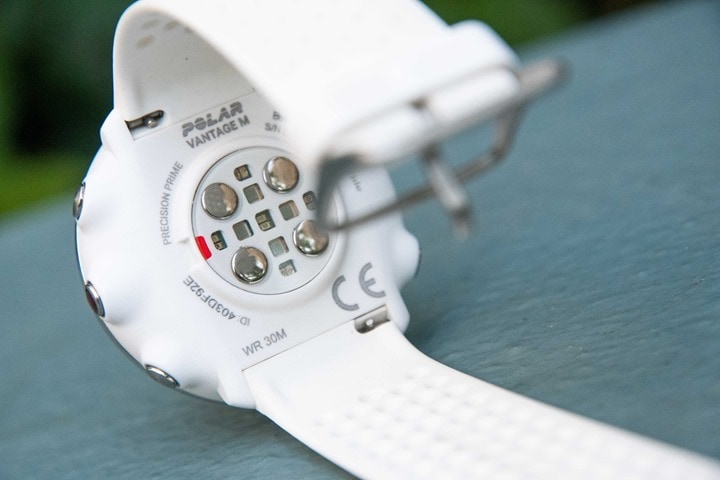 If you already know what's new in the Vantage series, then you can likely skip this section. Whereas if you're just walking up to the bar, then this is a good place to start understanding the unit.
I always like condensing everything down into a single bulleted section of newness. It helps you filter the cool stuff from the marketing fluff.  So let's dive straight away into it. Fear not, down below in the 'overview' section I go through things in more detail too.  Note I'm looking at the 'what's new' from the perspective primarily of the V800 (its sorta predecessor, it's kinda more of a blend of the Polar M430 and V800).  Also, this list is specifically for the Vantage M:
– Addition of optical heart rate sensor (both for workouts and 24×7 HR), called Precision Prime
– Added electronic skin-contact sensor to validate a human is attached to watch
– Changed GPS chipset maker to that of Sony (same as what Suunto 9 uses)
– Changed max GPS-battery life to 30-hours at 1-second recording with optical HR too
– Training load metrics revamped
– Added both segmented real-time and post-processing of optical HR data to fix quirks (I'll explain later)
– Made watch round, from rectangular shape previously
– Reduced weight of watch to 45g
The price is $279USD/EUR for the base models in orange, white, or black.
When it comes to the Vantage V, here's the core differences to the Vantage M (things you won't have in the Vantage M that are present in the Vantage V):
– No barometric altimeter
– No native running power, as it lacks a barometric altimeter (still works with 3rd party running power like Stryd though)
– GPS 1-second battery down to 30 hours instead of 40 hours (but seriously, that's still incredible)
– Added swappable straps using industry standard quick release bands (the Vantage V doesn't have this)
– Not a touch-screen, just buttons only
– No Recovery Pro metrics (but does have other training load metrics)
– Weight is a mere 45g instead of 66g for Vantage V
– Metal buttons/casing on Vantage V, versus plastic for Vantage M
But it's not all bubbles and rainbows. The following features aren't available on the Vantage V/M series (but were previously found on the predecessor Polar V800), but are slated to be re-added by the end of February 2019 through a handful of scheduled updates:
– Smartphone notifications (i.e. call/text notifications)
– Back to start navigation
– Route Guidance for waypoint navigation of downloaded routes (Vantage V only – not coming to Vantage M)
Meanwhile, the following features are slated to be added, but no timeline has been specified:
– Fitness test functionality
– Strava Segments
The following features also were on the V800, but aren't on the Vantage series. There's no specific/current plans to re-implement in the Vantage series:
– GoPro Action Cam Control
– Reduced GPS recording rate activities (i.e. beyond 40hrs of GPS time, the V800 also supported a reduced recording rate to 50hrs)
– No longer an option to use HR strap while swimming, only optical HR sensor [Older 5hz straps no longer supported]
Phew, got all that? Good, let's get into things.
The Basics: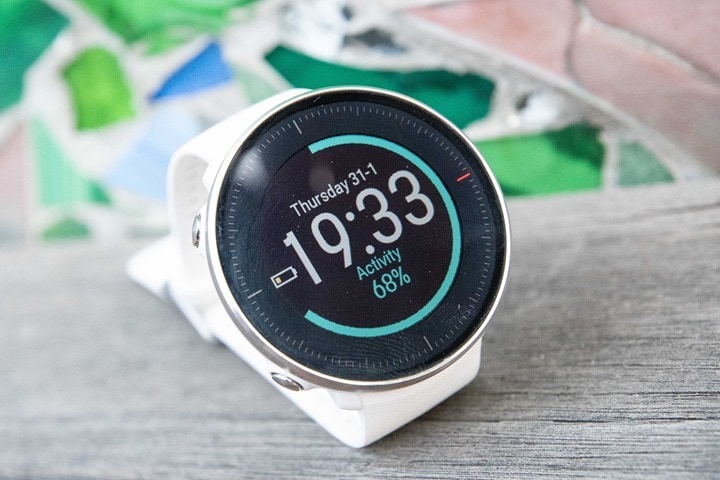 The overall interface of the Vantage M is virtually identical to that of the Vantage V – except one key bit: There's no touch screen. Both watches have buttons though that allow you to utilize the buttons for complete navigation. And honestly, I actually prefer non-touchscreen watches when it comes to sport and fitness (notable: the Vantage V actually disables the touch screen while in a workout).
On the side of the Vantage M are five buttons – two on the left and three on the right:
One feature the Vantage M has though that the Vantage V lacks is swappable straps. You can either buy Polar's straps, or in fact any compatible strap as well. I actually prefer the feel of the Vantage M for this very reason, as you can go in the direction of fabric straps too.  The orange is very Strava/Zwift-esque. I like it.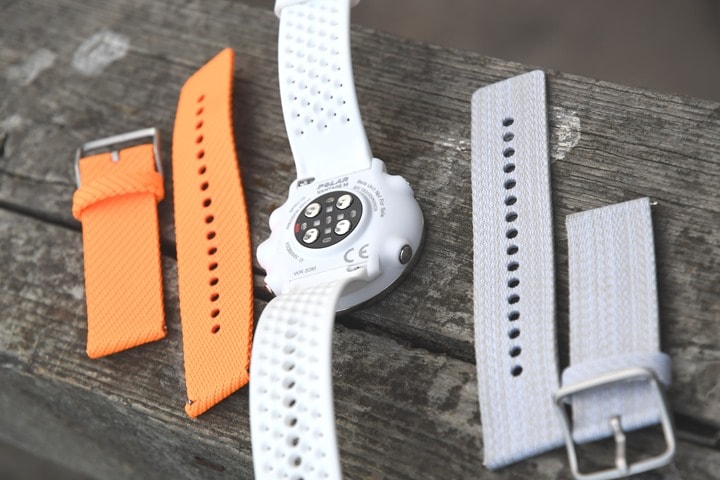 Meanwhile, on the back of the unit is the optical HR sensor. It's got an astounding 9 LED's on it, including four sets of dual red/green LED's and one extra solo green LED.  And actually, there's an unused 10th orange LED. Polar says they might use it down the road, but their testing to date isn't showing much of a benefit from enabling it (and thus, the battery impact that comes along with it).
Flipping the watch back over you've got the various watch face dashboards. The way it works is that the date/time is shown across all faces, but the data around the face rotates through a few different metrics. For example, there's one with your current heart rate: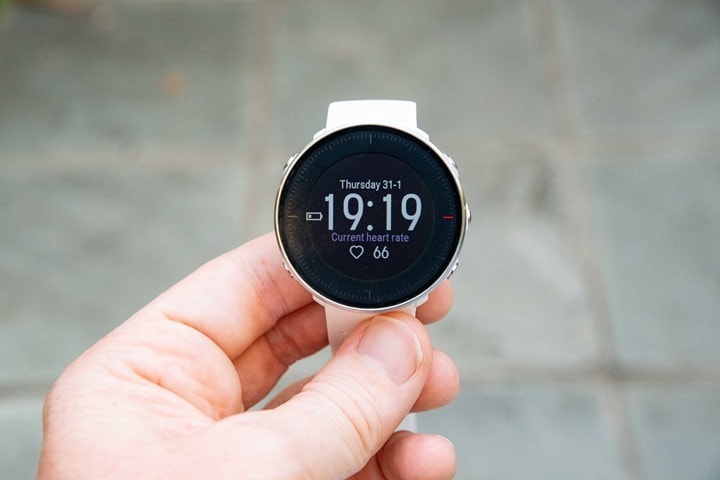 Or, you can show one with your current activity status for the day. Or your latest workout. All of which are just accessed by pressing up/down.
If you select any one of these by pressing the middle red button, then you'll get more data about that metric, such as detailed heart rate data for the day by selecting the heart rate page: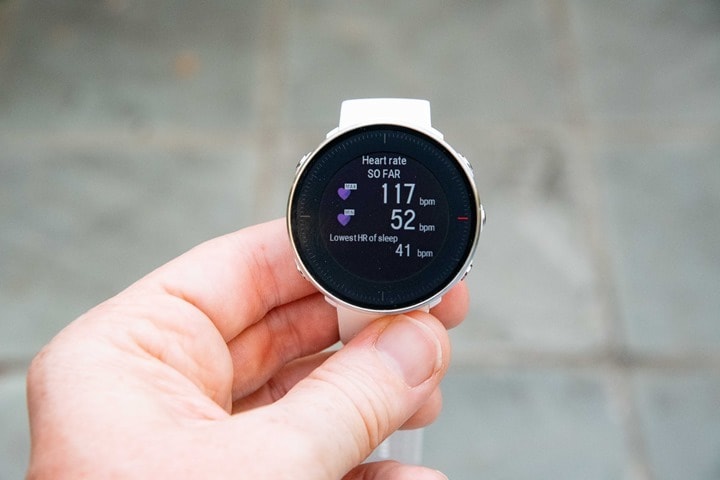 Or for daily activity, you can see that too. Being an activity tracker, it'll track most of the metrics you'd expect. That includes steps, % against daily goal, calories, and 'active time'.  Oddly however, you can't see on the watch your distance walked per day or stairs – both common attributes found in inexpensive activity trackers.
You can see the distance metrics over on Polar Flow – desktop or mobile apps.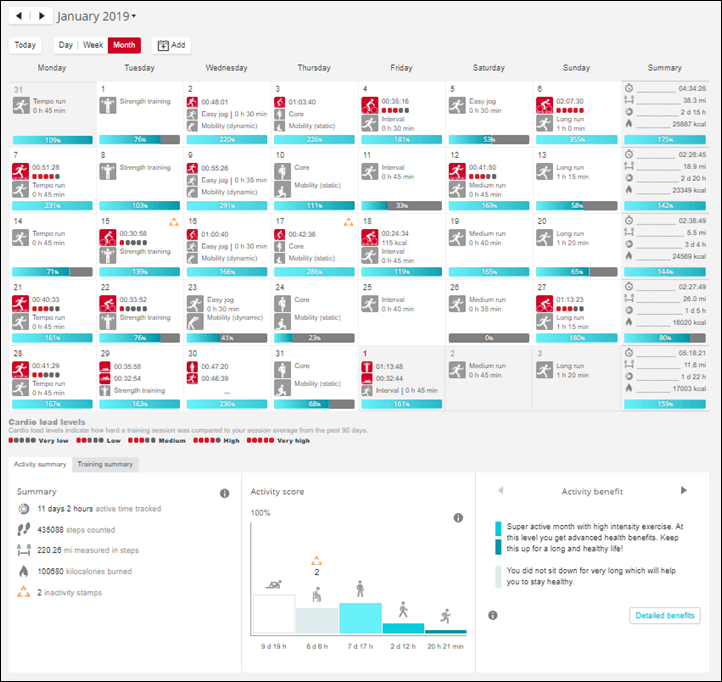 And here's how it looks on the mobile app:
It's here you can see your entire day from an activity standpoint, as well as any inactivity stamps. Though, in the last month I've somehow only managed to get a single – yes, just one – inactivity stamp. Mind you, as I sit here and type this very review I haven't moved in nearly 90 minutes. Nor has it triggered on any of the 4 transatlantic/transcontinental flights I've taken with flight times in excess of 10 hours.
As part of this, you can enable continuous HR tracking. Polar leverages that massive block of optical HR sensors on the back of the unit to do that. Well, actually, they leverage a portion of them for continuous tracking, and the remainder for sport tracking: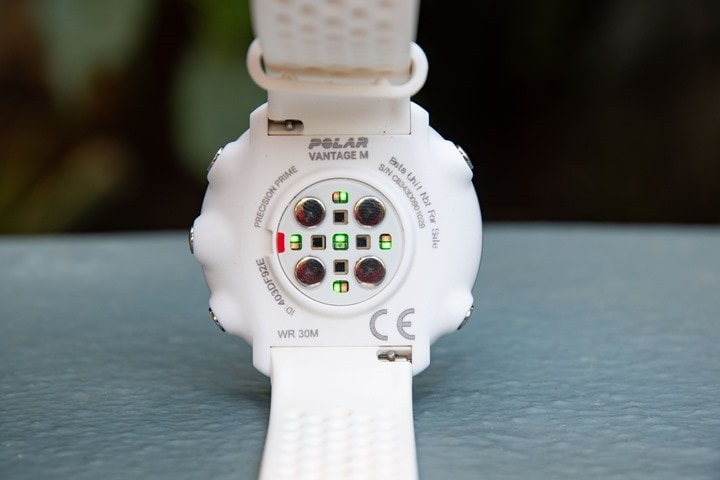 (Preemptive note: This is a final production unit, it's simply that Polar generally will stamp all media loaner/etc devices with a variant of 'Not for Sale'. I also have a regular retail unit that doesn't have that wording, but just happened to do my photos all on this one.)
Note that you'll need to enable the 24×7 continuous optical HR tracking in the menus, by default it's off (to save battery life):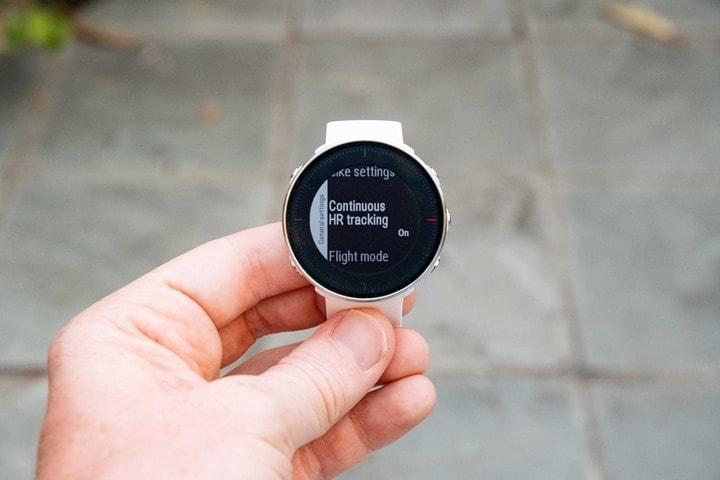 Once you've got it enabled you'll see 24×7 HR data displayed in the app.
You can also take an instantaneous HR reading at any time within the watch via the main dashboard menus, as I showed up above.
Next, we've got sleep. The unit will automatically track your sleep, inclusive of activity during sleep, as well as the time you fell asleep and woke up. For the most part, it tends to get pretty close to spot-on for me. The wake-up times seem to be a bit more tied to when you get out of bed, rather than when you wake up. For example, this morning I was lying in bed on my phone for probably 10 minutes before I got out, and it reflected the bed departure time rather than the exact wake-up time.
For me though, it does tend to be pretty close nonetheless.  All of this is also visible on their online website as well via Polar Flow. On both the site and app you can also plot weekly chunks as well:
When it comes to your smartphone, as of present the Vantage M has a very limited relationship with it. Sorta like someone that's only willing to go on a lunch-time coffee date. Today you can use Polar's Flow smartphone app (Android/iOS) to sync with the Vantage series. You can also use it to perform firmware updates wirelessly via Bluetooth Smart. There is no known WiFi in the Vantage series. There is no smartphone notifications to your watch either (that's coming in February according to Polar).
I've had slightly better luck with syncing on the Polar Vantage M than I have with the Vantage V. The Vantage M will at least constantly sync my activity in the background, whereas the Vantage V could go days without syncing. That could well just be Polar fixing bugs on the app side more than the watch side. I will note that sometimes I find workouts don't sync very quickly or right away, and require manual syncing.
To manually sync, simply hold down the lower left button for a few seconds: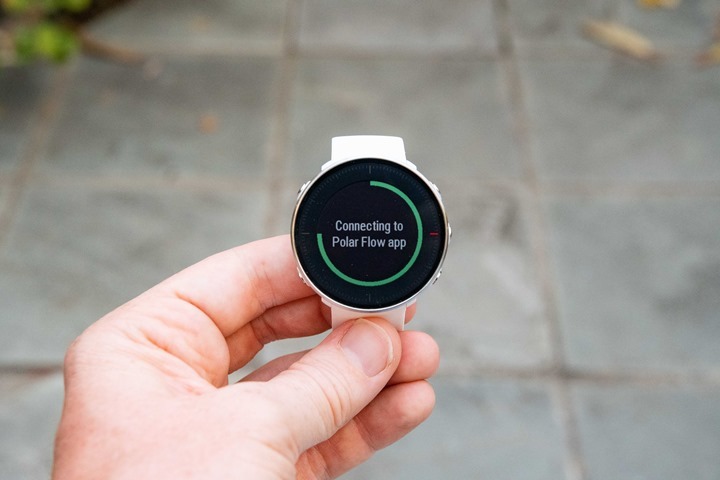 Once those workouts do sync with the phone, they end up on Polar Flow, and then are also synced to any websites you may have authorized to receive the fitness files to – such as Strava or TrainingPeaks: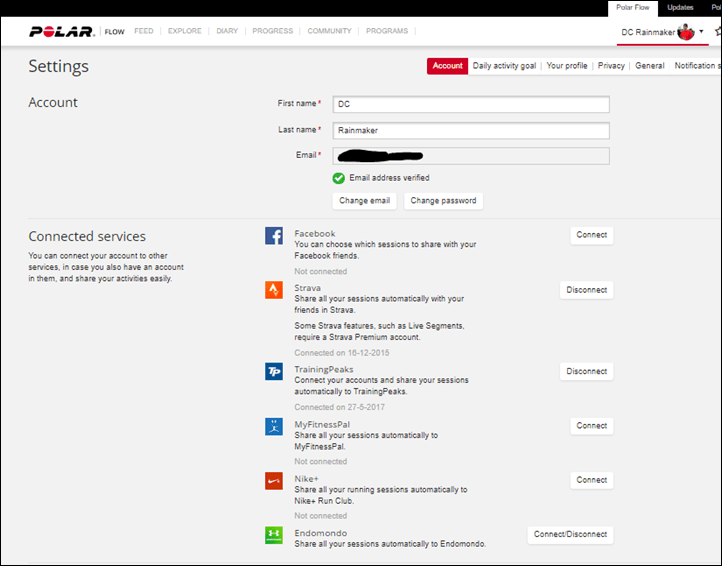 Finally, note that you can change a handful of settings on the watch itself. Generally speaking, companies tend to have you change settings on either the watch, a smartphone app, or via desktop site. In Polar's case, it's mostly via smartphone app and desktop site, with a handful of settings on the watch itself. Whereas inversely, in Garmin's case it's mostly on the watch itself and only a handful of settings via app. There's no right answer (ok, there is – allowing both), so it's really just a user preference thing.
On the watch side first, you can tweak things like the time and whether certain tracking features are enabled, as well as units and language:
Whereas on the smartphone app you can tweak sport mode specific settings as well as general/profile settings, plus a handful of watch settings like which wrist you use and do-not disturb:
And finally, on the main Polar Flow site you can tweak these same settings as well.  At this point we've clicked and tapped on all the things there is to tap on, without getting into the sport-specific modes.  So now's a good time to actually use the watch for what you bought it for: Sports tracking.
Sport Usage: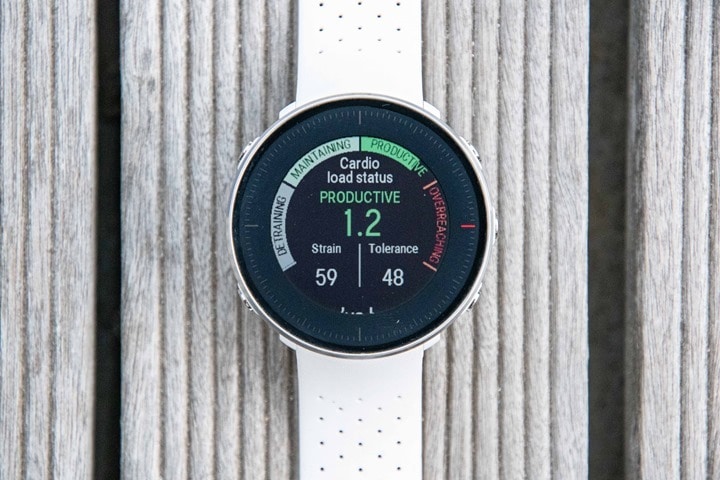 Now that we've covered all the basics, let's head over and get into the sport side of things. After all, that's likely why you bought the Polar Vantage over a different non-sport watch.
The Vantage M (like the Vantage V) comes with a huge pile of sport modes that you can add to your watch (up to 20 at a time). The point of these modes is to not only provide a bit of a starter template for certain data fields (which you can customize), but also to ensure calorie burn is correct for each activity. Additionally, they set the GPS on status to the correct state. For example, turning it off for treadmill running, but having it enabled for openwater swimming.
When it comes to data pages and data metrics, you've got customizable data pages (up to 8 pages) with each page supporting up to 4 metrics on it. Additionally, there are some 'common' data pages that you can enable or disable, such as time of day, pace, altitude, power, as well as countdown and interval timers.
From a data field standpoint, Polar is roughly in-line with Suunto in terms of available metrics to choose – though, they have quite a few less metrics than Garmin does. Some of the disparity comes in the power realm (primarily cycling), where Garmin has popular fields like Normalized Power (NP), Intensity Factor (IF), and Training Stress Score (TSS). Polar lacks these, as well as the ability for 3rd party developers to create their own custom data fields via Garmin's Connect IQ platform.
Inversely however, Polar has more flexibility for native running power fields, which Garmin somehow still lacks. This means that on Polar it's easier to natively display and record running power data, especially tied to specific running power zones. That's messy at best on Garmin (plus requires extra sensors and apps).  But more on running power later. Remember that while the Polar Vantage M supports running power meters (specifically Stryd and RunScribe), it doesn't have the Polar Vantage V's built-in running power algorithms (since it lacks the barometric altimeter the Vantage V has).
Here's a quick look at a handful of data pages showing how the different sizing looks depending on how many fields you have shown:
At this point there is no method to customize GPS recording interval to save battery life. This means that all outdoor activities are recorded at a 1-second rate. This is both good and bad. On one hand Polar is blowing away the competition for baseline GPS 1-second recording durations (up to 30 hours).  On the flip-side, the competition blows away Polar when it comes to ultra-type activities, where Suunto and Garmin can stretch up to a mind-bending 120 and 85 hours respectively in their higher end models. Polar hasn't announced any changes/plans here for tweaking the software, though, since Polar and Suunto are using the same GPS chipset – Polar could certainly aim to implement similar functionality.
Speaking of sensor type things, if you've got Bluetooth Smart sensors, these are paired within the sensors menu in settings.  You can store power meters (cycling or running), cycling cadence sensors, cycling speed sensors, running footpods, and external HR straps.  Note that neither the Vantage V or M support using HR straps for swimming data, because unlike past Polar units, the Vantage series doesn't support the analog frequencies that can transmit through water (digital variants like ANT+ & Bluetooth Smart can only transmit a few inches at most through water).
On the surface of the issue you'd say that's logical since they removed the analog frequency support. But where this falls apart is that the Polar H10 has built-in storage for exactly this purpose. But the Vantage series watches are incapable of connecting to that storage (only Polar's Beat app). Both Garmin and Suunto offer solutions that download swim HR data after the fact, and it seems super bizarre that you have to use a separate app to do it (which is clunky at best).
When it comes to starting your workout you'll long-hold the red button down, which then takes you to the sport selection menu.  This is where you can pick one of your preconfigured sports. You can press the up/down buttons to iterate through them. If choosing an indoor sport (like treadmill running below), then you'll see the HR acquisition circle above it, but not the GPS acquisition circle.
If in the event you had a structured workout scheduled that day, it'll show you that workout first, before selecting the sport mode: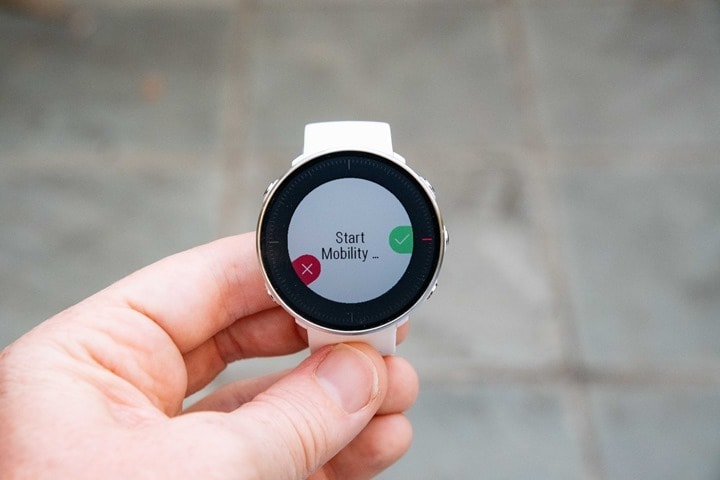 And a pool swim selected? It's got a super quick easy access button on the left to change pool sizes. I *really* like this. Far too many watches put this setting deep down. This is one-touch and really well executed.
Once you've stopped iterating through the sports, it'll start searching for your heart rate, and GPS signals. Assuming you've been wearing the watch already, the HR acquisition is pretty much instant. In my experience with GPS on the Vantage M, it finds GPS almost immediately every time. At present Polar is only doing GPS+GLONASS, and not doing any form of GALILEO satellite connectivity. The Sony chipset they are using is capable of doing so, should Sony enable that in firmware – Polar says they'll, in turn, enable it on the unit down the road.
GPS will show as acquired once you've got the green circle around the satellite icon. Same goes for HR. If you've got extra sensors, then it'll show lock of those extra sensors as well (such as a cycling power meter as seen below). Additionally, if you're using an external HR strap instead of the optical HR sensor – you'll see that here too.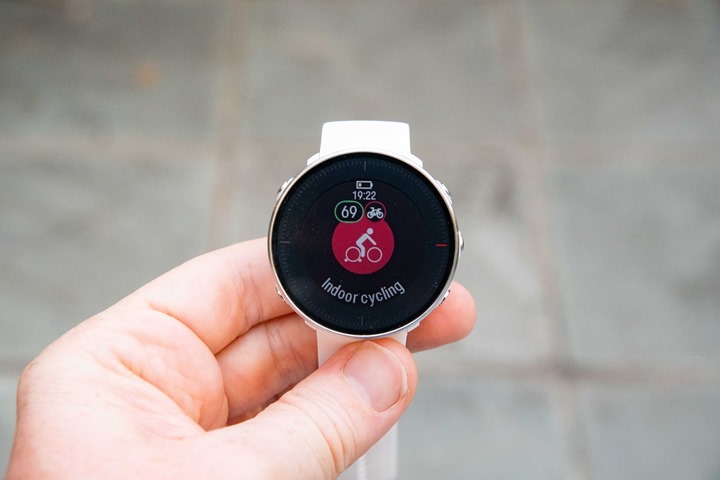 With all that set, off to start your workout you go. The watch will display stats from the workout in real-time as you expect. This is pretty much the same as all previous Polar watches.
You can use either manual laps or auto laps (or both), by pressing the middle red button, which triggers a lap.  Automatic laps can be setup via Polar Flow on a given sport mode basis. One area that Polar has an edge over Garmin on is that you can have both automatic laps and manual laps at the same time. They operate on different time-space continuums.
If you want to pause your workout, you'll simply press the lower left button.  That's also where you can long-hold to end your workout and get workout summary details: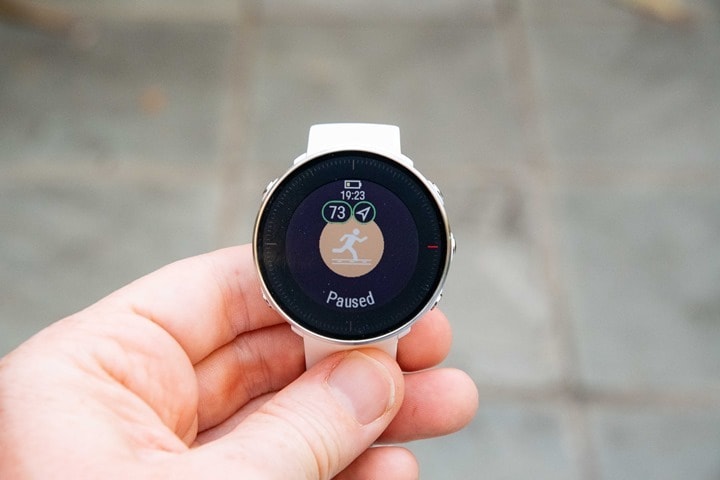 After the workout is completed you'll get summary details about the workout, including time, calories, distance, power (if applicable), and so on. Time in zone is also displayed.
If your phone is nearby, the watch should send it automatically to the Polar Flow smartphone app via Bluetooth Smart. If for whatever reason it doesn't do that automatically you can hold down the lower left button to force the sync. It usually takes about 30-60 seconds to complete that sync. After which, here's your workout on Polar Flow mobile:
There's a few quirks in there though. For example, it shows me as 'Elite' with an index of 83. I'm going to go with that being incorrect, no matter how much I want otherwise. Also, you'll notice the autolap was showing everything at .99mi instead of 1.00mi (the desktop website shows it correct). Again, minor quirks but also certainly annoyances.
And here's how it looks on the Polar Flow desktop website: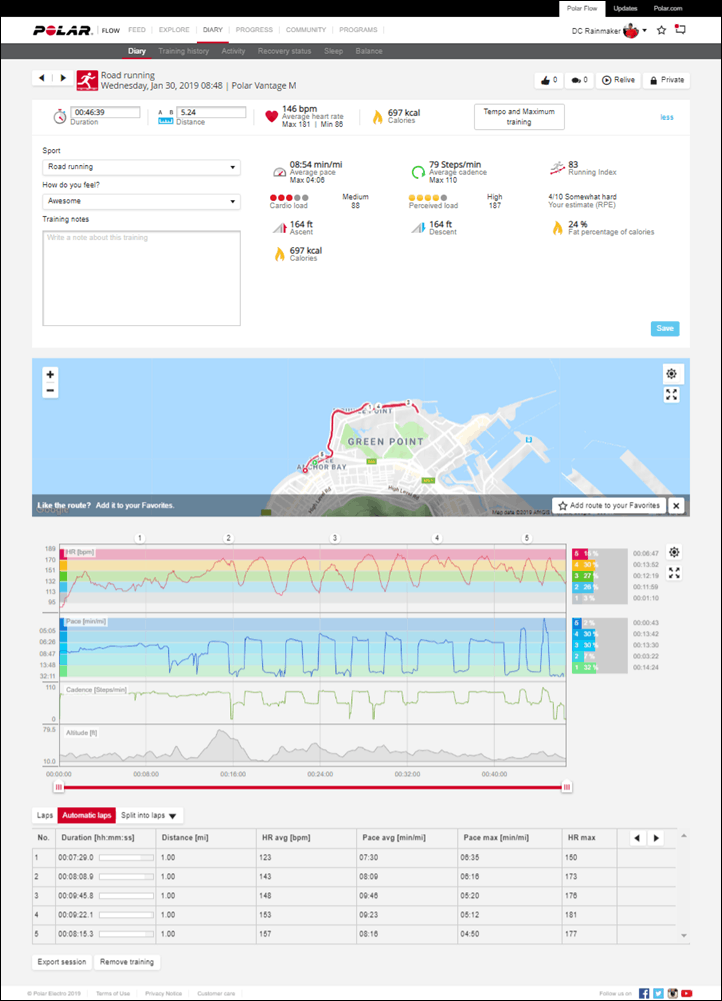 In terms of differences between various sports during the workout itself – there's virtually no appreciable visual difference, be it running or cycling, or doing core workouts or what-not. All of this is fairly standardized between the different modes – so what you see above is applicable no matter the mode.
Finally, the last feature to note is Polar's Cardio Load status, which allows you to see cardio training load that you accumulate. This is essentially a subset of what the Polar Vantage V watch has. To start, the cardio load status is displayed as a watch face that you can toggle into:
Once there, you can tap the red button to dive deeper into the status. You've got 'Strain' and 'Tolerance'. Strain is the average load over the last 7 days, while Tolerance is the average load over the last 28 days. Also, it'll give you the current load status as a number in the center of the watch, which is based on TRIMP.
On the outer edge, you'll see what are basically zones, the further left you go into the grey and light green zones, the less you've been training. The further right you go, the more you've been training. If you go too far – you end up in 'Overreaching'. That can happen when you are legitimately training far too much, but, it can also happen when you take a bit of a break and then may ramp back into it.  in that scenario, depending on how well trained you are – it can overestimate overreaching.
Meanwhile, over on the Polar Flow smartphone app, you've got the 'Training' tab. This puts it front and center far more than Garmin and Suunto, and makes it easy to find the training related status. On the upper portion you'll see breakdowns of the last 7 days worth of activities.  And if you scroll down you'll see the activities themselves as well as the current training status ('Productive' in my case):
If you tap the little '…' next to where it said Productive, you can view the current week's status (swipe left/right to view previous weeks), as well as a bit of a primer on what these status bits mean:
The one challenge here for me personally is remembering to start my watch for Zwift and other indoor trainer sessions. Since the watch doesn't broadcast my HR to Zwift/TrainerRoad/etc, I don't have much of a use for it. And unfortunately, Zwift/TrainerRoad/etc don't send that data back to Polar to calculate within the load metrics.  Compounding things, since Polar doesn't support ANT+ for sensors, I can't connect the trainer over Bluetooth Smart, since that Bluetooth Smart channel is already used by Zwift.  So for me during the winter, my training load stats are a bit off due to lack of indoor trainer activities.
Ultimately, the training load data you get on the Polar M is a bit better than the competitors at this price point (notably Garmin). However, as you'll see in the accuracy sections – that advantage seems to dissipate quickly when looking at certain HR and GPS metrics.
Note that the Polar Vantage M does *not* include any sort of route navigation features, which Suunto includes at their $279 price point (same price), and Garmin at their $299 price point. The Vantage M will however shortly get 'back to start' functionality later this month, but only the Vantage V will get route/track navigation features.
GPS Accuracy:
There's likely no topic that stirs as much discussion and passion as GPS accuracy.  A watch could fall apart and give you dire electrical shocks while doing so, but if it shows you on the wrong side of the road?  Oh hell no, bring on the fury of the internet!
GPS accuracy can be looked at in a number of different ways, but I prefer to look at it using a number of devices in real-world scenarios across a vast number of activities.  I use 2-6 other devices at once, trying to get a clear picture of how a given set of devices handles conditions on a certain day.  Conditions include everything from tree/building cover to weather.
Over the years I've continued to tweak my GPS testing methodology.  For example, I try to not place two units next to each other on my wrists, as that can impact signal. If I do so, I'll put a thin fabric spacer of about 1"/3cm between them (I didn't do that on any of my Vantage M workouts).  But often I'll simply carry other units by the straps, or attach them to the shoulder straps of my hydration backpack.  Plus, wearing multiple watches on the same wrist is well known to impact optical HR accuracy.
Next, as noted, I use just my daily training routes.  Using a single route over and over again isn't really indicative of real-world conditions, it's just indicative of one trail.  The workouts you see here are just my normal daily workouts.
I've had quite a bit of variety of terrain within the time period Vantage M  testing.  This has included runs in: Amsterdam, California, Nevada: Tahoe + Las Vegas + Nearby Mountains, Mexico, Canadian Rockies, Cape Town, South Africa and plenty more.  Cities and countryside, mountains, trees, desert, oceans, and open-air. It's been everywhere!
First up is a run this week on the waterfront in Cape Town. From a GPS standpoint this should be frankly pretty easy, though there are a few spots against some cliffs and in between homes/buildings. Here's the data set: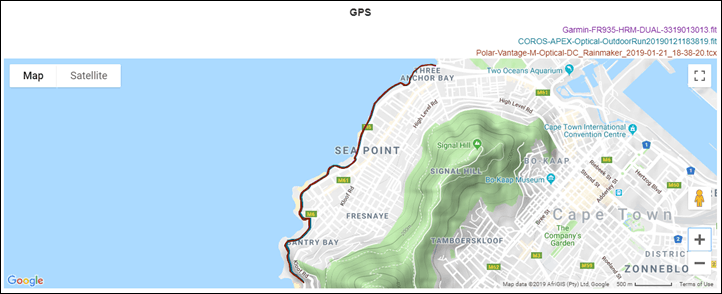 Along the wide open waterfront, things are good (as they should be):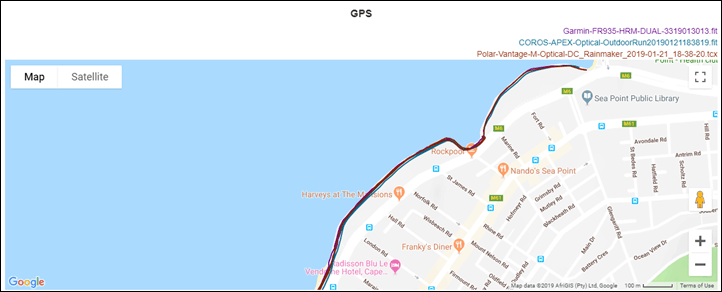 And in fact, up along the cliffs and through the houses area – the tracks are also looking pretty solid. No issues at all on this route:

Next, let's rewind a couple weeks to a run in building-laden Las Vegas. Aside from the mega-buildings of NYC, Dubai, and Tokyo – this is actually super difficult. I find most GPS units struggle at some point on all my Las Vegas strip runs. This was intended to be against the COROS APEX and the Apple Watch Series 4, but the COROS crashed mid-run and lost all data. So only the Vantage M and Apple Watch remain. But, given how easy it is to know exactly where I ran, that isn't an issue for this data set.

At a high level, things look pretty close. But let's just zoom into a chunk of the Strip:
Ahh yes, that's the Apple Watch I know and love: Cutting every corner like a race bandit. Yup, the tell-tale Apple Watch GPS Swoop! By contrast, the Polar Vantage M actually did quite well on this run, near-perfectly hitting all of the overpasses and other Vegas wonkiness.
It wasn't perfect of course – but rarely do I find a GPS watch in Vegas that is. But it was one of the better GPS tracks I've seen in over a decade of GPS tracks in Vegas. You can see a few bobbles when I was right up against a tall building:

Still, I'd give the Vantage M a very strong B+ on this route.
Next, let's head out for a run through Amsterdam's Vondelpark. In this case compared against a Forerunner 935 and COROS APEX. Here's that data set:

You can see right off the bat from the view above that the Vantage M is struggling in certain sections of the (mostly wide open) park. Notice how that red track is off in the buildings/woods on both the northern portion, but also offset on the lower southern portion:

And towards the Eastern edge of the park you see the red off out of the park, though oddly, when I go and do a loop in a more complex area around the museums, it actually nails that.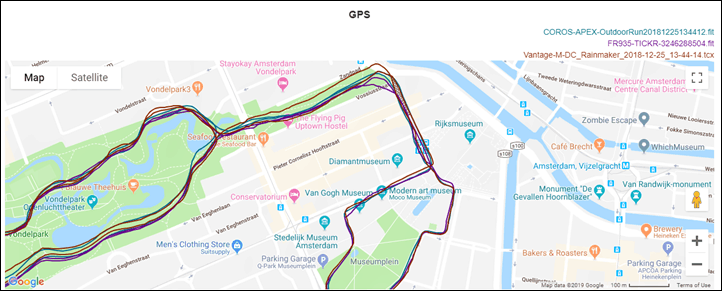 In fact, in looking at all my Vantage M runs since December – I can't find any horribly bad tracks, aside from the skewing one above. Just as another quick two-second example, an interval run from this week. Spot-on as I went back and forth over the same spot almost a dozen times: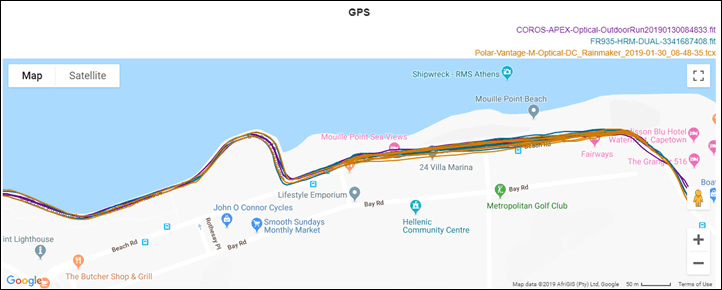 Now, let's transition to some road riding. First back to the desserts about 45 minutes outside of Vegas. This is interesting because while this entire ride was on asphalt, some sections were on tight and winding bike paths – a great test of GPS: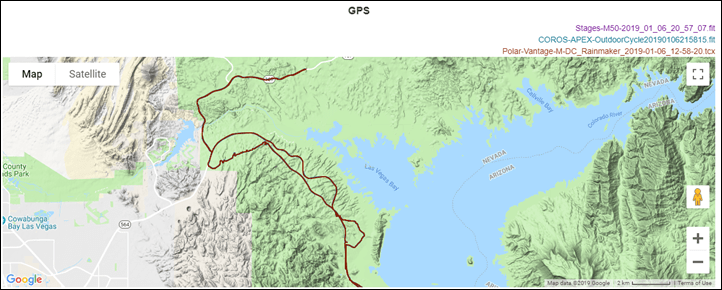 At a high level it looks fine, and indeed, on the roads it was. But it's those smaller bike paths that things sometimes go off the rails…err…road. For example, you can see this turn here where the Vantage M just cut straight across. Note, this was a low-speed turn (going uphill).

And again here where it's just off the trail a fair chunk. Not like 'OMG this is useless', but, not as good as the other units: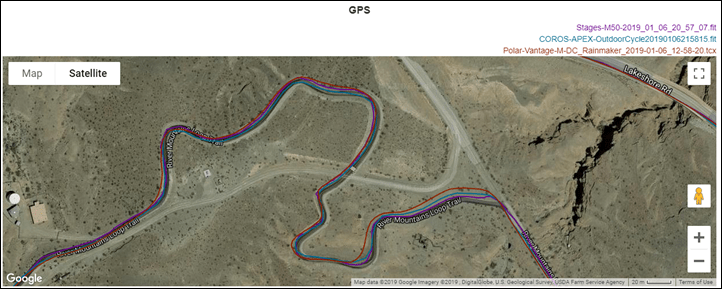 And then we've got one last ride – this time a ride here in Cape Town along the coast on a relatively wide road, but up against some cliffs in some sections: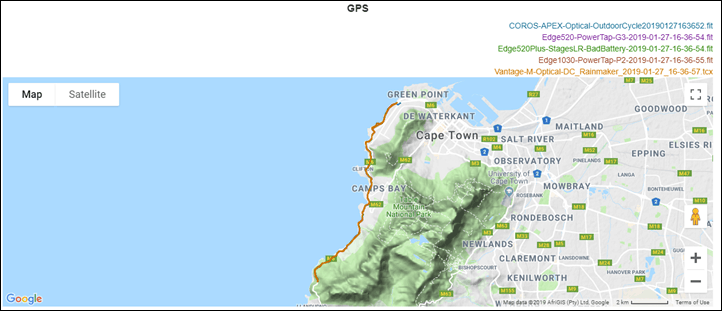 As I departed the city areas, things were pretty solid from the Vantage M. No problems with buildings: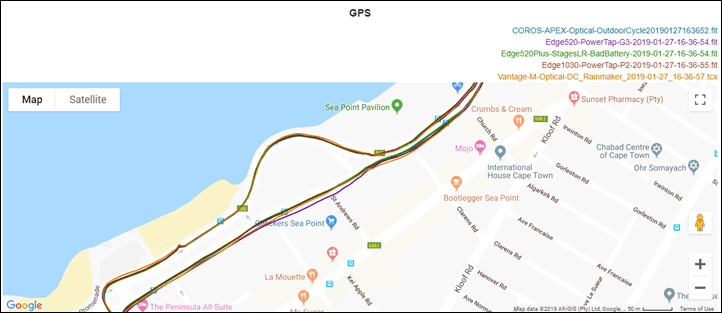 However, as I started to head out of town, there were definitely a few spots were the Vantage M sliced the corners a bit (in orange on these charts). Not a massive chunk, but certainly offset from all the others: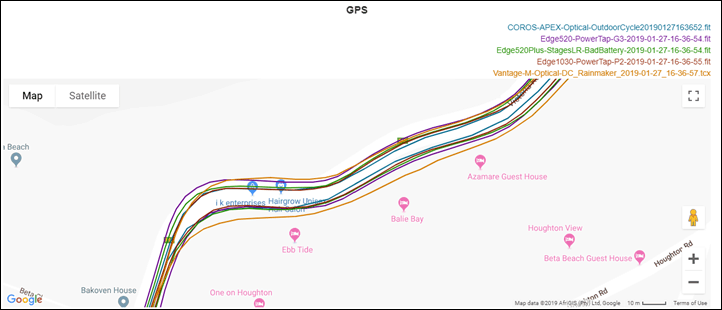 Interestingly, none of this was very high speed (due to some crazy winds). In fact, it almost seems to handle better in faster conditions than slower.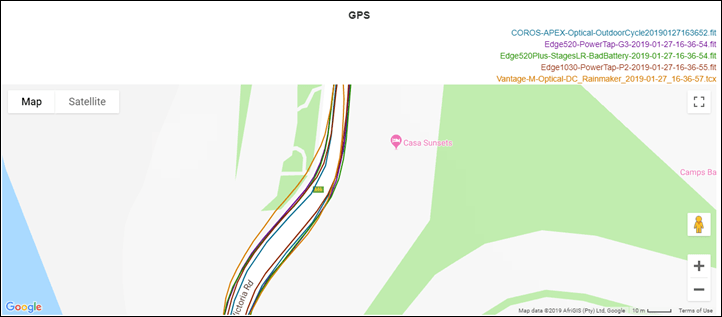 Lastly, let's look at an openwater swim or two. Here's one from a few days ago up at a reservoir outside of Cape Town.  From a topography standpoint it basically sits atop a mountain, and has wide open lines of sight – so zero GPS disrupters here! On one wrist I had the Polar Vantage M, while the other wrist had the COROS APEX (both in swim mode). Then, for track reference I had a swim buoy with both a Garmin FR935 and Suunto Trainer Wrist HR in just regular running mode (so they properly track every second, whereas openwater mode would try and apply fancy algorithms to them):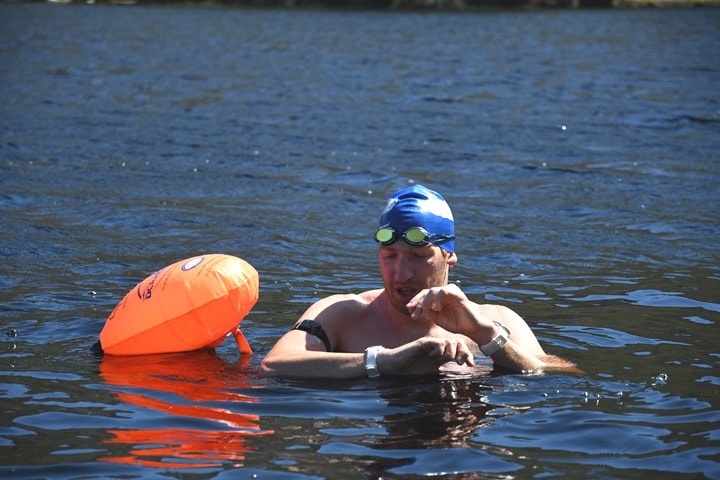 Ultimately, here's what that data set looked like:
In retrospect I should have just done one loop, because it makes it harder to see. On my second loop I realized this and decided to split the lake down the middle. So let's remove everything except a single reference track and the Polar Vantage M:

I wouldn't have rated this a 'great' openwater swim track compared to past Garmin/Suunto/Polar products, but for whatever reason lately GPS tracks in openwater swimming on all these companies' more recent products mostly sucks. Thus, by comparison this is a seemingly average GPS track (but still bad). Below, switched to satellite view so you can properly see the edges.

Note that the best openwater GPS tracks I've seen to date have actually come from Apple. Here's a video I did back in October – including the Polar Vantage series as well on openwater swim GPS testing:
Oh, as for the other recent swim, it was actually this morning. This is an *incredibly tough* swim for GPS units to track, due to one swimming in a canal (maybe 2ish lanes wide) with 4-8 story buildings on either side of it. Even the reference GPS track struggled. And while the Polar Vantage M track was horrible, the COROS APEX Track was downright useless. The APEX recorded in the (very rough) ballpark of the right distance, but the actual GPS track only managed to connect my start and end points – a mere 50m away from each other (I've highlighted it in yellow – that tiny little line):

You can see the red line is the Vantage M. Despite being above the water with the green GPS lock, it couldn't plot a point until almost the half-way point of the swim.
So yeah.  I'll do more openwater swims as my time progresses here in Cape Town over the next month – including some back on the Fenix 5 series and Suunto 9 series to see how things have improved since fall. But, I'm not expecting any miracles.
Overall as for the Polar Vantage M GPS, I actually found that it performed notably better than the Vantage V did. I don't think that's due to firmware updates either, as there's been no firmware updates between these two points. I think there may be something else as to why it does it better. Openwater swimming aside, for the most part the Vantage M is decent. There's still a few quirks here and there, seemingly with riding more than running. But I'd say on the whole it's about the same as most other watches in this price point.
(Note: All of the charts in these accuracy portions were created using the DCR Analyzer tool.  It allows you to compare power meters/trainers, heart rate, cadence, speed/pace, GPS tracks and plenty more. You can use it as well for your own gadget comparisons, more details here.)
Heart Rate Accuracy: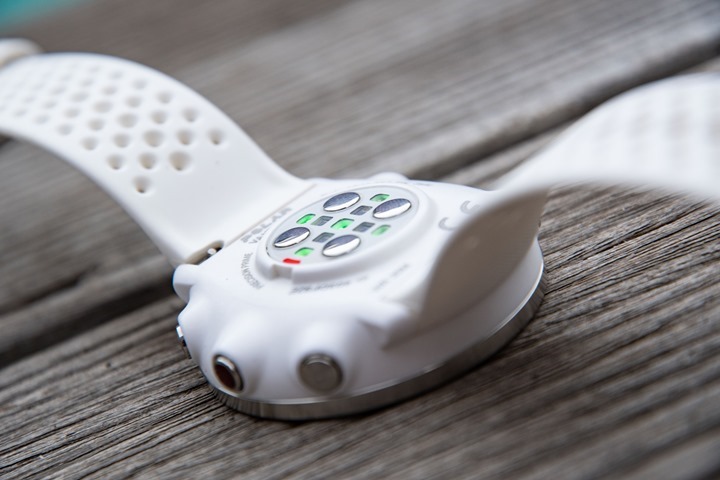 Before we move on to the test results, note that optical HR sensor accuracy is rather varied from individual to individual.  Aspects such as skin color, hair density, and position can impact accuracy.  Position, and how the band is worn, are *the most important* pieces.  A unit with an optical HR sensor should be snug.  It doesn't need to leave marks, but you shouldn't be able to slide a finger under the band (at least during workouts).  You can wear it a tiny bit looser the rest of the day.
Ok, so in my testing, I simply use the watch throughout my normal workouts.  Those workouts include a wide variety of intensities and conditions, making them great for accuracy testing.  I've got steady runs, interval workouts on both bike and running, swimming, as well as tempo runs and rides. Basically, most everything a typical triathlete would do.
For each test, I'm wearing additional devices, usually 3-4 in total, which capture data from other sensors.  Typically I'd wear a chest strap (usually the Garmin HRM-DUAL, Polar H10, or Wahoo TICKR), as well as another optical HR sensor watch on the other wrist (and sometimes also either the Scosche Rhythm 24, and Polar OH-1).  Note that the numbers you see in the upper right corner are *not* the averages, but rather just the exact point my mouse is sitting over.  Note all this data is analyzed using the DCR Analyzer, details here.
Note that while I've been using the Polar Vantage M since September, virtually all of this data is from mid-December until now here on February 1st. All of it is on the latest production/public firmware.
With that, let's dive into the sets.
Let's dive right into things, first up with a run from last week. More or less a straightforward run with a bit of intensity shift in the middle as I climbed up a tiny bit, but otherwise pretty vanilla. But we want to start easy and then crank the screws with each successive set. Here's the DCR Analyzer set if you want to dig in deeper yourself:

We see the nice and proper gradual increase in intensity from the HRM-DUAL whereas the Vantage M and COROS APEX don't quite get it right. The COROS does some weird bobble, and the Polar follows alone slightly under as well. Nearly 3 minutes into my run I'm still at 110bpm according to it.
Beyond that point though, the three sorta agreed – except that we see the Vantage M doing these weird little blips up/above the actual trendline.

I'd point out this little bump here:

This little spike in HR (only up to 164bpm) is spot-on correct by the HRM-DUAL. It's when I went a bit harder up a short/steep hill. Not all out, but enough that you notice it. Whereas the COROS APEX and Vantage M missed the boat.
And…time for another run. This one back in Vegas and mostly steady-state on/off road. Same crew – Polar Vantage M (in brown), COROS APEX, and HRM-DUAL. Here's the data:

You see a nice clean build by most of them, but slightly nicer from the HRM-DUAL. Shortly after that the Polar Vantage M completely loses the plot for about 4-6 minutes for some unknown reason. After that moment the dip for all of them is me taking a picture at the 'Leaving Las Vegas' sign (so the dip is correct). From there, the rest of the run is pretty much the same for all of them, save a few brief bobbles from the Polar Vantage M.
Next, we've got an interval run from two days ago. This had a ton of HR data to look at.

On my left wrist is the Polar Vantage M (yellow), whereas my right wrist has the COROS APEX. Meanwhile, I'm wearing the Garmin HRM-DUAL on my chest, while my upper left arm has the Polar OH-1 optical sensor, and the upper right arm the Scosche Rhythm 24 optical sensor. All these are therefore properly separated. There's no more beautiful HR testing setup I can think of than this.
The workout was an interval workout: 10-minute warm-up, then 6x400m, then 2x800m, and then 2x30s sprints, all with 90s recovery between each set. Oh, and a brief cool-down. Let's look at the warm-up:

You can see the HRM-DUAL chest strap struggled to catch onto my heart rate (in blue). Why? Well, that was technically my fault. I had wet the strap prior to departing the house, but by the time I walked down to the waterfront it had dried in the cooler morning air. A key issue with chest straps that has been around for decades. Once I looked down a few minutes into the run and realized this, I applied some spit to the strap and it immediately rectified itself.  As for the Polar Vantage M optical HR sensor (yellow/orange)? It's completely and totally lost during this until the conclusion of the warm-up when I start walking.
Let's look at the six 400m sets:

Here's my quick analysis of all six sets:
#1: All good except Polar Vantage M losing the plot briefly
#2: Polar Vantage-M missed the recovery by 20bpm, Garmin HRM-DUAL struggled to find lock, COROS APEX also struggled to find lock, Polar OH-1 blip
#3: Polar Vantage-M good, Garmin HRM-DUAL struggled to find lock, COROS APEX a wee bit delayed, brief Polar OH-1 blip
#4: Polar Vantage-M lost the plot, Garmin HRM-DUAL struggled to find lock, COROS APEX bit delayed
#5: Polar Vantage-M good, Garmin HRM-DUAL failed entirely
#6: All mostly good here, though, a bit of a delay on HRM-DUAL into the recovery.
Hmm. I remember moving the strap slightly on my chest at some point towards the 5th or so interval, and that seems to help the Garmin HRM-DUAL strap from there on out. Check out the remaining 2x800m and 2×30-second sprints:

You can see here the HRM-DUAL was perfectly fine, whereas the Vantage-M totally missed both by a wide chunk (especially notable since these were twice as long, so it had twice as long to figure it out). The pace for the 800m was a 6:23/mile (4:00/KM), and the pace for the sprints was around 5:00-5:30/mile (3:00-3:30/KM). So plenty of variety from a cadence standpoint.
I have zero idea why the HRM-DUAL failed here so badly on the first six sets. I haven't seen that elsewhere. And typically when we see failures in intervals, it's exceedingly rare to see them for chest straps. It's almost always optical, not chest straps. Maybe it was something environmental, or perhaps my shirt or something weird (though, it's the same shirt I've run in quite a bit lately).  Inversely, I don't know why the Vantage M failed on the 800's. Sigh.
Next, let's head out cycling– this time out to the desert for a couple hour wander by bike. This one was interesting because the efforts varied quite a bit.  It's compared against the Garmin HRM-DUAL strap and COROS APEX watch (optical), and it allows you to see how well things work in very cool/dry environments (it wasn't hot), as well as with a bit of wind. The HRM-DUAL was recorded to the Stages M50 unit. Here's the data files.

At first you might even think the Polar Vantage M was paired to the HRM-DUAL, but when you look more closely you can see the nuanced differences. The Vantage M optical sensor lags a little bit, and in some parts of the ride differs considerably – especially for short burst efforts. All tell-tale signs of an optical HR sensor that's struggling slightly. Still, on the whole, this is actually one of the best performances I've seen from the Polar Vantage M in harder conditions. The COROS APEX meanwhile, is mostly lost.
Meanwhile, on the way back you can see areas in yellow where the Vantage M was significantly behind the chest strap (I've highlighted the chest strap below, but you can see the red Polar line offset from each of these). Again, semi-common optical HR lag.

I don't generally like to look at averages across a ride/run/anything, because a unit can be totally wrong the entire time and still get a close average. Nonetheless, you can see the average heart rate between the Stages (which is what the HRM-DUAL was paired under) and the Polar Vantage M was within .24bpm. Not too shabby!

Last but not least we've got an openwater swim. Actually, I tried to do a few openwater swims and gather HR data, but Polar's H10 offline caching thing with the Polar Beat app is a hot mess. For my first attempt at it, I didn't put it in the right mode apparently, and thus it didn't cache/download the data right. On my second swim, the data came out completely useless. As if the strap was malfunctioning. Of course, all of this strap data downloading should absolutely be built into the product like it is for Garmin/Suunto, but it's not.
In any case, here's a look at some HR data I captured earlier in the week during a swim. On this swim, I've got the Polar Vantage M on one wrist, the COROS APEX on the other, and then a Scosche Rhythm 24 on one upper arm. I wore the Polar H10, but again, that data was useless. Here's the data set:

The yellow/orange color is the Polar Vantage M. While I'm not entirely sure who is right, I'm going to guess that the Vantage M is correct for at least the first 10 minutes or so. Mostly since there's little chance my HR was 70-80bpm while swimming.  Then around the 11-minute marker the COROS APEX goes a bit wonky for a few minutes. And by 'a few minutes', I mean the rest of the swim.
However, the Polar Vantage M and Scosche are pretty similar. Certainly not as close as we've seen in runs or rides, but not totally misaligned.  There's one point where the Vantage spikes and the Scosche doesn't.  I'd put this in the category of 'mostly believable', but I just don't know for sure. I'm going to keep trying with the H10 and see if I can make something cooperate there to include in my COROS APEX review.
Of course, if you've read my reviews long enough you'd know that for the most part I don't tend to see a ton of value in swimming HR. It doesn't align as well to efforts as running or cycling does in my experience, and is usually a bit more cumbersome to view due to having to turn your wrist just right. And for example, the water where this swim was in, was super low-visibility, enough that I could barely make out the numbers on my wrist in front of me.
Finally – to wrap-up HR accuracy on the whole – I don't see it as good. Something still isn't right with the HR accuracy of the Vantage series (including the Vantage M). On even simple steady-state runs it routinely spikes/drops the HR for no particular purpose. Polar noted they've got algorithms that backfill/correct the data in 60-second increments as you run/etc, which means that the plotted points can actually look more correct than reality.  Though, it's also possible it 'breaks' perfectly correct HR data too.  Which may be happening here – I don't know.
What I do know is that overall, I wouldn't be writing home about the Polar Vantage M's optical HR accuracy.
The Future: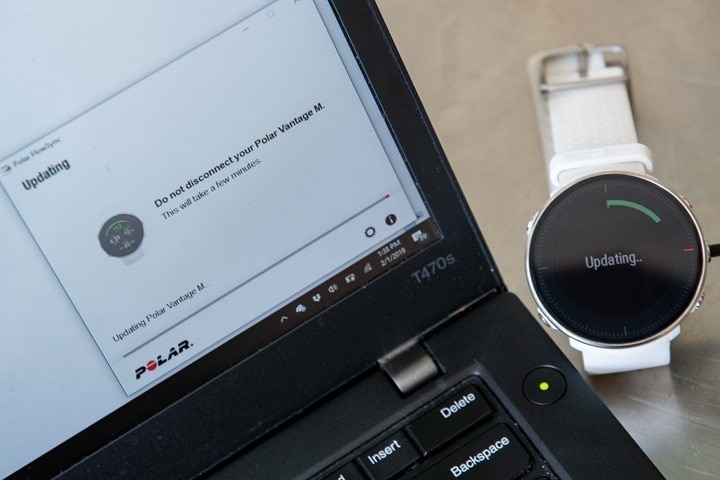 As you've probably seen by this point in the review, Polar's biggest challenge is actually the lack of features. Some things – like smartphone notifications, aren't officially released yet (though, due any day/week now). But beyond that, if they want to compete head to head with Suunto's Spartan Trainer Wrist HR (which is explicitly what they noted they want to compete against), they're going to need to look to expand their navigational capabilities to match that.
Still, here's the list of updates slated by the end of February 2019 through a handful of scheduled updates:
– Smartphone notifications (i.e. call/text notifications)
– Back to start navigation
– Route Guidance for waypoint navigation of downloaded routes (Vantage V only – not coming to Vantage M)
And in fact, just this morning I got access to a beta version of this firmware to check out some of these. As expected, a quick look at them shows they do work. Smartphone notifications come in as expected from calls/texts/apps, and display once you raise your wrist (a small red dot appears in the lower left corner indicating a missed notification). You can also access them from within a notifications submenu:
Additionally, there's a new sleep-focused watch face that shows you last night's sleep metrics. Given I just got it a few hours ago after my workout for today, I haven't tried Back to Start navigation, nor route guidance on the Vantage V. Perhaps over the weekend. It's not bug free, which is why it's still considered beta.
Meanwhile, the following features are slated to be added (according to the update page), but no timeline has been specified:
– Fitness test functionality
– Strava Segments
The challenge in some ways that Polar faces is that all of these features are basically just 'putting back' features that were found in the Polar M430 and V800 watches. They aren't actually moving the game forward in terms of the competition.  Even if Polar were to add offline sync for chest HR monitors for swimming workouts (as their competition does), that'd still just be matching what Polar's own watches have had previously.
I'm optimistic that Polar will aim to update their planned updates page with not just catch-up features, but exciting new features. One might say that'd be tipping their hand to the competitors, but realistically there's plenty of consumer tech brands that talk about upcoming features 3-6 months out (such as Apple, Google, and more). When Polar is behind the 8-ball here, it needs to do that.
Product Comparison: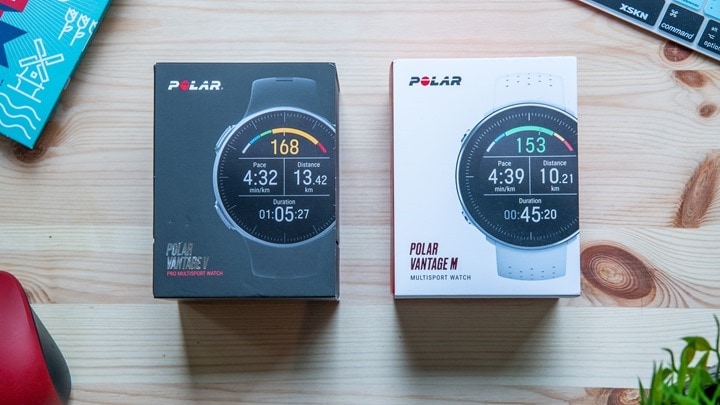 I've added both the Polar Vantage V and Polar Vantage M into the product comparison tool, so you can mix and match and create your own product comparison charts as you see fit. The tool allows you to compare against other products I've reviewed or had hands-on time with.
For the purpose of the below charts, I've compared the Vantage V and M against their nearest multisport competitors: The Garmin FR735XT and Suunto Spartan Trainer Wrist HR. One could also make the case that if you don't specifically need triathlon support, the Garmin Instinct or Garmin Vivoactive 3 series are better competitors to compare against at the sub-$300 price point.
Don't forget, you can make your own charts though if you want against other watches not included above.
Summary: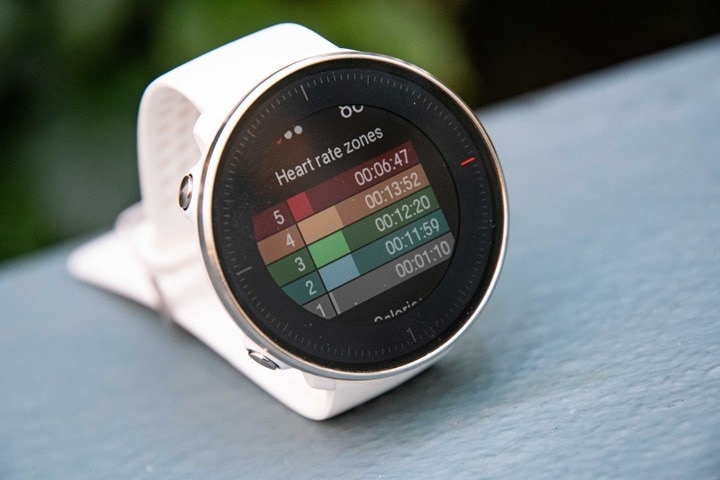 In general, I think the Polar Vantage series will continue to be a bit under-featured and under-accuracy compared to most of their endurance sports competitors. However, the Vantage M is in a better spot than the Vantage V from a product to price feature point. As of today it's still lacking the smartphone notification bits and other pieces, but those are coming shortly – with smartphone notifications set to arrive in just a few weeks. It's been weird wearing a smartwatch over the last few months that doesn't buzz when my phone does.
While I (along with nearly everyone) have been somewhat lukewarm on the Vantage series, I think the Vantage M for me performs better than the Vantage V – and given it's roughly half the price, that makes it far more compelling.
One of the hidden gem strengths though of the Polar Vantage M over its Suunto's similarly priced Spartan Trainer series though is the size of the Vantage M. Not to mention its screen clarity/size. The Vantage M also has detachable/swappable wrist straps. In general, I find the Vantage M a more comfortable watch to wear than the Suunto Trainer and it does proper 24×7 HR tracking. Plus Polar has detailed structured workouts whereas Suunto lacks that. Though, I find GPS and HR accuracy better on the Suunto Spartan Trainer.
I have no doubt that Polar will continue to add features to the Vantage series as they've outlined. The challenge for them will be doing so at a pace that's meaningful to be competitive. As with the Vantage V, the challenge for the Vantage M is that it doesn't compensate for its lack of features by solidly nailing accuracy in all categories (like we saw the Polar V800 do). As seen in this review, the Vantage M accuracy (especially HR) is at best 'meh', and at worst 'poor'.
Still, I'm looking forward to seeing where things go. And, if you know what you're getting into in terms of current and planned features, the Vantage M may check off just the right checkboxes for you and your particular needs.